The 10 Best Elk Hunting Pack in 2023
Last Updated on April 10, 2023
When an elk hunter sets out to hunt, he must take a gun, equipment, food, and several necessary devices. To carry all these items, he will need a spacious hunting backpack. Besides, an elk hunting pack is the only way to protect hunting gears from cold and moisture and free your hands as much as possible.
Furthermore, for an experienced elk hunter, equipment is of great importance. Thus, a hunting backpack for elk hunt needs to be waterproof, breathable, very durable (you will be in very adverse conditions) and above all, be silent.
While these qualities are met, you may have found the perfect backpack. Usually, a best elk hunting pack perfectly copes with these roles, the volume of which depends on the ambitious plans of its owner.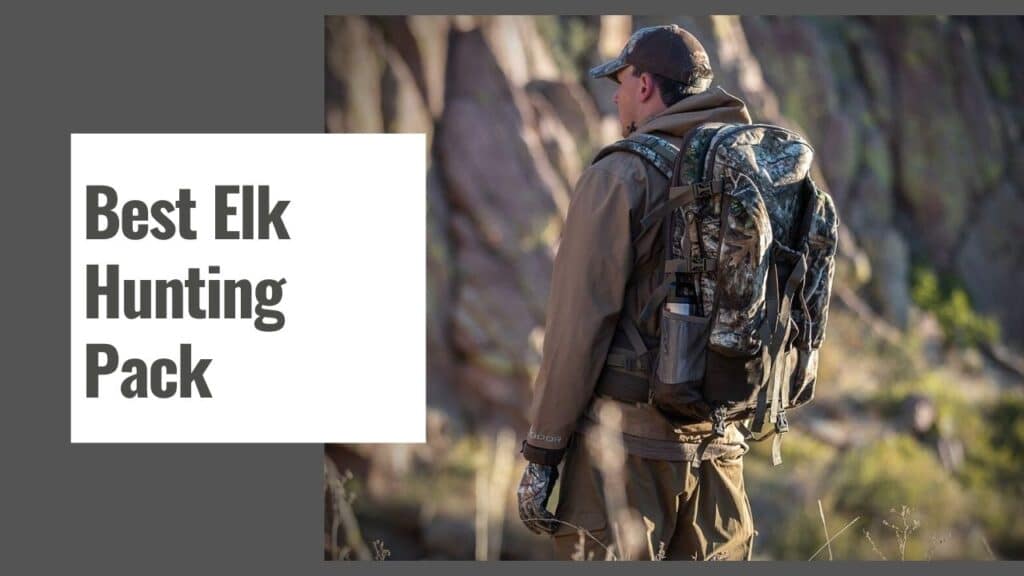 Review of the Best Elk Hunting Pack
If you take hunting seriously, you should invest in a backpack that is more durable and functional than regular hunting backpacks. We bring you some of the top elk hunting packs on the market. Each elk hunting day pack has a unique set of features and qualities, and you can select the one that best meets your requirements.
1. ALPS OutdoorZ Traverse EPS
The Traverse EPS is large enough to fit the gear needed for a stand or backcountry hunt. Besides 3300 cubic inches of storage, these packs have an expandable storage area as well.
When you unzip the pack and expand that section, you'll find an additional 1200 cubic inches of storage, bringing the total to 4500 cubic inches.
Moreover, this hunting pack for elk is ideal for situations where you need to carry more than one bulky item. It is excellent for storing more significant things like tripods, camera arms, and bulky clothing.
Also, the Traverse EPS includes a weapon-carrying system that uses the two front wing pockets and a drop-down weapon pocket to carry your bow or rifle. Again, there's a padded budget spotting scope pocket that fits most spotting scopes, keeps your optics from getting damaged, and lets you quickly access your tripods.
However, the pack's "H" frame provides comfort and support. The waist belt with a PE outer layer and multiple layers of foam makes the pack comfortable to carry even when it's loaded up.
Besides, its EPS section is located close to your body, which allows you to carry heavier items closer to your torso. Thus, you can transport your harvest out of the backcountry with the EPS section after a successful hunt. Again, it is ventilated to keep your harvest cool while you're transporting it.
Overall, it's a Well-balanced Elk Hunting Pack. The key to its comfortably carrying weight is its robust frame and rock-solid, adjustable suspension system. The Traverse's suspension is highly adjustable, making it simple to find the ideal fit.
Pros
3300 cubic inches of storage
Additional 1200 cubic inches of storage
Robust frame and firm adjustable suspension
Ideal for carrying more than one bulky item
Let's you quickly access your tripods
Cons
It is a bit loud while wearing
2. Badlands 2200 Camouflage Hunting Backpack
Badlands 2200 Camouflage Backpack is one of the best elk hunting packs available in the market. It comes with a specially designed suspension system that can mold itself to the shape of your body.
You can easily adjust the length of your waist belt by simply pulling the ends inwards instead of outwards, which enables you to cinch your belt and make carrying your gear easier yet.
Moreover, this hunting pack features proprietary magnesium alloy, which is more robust and lighter than T6 aluminum. Again its KXO-50 fabric is an improvement over KXO-32 FABRIC and has all of its benefits. This fabric is super tough, quiet, and utterly resistant to water.
Although KXO-50 fabric is lighter than KXO-32 fabric, its C6 Durable Water Repellent (DWR) treatment prevents moisture from penetrating fabrics. Its water beads and rolls off, keeping your gear dry for longer.
Also, you can attach your rifle or bow on the back of your backpack with a unique rifle or bow boot and with straps. Furthermore, you can also easily connect your bino case directly to your pack harness through the Bino Connect System to carry your binoculars safely and hands-free.
Again, this pack is compatible with Badlands' 2L hydration reservoir and includes a hip belt pistol holster and a built-in meat shelf.
Overall, this hunting pack for elk features a carefully crafted and neutral color Camo that adapts to hunting surroundings and lighting conditions. Usually, this Elk Hunting Pack is no longer reliant on the light to remain hidden as well.
Pros
Super tough KXO-50 fabric
Quiet and extreme water resistance
Lighting conditions adaptable Camo
Features 2L hydration reservoir
Equipped with unique rifle boot and straps
3. Badlands Superday Hunting Daypack
Among the best elk hunting pack, the Superday hunting pack comes first. More hunters carry it than any other hunting pack in the world. Also, it is capable of carrying weight in the same way that a frame pack for elk hunting does.
Furthermore, with its belts' reverse tightening feature, you can pull the belt's ends inward rather than outward, giving you the flexibility necessary to adjust your belt comfortably. Its waist belt hugs your hips and evenly distributes weight across your hip contours.
Its comfortable memory foam back suspension and advanced ventilation keep hunters cool at all times. Besides, in the long run, the strap will conform to your body as it improves.
Moreover, by using KXO-50 fabric, the Hunting Pack features all of the advantages of KXO-32 fabric. KXO-50 is amazingly light, completely waterproof, and super durable. Its Durable Water Repellent (DWR) finish repels moisture to protect your things inside.
Generally, its color palette is neutral that adapts lighting conditions and hunting surroundings. Besides, hunters can now conveniently carry their rifles or bows via the Badlands' integrated Rifle/Bow boot and batwing straps on the back of this pack. Yet, it also has a holster for a hip-belt pistol.
However, the Superday elk hunting day pack is the ultimate backpack offering a list of features that make the hunter's life easier. It is formed to carry all of your gear.
This pack has organized pockets, hip belt pouches, and straps. Besides, this Badlands backpack is also compatible with a 2L water reservoir and Bino Connect System that attaches your binoculars to this pack.
Pros
Compatible with the 2L water reservoir
Compatible with Bino Connect System
Features holster for a hip-belt pistol
Durable Water Repellent (DWR) finish
Comfortable memory foam back suspension
4. Badlands Diablo Dos Hunting Backpack
Diablo Dos is an all-time best elk hunting pack due to its hyper vent suspension and seamless shoulder straps. This tension-loaded suspension and non-chafing straps enable this pack to get vented at every part where it contracts with people's bodies.
Thus, this adjustable back eliminates the temperature to ensure comfort for all the time beings. Besides, it delivers the highest strength to weight ratio than other hunting packs available in the market.
Moreover, along with 7-pockets, this hunting pack comes with a dimension of 24 inches x 15 IN x 11 inch and its main pocket measures only 1,700 CI. In addition, its total volume and weight are respectively 2,100 CI and 4 OZ.
Again, this elk hunting backpack also features a built-in Rifle/Bow Boot with a batwing sleeve to hold your rifle or bow safely. Furthermore, this Diablo Dos pack is made of KXO-32 fabric, which is incredibly lightweight, quiet, and rugged.
Again, this fabric also keeps your gears dry from the inside through its C6 DWR (Durable Water Repellent) treatment. It includes easily accessible hip-belt pouches and compression straps at the rear.
Likewise, its shoulder straps also have firm padding to add comfort on long flights. Yet, this pack is also compatible with a 3L hydration reservoir. However, its Mud neutral tone can easily blend with most terrain and pair well with any camouflage pattern.
Pros
Comfortable and adjustable back
C6 DWR (Durable Water Repellent) finishing
KXO-32 fabric construction
Built-in Rifle/Bow Boot
Total of 2,100 CI volume
Cons
It doesn't include any battery yet
5. ALPS OutdoorZ Unisex-Adult Briar
This unisex hunting pack from ALPS Outdoor Z is designed by a team of dedicated and professional hunters. With a 5250 in³ of space in the main compartment, this Commander Pack has 2-accessory hinged pockets, an exterior front pocket, lashing loops, and a spin-drift collar top for storing your gears.
Besides, it has a side pocket measuring 16 "x 6″ x 2.5" to keep your spotting scopes for shooting, safe during long-distance hunting. In addition, it also has a Drop-Down Rifle Holder that makes it easy to carry a long gun without interfering with walking.
Moreover, this Ripstop nylon fabric Elk Hunting Pack includes an internal horizontal divider, lower door access, H2O pocket/port, and webbing loops. However, this 2 lbs. 3 oz doesn't come with Commander Freighter Frame. It would help if you bought the frame separately.
Pros
It has a Drop-Down Rifle Holder
Ripstop nylon fabric construction
2-accessory hinged pockets
5250 in³ main compartment
Dedicated side pocket for spotting scopes
Cons
It doesn't have Commander Freighter Frame
6. Eberlestock X2 Pack
The X2 is a rugged pack that comes with all the large pack features, like too large compression straps, 2-separate compartments for hydration, easily reachable convenient pockets for spotting scopes and tripods, and an Intex frame of tubular aluminum.
Furthermore, when it comes to features, this pack is a big punch. This Dry Earth Microsuede-colored hunting pack features padlock webbing tie-points at the vital position that attaches accessories and lashes gears.
Again, its too-large compression straps are capable of lashing and securing a heavy load. Also, it allows A1SS or A2SS Side Scabbards for carrying handguns or long-range hunting rifles.
Afterward, there are pockets for spotting scopes and tripods, which are conveniently located within easy reach. Most importantly, it has a slim and more relaxed shooter harness for carrying heavier loads during shooting.
Again, you can use its Ample FlexChassis as a seat or stand to mount loads attached to the pack. However, another notable feature is its ARCG ButtBucket compatibility, which allows ARCG ButtBucket to fit on this pack perfectly.
This feature makes this pack ideal for carrying a beginner's compound bow. Again, like most hunting packs, this Microsuede pack also comes with water-resistant capability.
Pros
Dry Earth Microsuede-colored hunting pack
Water-resistant capability
It features a shooter harness
Compatible with A1SS or A2SS Side Scabbards
Too-large compression straps
Cons
Lack of smaller exterior pockets
7. ALPS OutdoorZ Dark Timber Hunting Day Pack
The Dark Timber is a quality choice for adventures that require comfort and durability. It includes a waist belt and shoulder straps that let you distribute the weight evenly over your body.
With 3-dedicated pockets to keep your gear organized, as well as water bottle pockets on each side, it has plenty of room to bring everything you need on your trip.
The Elk Hunting Pack is hydration-compatible, meaning you can pack in the water bladder of your choice. Other than the central compartment, there is also a lower pocket for extra storage. Again, it also has lashing straps to secure additional gear.
Moreover, this 100% Polyester-made Mossy Oak Country day pack for elk hunting has a capacity of 37L/2,285 in³, and its weight measures only 2 lbs. It has an adjustable sternum strap that enables you to secure and adjust the backpack to your body.
Furthermore, the pack is both padded and adjustable through a waist belt and shoulder straps. Its side compression straps help bring the pack's weight closer to your body, making heavy loads easy and more comfortable to carry.
Pros
It comes with a capacity of 37L/2,285 in³
Weight measures only 2 lbs
Adjustable sternum strap
Hydration pockets on both sides
3-dedicated pockets for storage
Cons
Stitching seems weak in quality
8. ALPS OutdoorZ Extreme Commander X + Pack
This commander backpack comes with unbeatable strength, weighing only 9 pounds and 3 ounces. Its nylon ballistic and robin nylon fabrics ensure the maximum strength of this pack. You can attach the pack bag to the frame through compression straps or zippers to carry more gear.
Besides, it has a removable fanny pack for carrying extra accessories. Also, its waist belt has pockets and extra straps and clips that allow you to carry essential items comfortably and securely.
Moreover, this hunting backpack for elk hunt comes with a capacity of 4000 in³. It features a spindrift collar and, dedicated fleece-lined spotting scope pocket to provide easy access to your scope. Again, its internal divider also helps hunters to store their gears in an organized way.
However, like other hunting packs on our list, this pack also features a drop-down pocket to securely hold a rifle/bow. Besides, it is also equipped with a rain cover and H2O pocket/port.
Pros
It has a capacity of 4000 in³
It has a removable fanny pack
Equipped with rain cover, and H2O pocket/port
Extra straps and clips to carry essential items
Nylon ballistic and robin nylon fabrics construction
9. Eberlestock Little Brother Pack
This Little Brother pack is designed to complement the J51 Warhammer pack. It was created for Skycrane II (SCII) system users. With A4SS Tactical Weapon Carrier, you can turn this pack's functionality like G3M Phantom.
Again, the G1 has an expansion tunnel through which you can insert side scabbards (sold separately). Moreover, the pack has two loading options: top-loading and full-front panel. And, its webbing allows both interior and exterior access.
It's MOLLE/PALS webbing makes efficient use of both interior and exterior space. Also, this hunting pack contains 2-hydration sleeves that fit WXP3L 3-liter bladders and a compartment for military radios of the PRC-117 class.
Again, it includes a harness. Therefore, HBSS is possible to add to this pack if you prefer a more supportive hip belt. Moreover, it has two systems to add frame structure.
The Endo pack frame slides into the pack's central load bay, adding structure vertically and laterally while improving comfort and lowering noise. Besides, the Endo has no impact on the pack's ability to tunnel with a scabbard.
Again, if you don't want to carry a scabbard, you can fit a Gossamer frame inside the scabbard tunnel when the zipper remains closed.
However, you can also turn G1 into a compact Elk Hunting Pack through its structured frame otherwise. The approximate volume of this pack is 1800 cubic inches.
Pros
The pack has two loading options
Its volume measures 1800 cubic inches
Features a rack for military radio
Equipped with 2-hydration sleeves
It has an expansion tunnel for side scabbards
10. Timber Hawk Killshot Backpack, 56.2-Liter Storage
Timber Hawk is a company founded in 2005 by Mike O'Reilly and Paul Thomas, committed to making the field more fulfilling. The Timber Hawk Killshot backpack is a perfect fit for day hunts and multi-day wilderness excursions, featuring spacious and comfortable compartments with multiple storage options.
The backpack's main compartment is large enough to carry multiple days' worth of gear and meat, while still allowing for quiet movement in the forest. Made of polyester brushed tricot with a PVC backing, the quiet-cloth backpack includes a 2-liter hydration bladder with an insulated hose and can transport a bow or rifle in different ways.
With a pull-out rain cover, raptor compression straps, right and left hip belt accessory pockets, and dual shoulder strap pockets, it offers a range of convenient features. The backpack also features a padded front organizer and external lashing points at the bottom and top, an internal spotting scope sleeve, and a Hawk-Eye binocular strap system.
The Timber Hawk Killshot backpack is equipped with a removable shoulder strap pouch with magnetic closure and a drop-down scabbard to securely carry hunting gear and a rifle. The accessory pockets are fleece-lined, twill-lined, and quiet, ensuring that hunting gear remains protected.
The backpack measures 12.5 x 22 x 12 inches (WxHxD) and weighs 7.6 pounds, making it easy to carry on hunts. It also comes with a lifetime warranty against any manufacturer defects in materials and quality. Overall, the Timber Hawk Killshot backpack is an excellent choice for hunters who require durability, comfort, and convenience on their hunting trips.
Pros
2-liter hydration bladder
Dual shoulder strap pockets
A pull-out rain cover (orange blaze)
Drop-down scabbard for a hunting rifle
External lashing points at the bottom and top
Things to Consider Before Buying an Elk Hunting Pack
For a hunting backpack that is reliable and useful on the hunt, it is necessary to check it for compliance with all the criteria when purchasing.
Beginners rely on the advice of seasoned hunters who know from their own experience what kind of equipment is required. Both of them pay attention to the following parameters:
Weight Capacity
The ratio of weight and volume is selected for specific tasks (for how many days it is planned to go hunting for the game, what is required to take with you, in addition to the standard set of things and items). Of the backpacks of the same volume, a smaller one is chosen in weight, but not at the expense of strength.
Comfort
An ergonomic backpack will allow you to get the convenience of adjusting belts, waistbands, and other structural elements. It also allows you to fix the equipment on the body. Even in soft backpacks, the back seal and support rollers guarantee more comfortable wearing.
Material
It would be best if you chose a backpack which is made of durable and waterproof fabric. Securely fastened belts, comfortable elastic locks, zippers, buttons, carabiners – you must check all parts.
Noise
The bag's materials should be Noiselessness. An empty pack should be shaken freely, held over the surface with a palm, a fingernail to hear how much it "makes noise."
Functionality
Based on the goals, decide how much and how many internal, external pockets are needed. It is also worth paying attention to the presence of ties, slings for external fastening of the tent, other items, the number of internal sections, additional functions (chair).
Frame
If in a backpack that does not keep its shape, the center of gravity is constantly shifting, the hunter has to spend energy on maintaining balance, which is exhausting in long journeys.
Ease of Use
If an empty backpack holds its shape without load when fully loaded, it will not tilt to one side; it will not swell. It is important for ease of use, as you do not have to make additional efforts to keep the equipment in the desired position.
Frequently asked questions
What should I look for in an elk hunting pack?
Answer: When looking for an elk hunting pack, you should consider the capacity, durability, comfort, weight, and organizational features.
What is the best size for an elk hunting pack?
Answer: The best size for an elk hunting pack depends on your personal needs, but a capacity of 4,000-5,000 cubic inches is usually sufficient.
Can I use a regular backpack for elk hunting?
Answer: While it is possible to use a regular backpack for elk hunting, it is not recommended. Hunting packs are designed with features specific to hunting, such as rifle and bow carrying capabilities.
What is a good weight for an elk hunting pack?
Answer: A good weight for an elk hunting pack is around 5-7 pounds. However, lighter packs may not have the durability and organizational features needed for a successful hunt.
Do I need a hydration system in my elk hunting pack?
Answer: A hydration system is highly recommended for elk hunting, as it allows for easy access to water while on the move.
Should I choose a framed or frameless elk hunting pack?
Answer: A framed elk hunting pack offers more support and weight distribution, but may be heavier. A frameless pack is lighter but may not be as comfortable for longer hunts.
What material should my elk hunting pack be made of?
Answer: Look for elk hunting packs made of durable, water-resistant materials such as nylon or polyester.
Can I use an elk hunting pack for other activities?
Answer: Yes, an elk hunting pack can be used for other outdoor activities such as hiking, camping, and backpacking.
Final Verdict
Hunting skills are independent of equipment, but good hunting gear will make it much easier to enjoy the sport. If you are one of those who are new to elk hunting or just starting, you should buy an entry-level hunting backpack.
Buying an entry-level backpack won't hurt your chances of getting a kill. But if you're an expert or want to be a good hunter, it's still essential to have the right hunting gear. Whenever you get experienced at hunting, you must upgrade your backpack to a more advanced model.