The 10 Best Varmint Scope in 2023
Last Updated on March 30, 2023
Best Varmint Scope: Varmint hunting is a legit thing. It is a practice of hunting destructive species known as varmint as a means of pest control and saving things from them. Varmint hunting requires a precise kind of firearm known as a Varmint rifle, but using it is not compulsory.
Hunters use different shotguns as well. The second most crucial component of varmint hunting is a rifle scope, which can be easily mounted on the rifle to accurately target the predators from a distance in no time conveniently.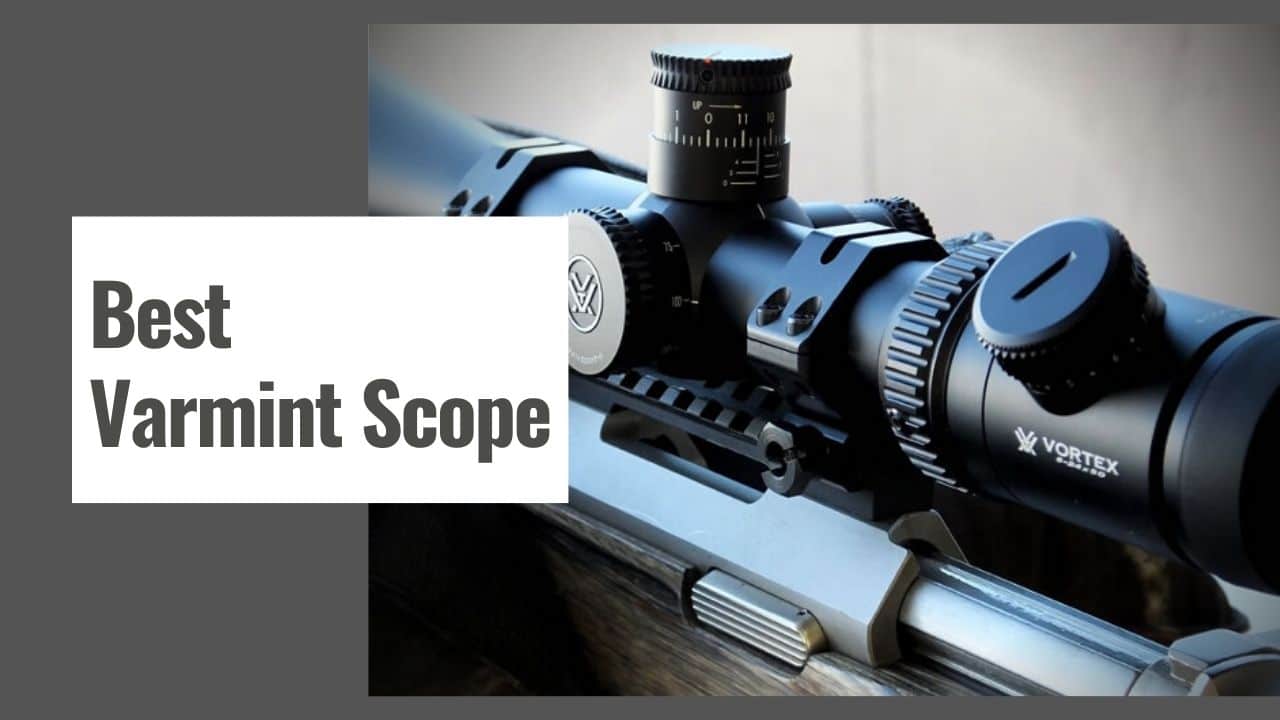 Varmints are known to spread illness, kill farm animals, destroy crops, and livestock. So, killing them and clearing the environment becomes a severe and challenging activity. With all the seriousness and difficulties, this category of hunting is exceptionally addictive and exciting.
Targeting the fast predators moving constantly and small species from a long-distance becomes fun only when one has a powerful rifle with them and the best varmint scope mounted on it.
Quick Answer – Top 10 Best Varmint Scope
Reviews of the Best Varmint Scope
The expectation from a top-quality scope is only to provide a clear vision. However, to achieve that crystal clear vision, a lot of high-quality components work together, and quite a few technical adjustments needed to be done.
Whether a scope will provide a clear view or not at night or even in daylight ultimately depends on the objective lens and the coating on it. If the optic is not large enough and not well coated and the magnification range is poor, no adjustment can make it work.
So, choosing a scope with the right configuration is crucial. Then for precise targeting on a moving object and covering a long distance, the reticle plays a vital role. There are few things which help to zero the target, and all those adjustments are made with the reticle only.
So, windage and elevation range, zero-reset turrets, parallax settings, a fast-focus eyepiece,  all these play a significant role in constructing the best among the best varmint scope.
1. ATN X-Sight II HD 5-20 Smart Rifle Scope
ATN X-Sight II claims to be the first one to have night vision in HD. The HD technology makes sure to provide a crystal clear view when needed. The day and night vision can be seen clearly in millions of colors.
The images are of the best quality, no matter its day or night time. It uses a highly powerful magnification level, starting from 5x to 20x. Even after being powerful, the zooming is smooth and offers fine-tune adjustments for the perfect magnification.
The Smart Range Finder identifies the distance to the target with just two clicks, and the moment it recognizes the range, the Point of Impact adjusts automatically. It also determines exact ballistics for expert long-range and angled shots with the ballistic calculator quickly by shifting the Point of Impact.
All the ATN scopes allow Wi-Fi Streaming, Photos, Recoil Activated Video (RAV), and 1080p HD Video Recording. The hunter can record his entire hunting trip by using his phone or tablet as a viewfinder. The firmware it uses is also upgradeable.
Pros
Crystal clear and night vision in millions of colors
Smart Range Finder ranges target with two clicks
Ballistic Calculator quickly calculate ballistics
Automatically adjusts Point of Impact upon determination of the distance
Allows HD video recording
2. Nikon P-223 3-9×40 Mate BDC 600
If you own an AR-style rifle, then the best varmint scope for you will be the one from the Nikon's P-Series, precisely, Nikon P-223. It is an imported scope. It has a nitrogen-filled and O-ring sealed construction, therefore, capable of providing a waterproof and fog-proof performance.
Rifles are known to be extremely powerful and produce the heaviest recoiling cartridges. Even the lightweight rifles and severe shooting angles can be pretty dangerous if the eye relief is not long.
The 3.6  generous and consistent eye relief provides maximum security to the brows. It uses the BDC 600 reticle, which has hash marks starting from 100 to 600 yards and open circle aiming points. The reticle is known for the trajectory of the .223 Rem /5.56 NATO round with 55-grain polymer tip bullet.
The adjustable 1/4-MOA Hand-turn Tactical-Style, Zero-Reset Turrets zeroes the target quickly and maintain the setting with just a positive click, even the powerful recoiling cannot mess up the setting. It also features a 100-yard parallax Setting.
Pros
Generous, Consistent Eye Relief for maximum protection
Zero-Reset Turrets allows quick zeroing and maintain the setting
100-yard Parallax Setting for precise shooting
Open circle aiming points and hash marked BDC 600 Reticle
Nitrogen filled and O-ring seal guarantees the waterproof and fog-proof performance
3. ATN X-Sight II HD 3-14 Smart Rifle Scope
Now, if you are interested in getting something similar, like the previous ATN scope, but with lesser magnification, then you have this one to try. We all know, magnification depends on the purpose of hunting.
If you do not need it, then higher magnification is of no use. So, for you, 3-14x might be the ideal magnification. Other than that, this one is a quintessential ATN X-Sight II scope with the best night vision and crystal clear view.
It also features ballistic calculators for quick shifting the Point of Impact and calculating ballistics of long and angled shots. The Smart Range finder also does its job by determining the distance and adjusting the Point of Impact automatically.
Then there is the patent feature provided by the ATN Sight, where one can record the hunting trips in HD quality using the phone or similar devices as the viewfinder.
Pros
HD technology provides high resolution and clear vision
High-quality day and Night Vision in millions of colors
features ballistic calculator and smart range finder
3-14 Magnification offers smooth zooming
Allows photos and video recording as well as Wi-Fi Streaming
Cons
Night vision could have been better
4. Vortex Optics Diamondback Focal Plane Riflescopes
Vortex is one of the most reliable manufacturers of scopes. They are known to create quality devices with high-quality features, and Vortex Optics Diamondback is no different. It is 4-12×40 Riflescope with a solid one-piece tube and a hard-anodized finish.
It's shockproof and durable as well and survives the strongest recoilings. O-ring sealed, and argon purged deliver a lifetime of waterproof and fog-proof performance.
The objective lenses are fully multi-coated and hold the perfect amount of light for comfortable night vision and crystal clear, bright images. This scope is ideal for big game hunting, predator or varmint, muzzleloader, slug shotgun, and long-range applications.
The aptness and precision come due to several reasons, and the Dead-Hold BDC reticle is one of them. BDC reticle does the best job when estimating hold-over is a concern.
For quick focusing of the reticle, it comes with the fast-focus eyepiece. The metal on metal precision capped turrets and precision glide erector system enables zero reset after sight-in and accurate tracking and repeatability.
Pros
Fully multi-coated lenses
Dead-Hold BDC reticle
Metal on metal precision turrets
Features fast-focus eyepiece and precision glide erector system
Argon purged, and O-ring sealed
5. BARSKA 6.5-20×50 AO Varmint Target Dot Riflescope
BARSKA varmint scope is the bonafide riflescope for long-distance accuracy and shooting. It is perfect for target-shooting practice, as well. The scope is versatile and ideal for receiving twice the precision in all the shooting and targeting forms.
The durable 1-inch tube construction has a black matte finish and delivers a shockproof, waterproof, and fog-proof performance. It has a 50mm objective lens, which is large, adjustable, and offers 6.5 to 20 times variable magnification.
They are multi-coated with increased light transmission and provides clear images. It also features a quick access magnification zoom ring. It uses the target-dot fine crosshair reticle for enhanced performance in harsh conditions.
The reticle allows parallax correction as well. The accuracy of targeting also becomes convenient with high, easy-grip capped turrets with 1/8 MOA windage adjustment. It also features caliber-proofed elevation adjustment for accuracy from any altitude.
Pros
6.5-20x Magnification and 50mm Objective Lens
Fine Crosshair Reticle
Parallax Adjustment allows precise targeting
High, easy-grip capped turrets for 1/8 Minute of Angle Click
Waterproof, fog proof and shockproof
6. Vortex Optics Crossfire II Objective Riflescopes
Vortex Optics, Crossfire II scope, is mounted on a durable single piece tube, which ensures not only optimum strength but also optimum visual performance and precision. Its shockproof construction can handle repeated recoiling without damaging the eye area and provides the highest protection.
The O-ring seal and nitrogen purge always ensure waterproof and fog-proof performance. It excels in hunting in low light. With the 56mm large objective lens, 3.5mm long eye relief, and ultra-forgiving eye box, getting a sight picture and acquiring the target become more comfortable and faster.
The lenses are anti-reflective, fully multi-coated as well, thus hold light pretty efficiently and provides a bright, crisp, clear image even in the tough light condition.
Unlike the Diamondback scope, this one uses V-Brite illuminated reticle, and with the fast focus eyepiece, focusing it becomes quick and easy. The capped reset turrets halt accidental movement and impact. They are finger adjustable with MOA clicks and reset to zero after sighting in.
Pros
Aircraft-grade aluminum construction
Anti-reflective, fully multi-coated lenses
Features V-Brite reticle and over-sized, adjustable objective
Finger adjustable capped reset turrets
O-ring sealed and nitrogen purged
Bushnell is specially designed for early-morning and late-evening light hunting. It is quite a known fact among the trophy hunters that hunting gets exciting and fulfilling in the low-light hours compared to the other periods of the day.
It's mounted on a 100-percent waterproof and fog proof one-piece tube, thus sturdy enough for any weather condition.  The scope is apt for big-game, varmint, .22 rimfire, slug, black powder, and turkey hunting.
It uses 40mm objective lenses and 4-12x magnification. The high-ability of low-light performance of this scope comes due to it using Dusk & Dawn Brightness (DDB) multi-coated lenses. They provide superior brightness and optimum clarity in low light.
The scope uses a Multi-X reticle with a 12 inches long fast-focus eyepiece for easy and fast focusing of the reticle.  Elevation adjustments and 1/4 MOA fingertip windage on the reticle make the zeroing target convenient. The 3.3 inches eye relief is also pretty decent considering the diameter of the optics.
Pros
Specially designed to excel in the early morning and late-evening light
4-12x magnification and 40mm objective lens
Dusk & Dawn Brightness (DDB) multi-coated lenses
Multi-X reticle with 1/4 MOA fingertip windage and elevation adjustments
100% waterproof and fog proof
Cons
Inconsistent in holding zero
8. Nikon ProStaff 3-9 x 40 Matte Riflescope
Nikon ProStaff is a compact riflescope with a black matte finish. It 5″ high and 9″ wide. It is durable and has a nitrogen-filled and O-ring-sealed housing. The purging and sealing of the tube claim to deliver an efficient waterproof and fog-proof performance.
It uses 3 to 9x magnification on its 40mm objective lenses. They are fully multi-coated, and this fully multi-coated optical system transmits up to 98 percent of available light and results in a clear image and optimum clarity.
The optics provide maximum brightness from dawn till dusk. Like all the Nikon scope, it uses the patent Nikoplex reticle and uses all the features the Spot On Ballistic Match Technology offers. It includes a 12.4 inches quick-focus eyepiece for easy reticle focusing and a 3.6 inches of eye relief.
The zero-reset turret with a spring-loaded adjustment knob makes the return to zero easy after all windage and elevation adjustment after a shot. These positive-click reticle adjustments maintain the setting even after constant heavy recoiling.
Pros
3-9x magnification and 40mm objective lens
Fully multi-coated optics
Zero-reset turret
Nitrogen filled and O-ring-sealed housing
Patent Nikoplex reticle
9. Burris 200261 Ballistic Plex 2-7x32mm
Burris 200261 Ballistic Plex varmint scope is a top-quality scope perfect for all kinds of shooting needs. The solid tube is filled and purged with high quality, laboratory-grade dry nitrogen at least 24 times.
Each of the nitrogen cycles absorbs airborne and extra moisture evacuated from the scope. This chemical activity makes it shockproof as it can take intense recoiling, and waterproof and fog proof as well.
The posi-lock system used in the scope is a coil-spring assisted retractable steel that can firmly and & securely lock accuracy into place even after heavy recoiling. No other scope has been tested so extensively in recoiling that this one. The adjustment System is steel on steel and repeatable with audible clicks.
It uses a 32mm objective lens, which offers 2 to 7 times variable magnification, and the multi-coated lenses provide a sight of optimum clarity and clear images in every possible situation. It also helps to acquire ultra-fast target acquisition with both eyes open.
Pros
Multi-coated lenses for brightness and superior light transmission
Repeatable Adjustment System with audible clicks
Posi-lock system locks accuracy into place
Waterproof, fog proof and shockproof
Allows ultra-fast target acquisition
10. SWFA SS 10×42 Tactical Riflescope SS10X42MQ
SWFA SS is a tactical riflescope. It is a sturdy scope with a black matte finish aluminum body. The objective lens it uses in the construction is 42mm and offers ten times variable magnification. It is apt for hunting, varmint, long-range shooting, and target shooting.
The one-piece tube is shockproof, fog proof, and waterproof as well. The fully multi-coated lenses provide a clear view without creating any shadow in the edges. The superior light transmission helps to perform well in low light conditions.
The 10m-Infinity Side Parallax Adjustment allows the shooter to eliminate parallax by moving the focal plane of the target and reticle to a certain point. The rear focus corrects the parallax from 20 yards to infinity.
It uses the Mil-Quad reticle, which is perfect for observing smaller targets at a long distance. Accurate and sharp elevation and windage adjustment make the zeroing quicker and easier.
Pros
10x magnification and 42mm objective lens
Mil-Quad reticle
10m-Infinity Side Parallax Adjustment
Accurate and sharp elevation and windage adjustment
Waterproof, fog proof and shockproof
Frequently asked questions
Q: What is a varmint scope?
A: A varmint scope is a type of riflescope that is specifically designed for hunting small and elusive animals like rodents and groundhogs.
Q: What magnification do I need for varmint hunting?
A: Varmint hunting often requires high magnification, typically in the range of 12x-24x, to accurately and effectively target small animals at long distances.
Q: What is the best objective lens size for a varmint scope?
A: The best objective lens size for a varmint scope depends on the distance and lighting conditions of the hunting environment. Generally, a larger objective lens of 40mm or more is preferred for better light transmission and image clarity.
Q: What is parallax adjustment on a varmint scope?
A: Parallax adjustment is a feature that helps to eliminate the parallax error in a scope, ensuring that the reticle is accurately aligned with the target at any distance.
Q: What is the eye relief on a varmint scope?
A: The eye relief on a varmint scope refers to the distance between the eyepiece and the eye, and it is important to ensure comfortable and safe shooting, especially with high-powered rifles.
Q: What is the best reticle for a varmint scope?
A: The best reticle for a varmint scope depends on personal preference, but a fine crosshair or a duplex reticle are popular choices for accurate aiming at small targets.
Q: What is the durability of a varmint scope?
A: The durability of a varmint scope depends on the make and model, but many are built to withstand the recoil and impact of high-powered rifles.
Q: Can varmint scopes be used for long-range shooting?
A: Yes, many varmint scopes are designed for long-range shooting, with high magnification and adjustable parallax to ensure accuracy at any distance.
Final Thoughts
Other than all the technical features, some other things need to be followed while buying a scope. Any rifle scope one buys, need to be purchased depending on the rifle. The scope should not make the rifle heavy, or it will make the job difficult.
Then comes the diameter of the lens and magnification. A rifle scope that is apt for deer hunting might not be ideal for varmint hunting. So, do not use the same scope in both cases, and if you are using, then do not wonder why one hunting experience is being more complicated than the other.
Do thorough research on which one you need. At this age of the internet, when every information is in our hands, products should be bought only after having a fair idea on them, especially devices and expensive products.
We tried our best to construct a review filled with much-needed information. Hopefully, you will find it useful and spend your money on the best varmint scope, which will be worth every penny.
You May Also Like to Read