Last Updated on January 11, 2023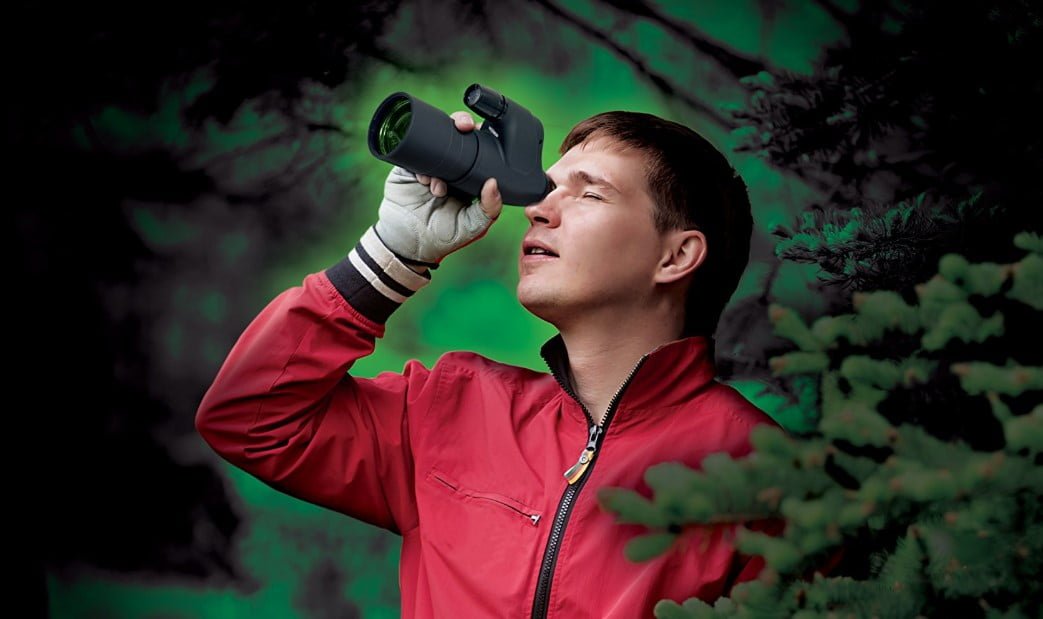 Monocular is an excellent alternative to the Binoculars. It has become very popular recently. The difference between Monocular and Binocular is Monocular has a single primary lens while another has two. It helps to magnify the portrait of distant entities by using a series of prisms and lenses.
The prism and lenses help to pass the light resulting in a refracting telescope. Monoculars, having the same magnification power of binoculars are more -preferable to the users due to their compact design, portability, light-weight, and affordability.
As it is light-weight and small, you can easily carry it with you wherever you go. Night vision Monocular is a specialized form of Monoculars. It enables us to see the image of distant objects clearly at night.
It is widely used for hunting, sightseeing, hiking, scouting, navigation, security and a lot of other activities. If you want to see the night view of nature and objects for any of these activities, one best night vision monocular is all you need.
Quick Answer – Night Vision Monocular
10. PULSAR QUANTUM LITE THERMAL MONOCULAR
Reviews of the Best Night Vision Monocular
There is a  variety of night vision monoculars, which has unique features. You should consider the magnification power and field of view based on your needs. The coating and the size of the primary lens are the other two essential features to check.
They determine the range of field of view as well as the clearness, brightness, and quality of the vision. Sometimes, these monoculars can't focus well despite having an excellent magnification power and other useful features.
So you must check the focus. Moreover, don't forget to check the transmittance, weight, size, etc. We are enlisting the 10 best night vision monocular with their specifications to help you to select the right one for you:
1. Bushnell Equinox Z Digital Night Vision Monocular
This is our most favorite one which operates on four AA batteries. The batteries are not included with the monocular. You can power it by a USB port, or an AC charger. The batteries are durable, and you can use them for a long time.
By utilizing digital technology, it supports both night time and day time viewing. It provides clear and bright optical clarity. The objective lens is 30mm long, which offers a fantastic field of view. Its IR flashlight helps to increase the viewing range.
The viewing range is approximately 150 meters wide. The quality optics consist of multi-coated glass. It also features water-resistant housing. So your device will be protected from structural damage caused by water. It allows you to mount it on a tripod. Besides, it has a Picatinny style rail, which is used for mounting accessories.
It is small in size and weighs 15 ounces. These features enable the users to carry it easily, fit it in a small space, and to use it effortlessly. It provides image capturing, image zooming, and video recording facilities. Overall, it is a compact, portable, and versatile device.
Pros
Multi-coated glass with fantastic optical clarity
Image capture and video out facility
The housing is water-resistant
Tripod mounting, accessory mounting with Picatinny style rail
Good range of viewing distance.
Cons
The video outline is not accessible while using a tripod mounting plate
2. Bestguarder HD Digital Night Vision Monocular
The Bestguarder Monocular operates by consuming power from a power bank or external battery. Its marvelous optical clarity provides a clear and brings the vision of distant objects. It comprises a 5Mega CMOS sensor with other high-quality optics and electronics.
The CMOS sensor is infrared-sensitive, which gives an excellent edge-to-edge resolution resulting in outstanding picture quality. It is also suitable for daytime use. The 50mm objective lens allows 6x magnification and capturing HD photos.
You can also stamp date/time in images and videos. It has a built-in infrared illuminator giving up to1150 ft./350M viewing range. Its interface is so user-friendly. It features an integrated 1. 5″ TFT screen where you can adjust the settings.
You can see the settings options written in any of the seven built-in languages. You can adjust the IR level to see everything at any brightness level. You can zoom in or zoom out up to five times to have a broader view. You can connect it with TV and computers with TV cable and USB cable respectively.
You can also mount it on a tripod. Its water-resistant construction prevents water damage ensuring high durability. It also features a portable strap which you can keep or remove if you want. FCC, CE, and RoHs certify it.
Pros
Amazing optical clarity with the 50mm objective lens
Up to 1150 ft. viewing distance
Adjustable InfraRed level, settings menu and, user-friendly interface
Connectivity with tv, computer, and easily mountable on a tripod
Water-resistant construction
3. Xgen 2.1x Digital Night Vision Viewer
If you are looking for a versatile Night Vision Monocular at a cheap rate, then this Vision-viewer will be the right choice for you. It requires three AA batteries to operate, which are not provided with it. Its Night Vision technology provides a viewing range of 70 yards in complete darkness.
It features at least 3.3 inches focus range with a built-in infrared illuminator. Its 20mm lens can magnify an object 2.1 times than its original size. You can select any of the five given settings.
The illumination settings are preprogrammed in the system. You can adjust the objective focusing and eye-piece to focus on an object situation at varying distances. The focal length is at least 1M.
It comes out with a nice carrying case. It is so small in size weighing only 7 ounces. As a result, you can easily fit them in a small space and carry them easily. It also features a 640 X 480 sensor resolution and 320 X 240 micro-display resolution. All these characteristics made it in the list of best night vision monocular.
Pros
3.3 inches focus range(minimum),70 yards viewing range
20mm high-quality lens
Preprogrammed settings of illumination
The magnification facility is more than twice
Reasonable price
4. Barska NVX100 3x Night Vision Monocular
It is powered by four AA batteries which you have to buy separately. The batteries can last for a long time(2-5 hours). It has a 20mm distance of exit pupil, which ensures the viewer's comfort.
It includes 4 GB micro SD card, an AV cable, and a USB cable. It also comes out with a neck strap and a carrying case for easy portability. As it weighs one pound, it is easy to handle and carry. It delivers high magnification capability so that you can see three times magnifies the image in the dark.
It implies a minimum focus range of1M. It can show and records the pictures and videos on the TV and allows the users to transfer files to their computers. You can mount it on a tripod too. Its 3W infrared illuminator provides a viewing range up to 100m in the dark.
It can zoom out anything twice its original size. It also contains a CMOS sensor that is responsible for receiving light and passing it through a lens. The high-quality optics helps to generate a clear and bright image of the object.  Last but not least, it has a one-year limited warranty.
Pros
Includes 4 GB micro SD card, carrying case, USB cable, AV cable, and neck strap
1M minimum Focus range
Three times magnification capability
Allows transferring files to the computer
Displays and records pictures and videos
5. Sightmark Night Vision Monocular
It requires two AA batteries to operate, and the batteries are included with it. The batteries last very long and work pretty well. It has a 24mm glass lens which can be interchanged if you want.
It is equipped with a built-in infrared illuminator which enables the construction of a clear and bright image in complete darkness. The 805nm illuminator also generates clear pictures in low-ambient light conditions. You can adjust the eye-piece for a better vision.
When you expose it to bright lights, it shuts off automatically. This feature ensures a long lifetime of the monocular as it protects the night viewing tube.  The produced image has a high resolution and good quality.
It allows the user to mount it on a tripod or weapon. Its ergonomic design delivers the highest efficiency and comfort while using it. Its polymer construction makes the monocular light, sturdy and highly tolerant of pressure.
The monocular weighs 8.8 ounces. It can power up in a limited time. For observing the close-range form of distant items, it can magnify the things twice than their original sizes. But it is only available inside the US excluding the state of California.
Pros
Preprogrammed IR illuminator and adjustable eye-piece
Ergonomic design with durable plastic construction
Fast and easy power-up
High-resolution image generation
Twice magnification capability
Cons
It takes almost 10 minutes to shut down.
6. Solomark Night Vision Monocular
This monocular operates by four AA batteries, which are not given with the device. You will receive a 4GB micro SD card, two cables(USB and AV), sturdy neck strap and a soft carrying case along with it.
It is equipped with a blue-Infrared Illuminator for the visibility in the darkness. The three-level 3level IR LED illuminator also helps to visualize surroundings in little ambient light conditions.
Its LCD-Screen helps to spot the target quickly with maximum accuracy. The brightness control system of the LCD screen generates a clear and well-defined image. The high-quality glass lenses are multi-coated and allow us to view up to 100m in the dark.
It provides up to the twice zooming facility to get a wide representation of the image. You can capture pictures and record videos anytime with it and also display them on the television. It allows transferring files to a computer too.
The user can mount it on a tripod or a binocular harness. Rubber covers the outer area of the monocular for gaining a lot of friction and preventing slip out. You will get two years of warranty while purchasing this item.
Pros
Multi-coated glass, highly sensitive sensor, and IR illuminator
100m viewing range.
Capture photos, record videos and display them on the TV
Includes SD card, neck strap, carrying case, USB cable and AV cable,
Warranty of two years
Cons
The sensor cap doesn't provide any security.
7. Firefield FF24066 Night Vision Monocular Nightfall
It gains power from two AA batteries. The batteries can last up to twenty hours, depending on your usage. This night vision monocular has a plastic body construction which makes its structure robust and long-lasting.
The lens is made of glass and comes out in a distinctive shape. The objective lens can create a high-resolution image and magnify any object to generate a bigger form of them. It has a 1:1.4 relative aperture which indicates the light-gathering capability of an optical device.
The relative aperture also ensures that the focal length is 1.4 times bigger than its pupil diameter. It weighs 15.2 ounces so that it may seem a little bit heavy for extended use at first glance. But due to its ergonomic design, it guarantees a firm and comfortable grip.
It features a built-in IR illumination system for night viewing with high optimality. It has a rubberized housing in the upper surface to protect it from scratches and bumps. It is entirely weather resistant allowing you to use it in any environment.
Pros
High-resolution picture quality
High magnification power
Ergonomic design for comfortable and effortless usage
Heavy-duty glass lens and plastic body
Powerful programmed infrared illumination
Cons
Focusing is tough and problematic
8. Night Owl Optics NOXM50 Night Vision Monocular
It needs a 3-Volt Lithium-ion battery which the users have to buy separately. The battery can serve up to 100 hours based on the usage of infrared. The 50 mm glass lens helps to produce a high-quality image with fifteen degrees angular field of view.
The thermoplastic housing of the lens protects the lens from various impacts. It delivers five times image magnification and 500 times light magnification system for having a more extensive and better view of objects.
The focus range is at least 5.7 feet. You can get a clear view of entities locating within 200ft in the dark. It has built-in Infrared illuminator for using it in complete darkness and achieving an accurate recognition of target in any environment.
The monocular comes out with a robust plastic focus ring. It also features a protective rubberized finish in the extended body. The associated hand strap help to hold it properly, guaranteeing a secure and firm grip.
Its ergonomic design with power and IR buttons ensures user's comfort and effortless operation. As it weighs only 1 pound, it so easy to carry. It is most suitable for one-handed operations.
Pros
High-quality optics with 500 times light amplification capability.
50 mm lens provides up to 200 ft field of view
Magnifies an object five times
It includes a strong focusing ring and hand strap.
User-friendly ergonomic design
Cons
The generated images have some distortion near the edges.
9. Night Owl iGEN 20/20 Vision Monocular
It is a versatile Monocular which operates by four pieces of AA batteries. It comprises proprietary iGEN technology which provides edge-to-edge display resolution of an image. The technology guarantees zero percent image distortion caused by phosphorescent blemishes on the screen.
It doesn't have any dark spots and unequal patterns of light like the previous versions. It is robust enough to prevent the problems caused by the exposure in high brightness. It can amplify the light from 18 to 1345 times and adjust the amplification level as well.
Its clear optical clarity allows 650 times light amplification with improved infrared sensitivity. The device adjusts the intensity level of IR automatically for achieving maximum illumination with an adequate amount of infrared.
This characteristic is called Infrared Intelligence. It has ten programmed levels of IR intensities to choose from. It also has four options for displaying brightness. It features two fps to 30fps frame rate.
The high-quality glass lens can magnify an object 2.6 times. It has a 12-degree angular view and up to 330 ft field of view. A user can mount it on a tripod with ¼-20 tripod threads.
Pros
2.6 times image magnification facility
Improved iGEN technology with 100% distortion-free construction
Adjustable light amplification from 18times to 1345 times
2- fps to 30fps frame rate
High infrared sensitivity
Cons
Its buttons feel flimsy while pressing or touching
10. Pulsar Quantum Lite Thermal Monocular
It comes out with four AA batteries, which supply power to it. You will also receive a classy carrying case, user manual, a hand strap, video cable, cleaning cloth, and an external battery case.
It can determine the heat signatures within 875 yards. It has a 17µm pixel pitch core which ensures high-detail image clarity while zooming an image out two or four times. It offers multiple color observation modes.
It features Stadiametric rangefinding to measure the distance of a specific entity accurately. Another impressive characteristic is the two-second start time of this device. It also has an incredible feature of the automatic shutoff, which saves the battery life.
It generates images having 384×288 resolution along with a 50Hz refresh rate for using the thermal camera comfortably. It has buttons on the upper surface providing many control options such as calibration of the sensor, zooming, and color inversion.
This device is small in size and weighs 1.9 pounds, therefore easily portable. Overall, it is a versatile and must-have device for night viewing.
Pros
It takes only two seconds to start
Multiple modes for color viewing
17UM Pixel pitch core and 50 Hz refresh rate
Allows Stadiametric rangefinding
The maximum viewing distance is 875 yards
Cons
Inability to be mounted on a gun.
Final Thoughts
Choosing a quality night vision monoculars is not easy at all. But it entirely depends on their specifications, advantages, and user requirements. Remember, before purchasing one, you have to fix your budget and what kind of qualities you want in it because they vary from person to person.
Keep searching for that specific one that satisfies all the requirements you need and doesn't cross your budget as well. In this way, you will surely get the best night vision monocular, which is most suitable for you. We hope you will surely find it among the described products and they will be worth buying.
You May Also Like to Read