Best Bow Hunting Backpack in 2023
Last Updated on April 3, 2023
The best bow hunting backpack is an essential piece of equipment for any bow hunter. While going out for bow hunting, whether your destination is a popular spot or an isolated spot, you can't afford to leave any gear behind.
Therefore, the bow carrying backpack comes with all the features hunters usually need for their hunting trip. There are many different best bow hunting backpack designs for bow hunters, but not all are compatible with every type of bow. If you're thinking about getting a suitable pack for bow hunting, keep reading this article.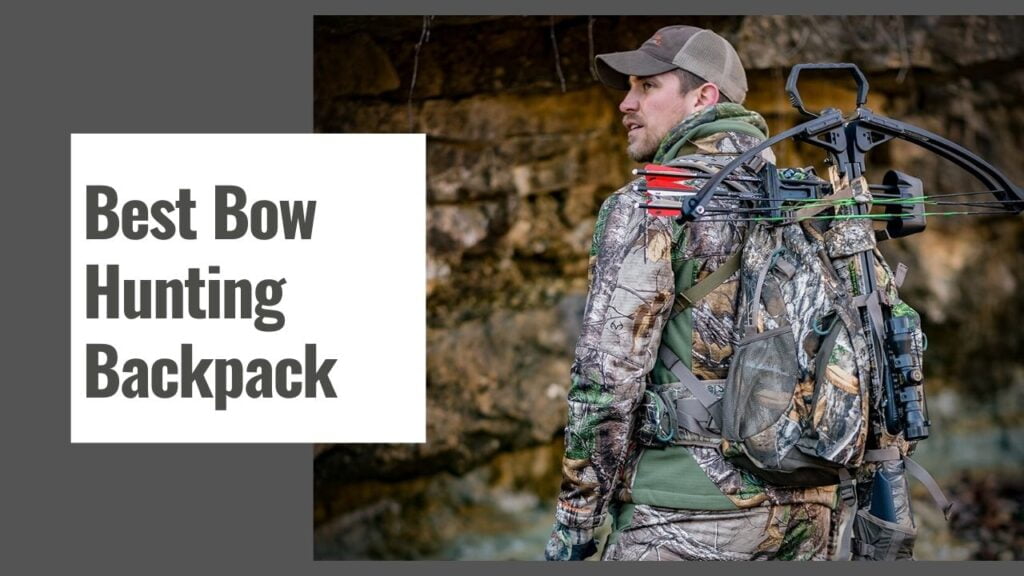 Quick Answer – Top 10 Best Bow Hunting Backpack
4. ALPS OutdoorZ Matrix, Realtree Edge
5. Timber Hawk Killshot Backpack
6. InSights Realtree Xtra Multi Weapon Pack
7. Tenzing 2220 Daypack with Firearm Carry Boot
8. ALPS OutdoorZ Extreme Traverse X
Review of The Best Bow Hunting Backpack
Thereby, here we have chosen the 10 Best Bow Hunting Backpacks regarding their quality, features, and brands. Now we are going to review them along with their pros and cons. We hope our review will aid you in selecting the best one for your needs.
1. ALPS OutdoorZ Pursuit Pack
ALPS OutdoorZ's Pursuit backpack is the most comprehensive bow hunting pack available. It includes a front shelf pocket that organizes all of your gears to keep them easily accessible.
A drop-down rifle/bow holder pocket, quiver holders, and a hydration pocket with ports are just a few of the features that have been designed to assist you in preparing for an all-day hike or hunt.
This backpack is fully equipped for your ultimate comfort, with two pockets on the waist belt to hold essential gear for quick access and reinforced webbing on the pack's sides to accommodate clip-style leather holsters.
It also comes with an orange rain cover to keep your equipment dry during inclement weather conditions. Furthermore, this bow hunting backpack is an exceptional value with the Realtree Edge camo pattern.
It weighs approximately 4 lbs. 1 oz and has a storage capacity of 2700 cubic inches. Overall, this backpack with heavy-duty stitching and high-quality materials and fabrics is one that you can count on.
Pros
Easy-to-access pockets
Includes a hydration pouch
It comes with a quiver holder
Highly versatile and convenient to carry
It comes with a rain cover to resist extreme weather
Cons
It's tricky to mount a bow on it
2. ALPS OutdoorZ Traverse EPS
This Traverse backpack is made for the hunter who knows how to get in and out of the woods. You can carry heavy loads due to its distinctive H-frame design and extension lashing straps.
It has 1200 cubic inches (approximately 30 liters) of expansion space, which can be used to store your weapon, extra clothing, and other mission-related items. You can secure your weapon or other gear with the drop-down pocket and front zippered 'wing pockets.'
Moreover, it comes with a tripod sleeve holder, a padded spotting scope pocket, and padded shoulder straps. There's also a waist belt with two easy-access pockets to keep your belongings safe and well-ordered. In addition, its clip-style holster that is compatible with waist belt adds an extra layer of security as well.
Afterward, this real tree camouflaged bow hunting pack has 74 Liters of volume (4,500 Cubic Inches), and it weighs 6 pounds 14 ounces. It also has an H20 pocket/port and a blaze orange rain cover for bad weather situations. Yet, this backpack is ideal for any outdoor adventure.
Pros
30 liters of expansion space
Front zippered 'wing pockets
It comes with an H20 pocket/port
Clip-style holster with waist belt
Includes Blaze orange rain cover
Cons
Shoulder straps are not very comfortable
Read Also: The 10 Best Elk Hunting Pack
3. Eberlestock X2 Pack
This backpack is the best way to hunt with your A1SS or A2SS Side Scabbard. Padlock webbing tie-points are strategically placed for accessory attachment and gear lashing. It also allows you to carry your shotgun or full-scale hunting rifle comfortably over one shoulder while wearing the backpack.
Moreover, the X2 is a backpack with excellent load-hauling capabilities; it's ideal for traveling into the backcountry to access that prime hunting spot. The Ample FlexChassis lets you flip it forward to use as a seat so you can take a break from carrying the load, and the back features a set of compression straps for lashing on a heavy load.
It has dual hydration compartments so you can keep water on both sides of your body and pockets for spotting scopes for birding and tripods with easy access.
With its durable tubular aluminum Intex frame, padded shoulder straps, plus padded back panel and waistbelt, this is a comfortable backpack regardless of how far you have to go. Overall, the use of waterproof Microsuede material makes this backpack durable and very comfortable to wear.
Pros
Dual hydration compartments
Durable tubular aluminum Intex frame
Made of waterproof Microsuede material
Ample FlexChassis lets you flip it forward
Pockets for spotting scopes and tripods
Cons
The side pouches can cause bladder pain
4. ALPS OutdoorZ Matrix, Realtree Edge
This ALPS OutdoorZ Matrix Hunting Backpack has been designed to expand your hunting experience. This Matrix bow hunting day pack features a unique, versatile design that lets you carry your weapon of choice, whether a crossbow, beginner's compound bow, or rifle, comfortably.
Due to the system's unique design, you can secure your weapon on both sides of the pack. The pack's top section features two padded straps that begin in the center and wrap around the weapon before fastening on each side.
Additionally, the pack features two front wing pockets that help secure and protect your weapons. If you don't want to carry your weapons in them, the "Wing Pockets" are great for carrying extra gear or strapping down heavier loads.
Its two extension lashing straps are also capable of carrying heavier loads. Again, the bottom of this pack includes a specialized pocket to hold a drawn bow or rifle securely. Elsewhere its main compartment is an ideal place to store your smaller items.
However, this ALPS OutdoorZ Matrix backpack also comes with a rain cover, which you can use whenever rainfalls. Also, it has a hydration pocket, so you can use it to carry water or other things.
Furthermore, you don't have to worry about holding on to your gear while you battle the terrain or carry additional gear because this pack will keep everything in place. Overall, if you enjoy hunting, you'll appreciate how easier it will make your day when this pack is by your side.
Pros
Capable of carrying heavier loads
Features two extension lashing straps
Versatile design with the unique fastening system
It comes with a Blaze orange rain cover
Specialized pocket to carry a crossbow, compound bow, or rifle
Cons
It is not suitable for a week-long hunting
Read Also: The 10 Best Bow Release for Hunting
5. Timber Hawk Killshot Backpack
Mike O'Reilly and Paul Thomas founded Timber Hawk Hunting Backpack in 2005. After testing it for years in the Utah mountains, they improved the backpack design with pro staffers and big-game guides input. This Killshot backpack is ideal for day hunts as well as multi-day trips.
It has a large main compartment that can hold several nights' worth of gear and can also be used to pack out meat. It's small enough to move around in thick timber without being noticed, but it has enough storage space for clothing, food, and other supplies to last several nights.
Moreover, this quiet-cloth backpack is made of polyester brushed tricot with a PVC backing and includes a rain cover in the orange blaze. It can carry a rifle or bow in various ways and can hold a two-liter hydration bladder.
Furthermore, this pack has compression straps adjusted for lighter loads and hip belt storage pockets for snacks or gear. It also has Silent Stalk quick-ejection clips and lashing points on the bottom and top.
The backpack comes equipped with a drop-down scabbard for safe rifle storage, a binocular strap system, an internal spotting scope sleeve, and dual shoulder strap pockets for GPS phones and radios.
Overall, Timber Hawk's bow carrying a backpack for hunting is a durable product that comes with a lifetime warranty. For a reasonable price, you can enhance the comfort and convenience of your next hunting experience.
Pros
It weighs only 7.6 pounds
12.5 x 22 x 12 inches dimensions
56.2 liters Storage Capacity
Lifetime warranty from the manufacturer
Suitable for both day hunts and multi-day tours
Cons
Bit of heavy due to the solid construction
6. InSights Realtree Xtra Multi Weapon Pack
InSights is a revolutionary company. In the Insights multi-weapon pack, you will find an innovative and ergonomic design that allows you to store your weapons and accessories safely and functionally. The revolutionary MWP will change the way you think about hunting.
Moreover, the Multi-Weapon Pack is revolutionary new archery and outdoor accessories backpack designed to meet the needs of the modern hunter. With its single weapon compartment and padded shoulder straps, it's like nothing else on the market.
Overall, this In Sight's Realtree Xtra Multi Weapon Pack clips your weapon to the back of your vest so you can swing over obstacles, climb trees, and crouch without fear of dropping your weapon.
Pros
Weighs only 4.8 Pounds
Enclosure for a patented weapon
28 x 15 x 3.6 inches in dimension
Ergonomic and comfortable design
Capable of holding and protecting a variety of weapons
7. Tenzing 2220 Daypack with Firearm Carry Boot
When it comes to hunting, the TZ 2220 is a hard-to-beat option for most hunters, especially ones looking for a lightweight pack. With 2,220 cubic inches of space and a weight of 4 pounds, it could be the ideal companion for long hunting trips.
This advanced hunting pack comes fully equipped with eleven specialized compartments that are able to arrange additional accessories. Also, you can customize this advanced weapon pack in many different ways to match your needs.
Along with high-quality Textile and Synthetic construction and plentiful features like- 6 exterior slips, 4- zip, 1- slip, and a Rain Cover, this Realtree Xtra Multi Weapon Pack has everything you need for a successful hike.
Pros
It comes with a rain cover
Textile and Synthetic construction
6- exterior slip, 4- zip, 1- slip pouches
Features 11-specialized compartments
2,220 cubic inches storage capacity
Cons
Difficult to place the hydration bladder back after refilling
8. ALPS OutdoorZ Extreme Traverse X
The TraverseX is your trusted hunting pack for everyday use, but when you head out on an adventure, it can hold everything from your rifle to your rifle scope, and it's even big enough to haul in the meat of whatever game you're hunting.
This multipurpose backpack has capabilities for mountain weather and western-style hunting. Its wing pockets can be used as storage for scope and as a means to haul out meat. It also includes a tripod holder and shooting stick.
Additionally, the stowable meat shelf is another hidden component of the ALPS OutdoorZ Extreme Traverse X backpack. It transforms and allows the pack to live up to its reputation by carrying additional weight securely and comfortably.
Again, the Lycra shoulder straps and padded waist belt, as well as load lifters and anti-sway straps, make this pack ideal for overnight backpacking trips into the backcountry.
However, it uses 1680D nylon ballistic fabric, which is used throughout the pack for more durability and strength. The backpack weighs 6 pounds 2 ounces and has enough space (48L/2, 900 in³) for your rifle, bow, or handgun. Also, it has Hypalon to reinforce stress points, dual aluminum stays, a 2-liter H2O pocket/port, and a rain cover.
Pros
Features Lycra shoulder straps
Includes 2-liter H2O pocket/port
48L/2, 900 in³ storage capacity
Suitable for western-style hunting
1680D nylon ballistic construction
9. Badlands Superday Pack
It is the most popular Badlands daypack. It comfortably carries everything you need for an epic day in the woods, including bows, rifles, emergency gear, and more.
Moreover, this backpack is highly durable and quiet because it's made of KXO 32 camo fabric. It has a molded foam suspension system, making it a daypack and fitting exceptionally well when carrying a rifle.
It is a pack with two pistol-holding straps on the sides. Also, it has 3-storage compartments and seven pockets, which make it ideal for people who carry almost everything they own with them.
However, if you face something wrong with it, Badlands, the company that makes this backpack, will fix everything wrong with it for free. Heck, they'll replace it if they can't fix it.
Pros
KXO 32 camo fabric construction
Extraordinarily durable design
Features two pistol-holding straps
Features molded foam suspension system
Equipped with 3-compartments and 7-pockets
Cons
It doesn't feature any handle on the top
10. Eberlestock Team Elk Pack
The Eberlestock Team Elk Backpack is a top-quality bow hunting backpack designed for the Rocky Mountain Elk Foundation's (RMEF) team members and hunters worldwide.
The Team Elk pack includes grapple-compression straps, built-in bow carrier, Intex tubular aluminum frame, waistbelt rangefinder pockets, and a fold-away rifle scabbard, along with other best-in-class features.
Moreover, this 50 liters team Elk Pack is an excellent size for shorter hunting trips and can also be used as a day pack. This Team Elk pack has an ergonomic body-following design that conforms to your body's shape, ensuring stability. Even the best bow hunting pack won't help you if it doesn't fit you.
Furthermore, this M5 is a combination of comfort, durability, and accessibility. It has been designed specifically for hunting and hauling big game. It can be accessed from two points to quickly retrieve your gear, especially useful when you haul heavy loads.
With both top and front-loading access, you can grab your equipment at any time. Again, this Team Elk backpack has hydration pockets and dual full-depth spotting scope on either side of the pack.
Pros
2-optimal access points
3,100 cubic inches storage room
Features dual full-depth spotting scope
Bottom-shelf design that contours your body
Lightweight, comfortable and tough construction
Best Bow Hunting Backpack Buying Guide
Generally, best bow hunting backpacks are built with thick woven nylon fabrics, durable padded shoulder straps, dual side-loading cargo pockets that hold bows safely.
They also feature a unique front shelf pocket that holds maps and keeps your gear at your fingertips without having to stop to dig through your pack.
However, as bow hunting backpacks are available in various brands, quality, design, color, and features, it becomes difficult to understand which one will best fit my hunting needs.
So, in this section, we will break down all the essential features and factors necessary to determine the right hunting pack for you.
Bow Attachment
If you're considering hunting with a bow, make sure you get a backpack with a bow attachment. It's the first thing you should look for when shopping for backpacks.
There is usually one in a bow hunting backpack. Although whether a hunter needs a bow attachment or not depends on how they plan to use their backpack.
It's convenient for you because you may need free hands from time to time, and finding a safe place to store your bow can be difficult.
Hydration Bladder
Dehydration can lead to severe health issues. That's why the hydration bladder is one of the essential features to look for in a backpack designed for use during bow hunting.
When looking for the best bow hunting backpack, always check to see if it has a place for a water reservoir. Or, at least, there should be enough room to store one that you will purchase separately.
Depending on the season and how many hours you will be in the woods, it is better to determine how much water you will carry along with you.
Storage
Hunters, who prefer to be well-prepared, need a backpack that will carry all their items without issue. Therefore, the capacity of your bow hunting bag is essential.
Usually, a bow backpack's storage capacity varies based on one's habits and lifestyle. On the go, not everyone requires a lot of storage space.
Choose the suitable storage space for you, and have fun on your hunting trip. However, if you go hunting for a long time, your backpack should be big enough to hold everything you need.
Weight
The weight of your backpack is crucial because it will transfer the weight to your body. It means that for longer trips, you should have a light hunting backpack.
Also, if you prefer to hunt light, you should note the weight capacity of the bow backpack. You may want to check out the available choices and choose one that's best for your needs.
Comfort
Although you may feel that comfort isn't that important, it is something that you should not compromise. It is crucial to ensure that your bow hunting backpack provides padding for your back and fits closely to your body.
Therefore, most bow hunting day packs also come with waist, chest, and shoulder straps. On the contrary, if you wear a heavy pack and do not have ample padding, you'll end up with a sore back and spend the day feeling uncomfortable and distracted.
Durability
The quality of the materials and craftsmanship will determine how well a backpack holds up over time. Quality backpacks are designed to be both durable and easy to use.
So, when choosing a backpack, look for a strong one that will last over the years.
Usually, bow hunters look for a backpack with solid zippers, wide straps, heavy-duty fabric, double stitching at the seams, large clips, and most importantly, one that won't tear or break.
Frequently asked questions
Q: What should I look for in a bow hunting backpack?
A: Look for features like durability, storage capacity, comfort, adjustability, and weather resistance.
Q: What is the ideal size for a bow hunting backpack?
A: The ideal size depends on your needs and preferences, but most backpacks range between 20 and 40 liters in capacity.
Q: Are backpacks with hydration systems better for bow hunting?
A: Yes, backpacks with hydration systems are ideal for bow hunting because they allow you to stay hydrated without having to carry a separate water bottle.
Q: How much weight can a bow hunting backpack carry?
A: Most bow hunting backpacks can carry up to 50 pounds of weight, but it's best to check the manufacturer's specifications to be sure.
Q: Can I use a regular backpack for bow hunting?
A: You can use a regular backpack for bow hunting, but it may not have the specialized features that a bow hunting backpack offers, such as bow and arrow pockets or a meat hauler.
Q: Do I need a camouflage backpack for bow hunting?
A: A camouflage backpack can help you blend in with your surroundings and remain undetected by prey, but it's not a necessity. A neutral-colored backpack can also work well.
Q: Can I use a bow hunting backpack for other outdoor activities?
A: Yes, a bow hunting backpack can be used for other outdoor activities like hiking, camping, or fishing.
Q: How do I clean my bow hunting backpack?
A: You can clean your bow hunting backpack with a mild detergent, warm water, and a soft brush. Avoid using harsh chemicals or a washing machine.
Final Verdict
Usually, a high-quality bow-carrying backpack makes hunting significantly easier and more successful. And so, here we have reviewed the ten Best Bow Hunting Backpacks of our choice.
Here we have included major buying factors in this article as well. We hope investing in any of our recommended bow hunting packs will help you be better prepared for your next trip and even help you get more hunts!