10 Best Shooting Bags in 2023
Last Updated on April 3, 2023
Looking for the best shooting bag to improve your aim? We've got you covered. Choose from three types: lead sleds, front rifle rests, and shooting bags.
Our concern is with shooting bags today. Later on, we will try to cover the other two types as well. The truth is shooting bags are more beneficial than the other two types. Those are lightweight and portable. A good shooting bag can serve a variety of shooting purposes.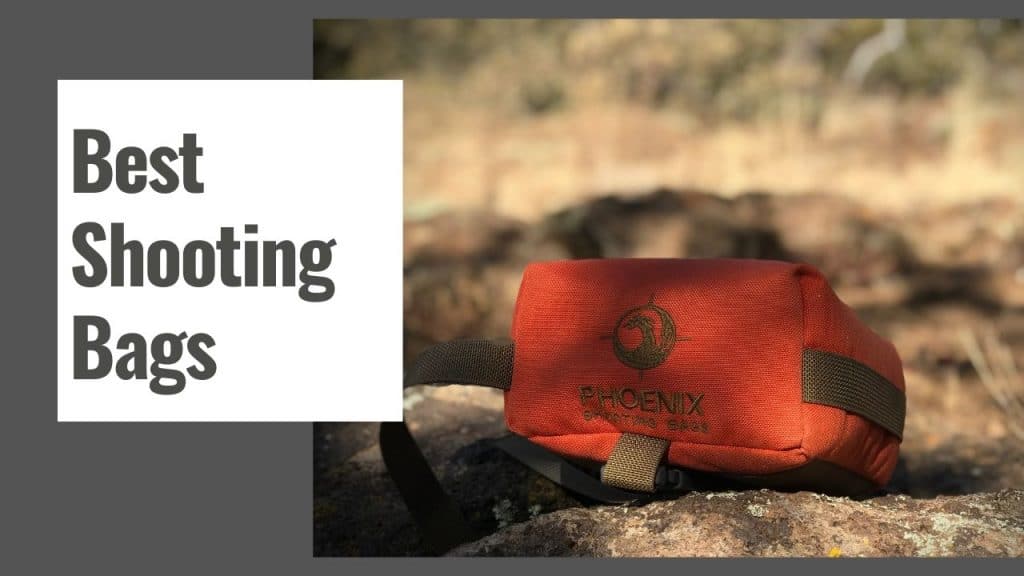 In the field, a shooting bag is pretty convenient. Also, the price of shooting bags is reasonable too. So, you can realize why outdoor shooters love shooting bags more than lead sleds, and front rifle rests.
In this article today, I will review some of the best shooting bags so that you can wisely pick one. Let's begin the central part of the article.
Quick Answer – Top 10 Best Shooting Bags
Reviews of the Best Shooting Bags
While shopping for Shooting Bags, you need to consider three factors seriously- material, filling possibilities, and functionality. In terms of material, you can consider natural material for more comfort. Look for something water-resistant. You will thank yourself later for that. The choice depends on you.
Shooting bags offer unalike possible fillings. You should look for something that doesn't absorb water. The last thing you need to consider is the functionality. A multifunctional shooting bag is an ideal choice as they are easily convertible to different shooting positions. With a multi-purpose bag, you can practice and participate in the real hunting game.
Considering all those factors, we've put together ten best shooting bags in here. We will review in detail so that you can understand which one is the right fit for your purpose. Let's start:
1. Caldwell Deadshot Bag
Caldwell Deadshot Bag is the first entry on our list for many reasons. First of all, the shooting bag is made of top quality 600D Denier polyester material. Hence it is water-resistant and durable. You can use the bag in any weather condition. Moreover, the bag can be placed on any shooting surface.
The bag is by far the largest in the industry, with approximately 8 lbs. The bag offers a quick connect system that makes it easy to transport. The overall dimension of the front bag is 10×8 1/2×6, and the rear bag dimension is about 5x5x4 ½.
Hunter and shooters who need a versatile and steady shooting system can purchase the Caldwell Deadshot Bag without any doubt. The bag requires seconds to set up for the next shot. This bag comes at a meager price, as well.
Pros
Easy to set up within a few seconds
Made of high quality 660 Denier Polyester
Durable and lightweight
Large and inexpensive
Comes with Quick Connect feature
Cons
The fill hole of the smaller bag is very smaller
2. Caldwell Tack Driver Rest Bag
The Caldwell Tack Driver Rest Bag is the second option in this list. The one-piece shooting bag is the epitome of stability. It is the most effective one-piece shooting bag available in the market today.
The bag is made of high-quality non-marring rubber and polyester material. Hence, it is long-lasting and be able to serve for many years. The Caldwell Tack Driver Rest Bag takes the place of two.
You can carry this bag anywhere. Carrying the bag is super simple, and changing the position as well. You will get an integrated carrying strap for transportation.
The bag reduces muzzle jump and felt the recoil. You can easily set up and shoot. The weight is about 18lbs when filled with media. Overall, this is a fantastic option to have on this price range.
Pros
Made of high-quality polyester
Weighs 18 lbs when filled
Helps to ensure an accurate shot
Features integrated carrying strap
3. Caldwell Tactical DeadShot Combo
Our top three are from the mighty Caldwell brand! It is because; these three are incomparable with any other shooting bags in the market. Based on construction, price, and performance, all three of them are invincible.
This Caldwell Tactical DeadShot Combo is the epitome of topmost quality. DeadShot Combo delivers a stable and optimal shooting platform for all magazine-style rifles.
This high profile bag comes with an ideal height for 30 round magazines. Besides, it also comes with a durable Ballistic Nylon on the contact surface. This Ballistic Nylon holds up abuse from handguards.
You can easily rotate your rifle for magazine changes. The bag is specially designed for tactical rifles, and also those come filled. Overall, the price is reasonable too.
Pros
Made of Ballistic Nylon Fabric
Adjustable strap with hook and loop
Ideal for tactical rifles
Bags come filled
Cons
Very fidgety and require a lot of patience to get set up for each shot
4. Protektor Model Rabbit Ear Rear Bag
Protektor Model Rabbit Ear Rear Bag is an excellent choice for the shooters of any kind. This reliable and practical bag is widely popular as well. The product is a combination of attractive design and top quality material. It is made of top-grain leather.
The Protektor Model Rabbit Ear Rear Bag is manufactured in the USA. These best shooting bags come with sand filling, which means the bag is ready to use right away. You will get an excellent shooting position due to the extreme steadiness of the item.
The natural material enhances durability and stability. Also, it offers excellent acquisition efficiency. An overall dimension of the product is 5″ wide, 6 3/4″ long, 2 5/8″ high. This bag features 2 1/2″ high ear. The price is a bit high, but compare to
Pros
Comes filled with sand
Well made with top quality grain leather
Extremely durable
Steady and solid
5. Lyman Match Shooting Bag
The Lyman Match Shooting Bag & Bag Jack Combo Kit is another excellent solution for easy target acquisition. You will surely get the best shooting position as for the elevation-adjustable Match Bag and Jack Bag.
The Lyman Match Shooting Bag is made with aluminum and steel composition for durability and stability. If you use this shooting bag, you can easily reach to the desired shooting position.
The bag reduces all the risks of the missed shot. You will get a robust shooting platform, no matter the surface. The matching bag is well constructed with abrasion-resistant 600D nylon.
The micro-suede padding on contact points keeps the rifle safe during shooting. The bag offers a tight grip so that you can use it on long-range shooting. Overall, it is excellent and world-class based on price, quality, and performance. Don't miss it.
Pros
Adjustable, stable and portable
Made of high-quality material
Durable and practical
Keeps the firearm protected
Ideal for long-range shooting
Cons
No carrying case included
6. Caldwell Deadshot Front Shooting Rest Bag
Caldwell DeadShot Front Shooting Bag is thoughtfully designed and constructed of water-resistant, 6 Denier Polyester materials. The material is durable and robust. It will allow you to use the bag in any weather condition.
As it is water-resistant, it won't be affected by rain. The Caldwell Deadshot Front Shooting Bag is ideal for any shooting purpose. The bag with a quick-connect feature is super simple to transport.
You can keep the bag in any shooting surface without any problem. You will get both rear bags and front bags for excellent target acquisition capabilities.
The bags come with pre-filled ground com cob granules to ensure the extreme steadiness of the rifle. On the other hand, the item is not very heavy. The bag is filled enough but flexible for adjustment too.
Pros
Made of sturdy 6 Denier polyester
Water-resistant
Easy transport with the Quick-Connect System
Comes filled for immediate use
Can be used on virtually any surface
Cons
No vertical height adjustment system included
7. Black Color Bench Rest Shooting Bags By TACBRO
The TACBRO Set of 3 Black Color Bench Rest Shooting Bag works with many models. If you are looking for a reliable shooting bag, this bag is highly recommended.
Those bags are made of quality materials. You can order filled or unfilled based on your necessity. The bag's top is made of rugged nylon to ensure optimal reliability and durability.
These bags are versatile; hence, you can use them with almost all kinds of rifles. Besides, those bags are easy to fill and unfilled. The overall quality is amazing.
Pros
Made of top-grade material
Steady and durable
Rugged nylon top
Suitable for a different kind of firearm
Features three different bags
Cons
Fill funnels on the bag are pointing down while carrying
8. American Mountain Supply Rear Sniper Bag
The American Mountain Supply Rear Sniper Bag is ideally designed for prone rifle shooting. The bag is made of top quality Heavy Duty 600D Nylon Fabric. That means the bag can be used in any weather condition and on any surface.
The American Mountain Supply Rear Sniper Bag is made in use and is ideal to use in uneven and rough shooting terrain. The item features one pound of lightweight polymer fill that won't retain water. The product, in general, is good. The price is also reasonable, as well.
Pros
Made of high-quality material
Steady and reliable
Made in the USA
Polymer fill won't retain water
Offers consistency in the use
Cons
A bit smaller for the price
9. Nachvorn Outdoor Shooting Rest Bag
The Nachvorn Outdoor Shooting Rest Bag will take your shooting experience into the next level. You will get excellent precision in each shoot. The bag is made of high quality water-resistant 600D polyester material.
Hence, those are long-lasting and withstand in any weather condition. You will get stable and steady shooting support with a quick-connect clip. Your rifle's finish will not be damaged. The bag supports almost all types of rifles.
Those bags come unfilled. You have to do it yourself. If this doesn't feel painful to you, then give it a try. It is best with all the other ways. Hurry up the stock is limited.
Pros
Water-resistant
Well made with high-quality 600D polyester
A steady and solid support
Features quick connect clip
Supports almost any rifle or shotgun
Cons
The smaller bag is difficult to fill
10. Hiram Front & Rear SandBag
The Hiram Front and Rear SandBag is the last attraction today, but not the least. Like all the above nine products, this too has something special. The built quality is fantastic, with top-quality 600D oxford cloth.
Both front and rear support bars are water-resistant. You can use them for many years without any problem. The bag features quickly-connect shoulder carrying straps. You can take them anywhere you wish. Transportation is super easy and comfortable.
The bag also keeps your rifle in good condition by protection rifle finish. The interior of the bag is non-marring and non-slip, which will keep your rifle safe. So, the Hiram Front and Rear SandBag are worth a try. The price is not prohibitive. Give it a try; I am sure you will love it.
Pros
Quick connect the shoulder strap
Easy transportation
Lightweight but solid
Steady
Water-resistant
Made of high-quality materials
Inexpensive
Buying Guide of the Shooting Bags
People who are new to long-range shooting or precision may not be familiar with shooting bags or their proper use. To help you learn about how to find the right shooting bags, here are some factors that you need to consider when choosing a shooting bag-
Sizes & Design
When it comes to shooting, every shooter has different preferences depending on his shooting style. Therefore, there are several kinds of shooting bags, including ones to support positions like the kneeling and sitting positions.
Moreover, the type of bag you use will depend on what you find the most effective and comfortable to carry. Bags designed for obstacles and creative positions are more likely to help you improve your coordination and balance.
Additionally, there are various smaller bags to choose from, many of which feature a cylindrical design. This shape of shooting bag allows for different rear heights and ideal for practicing multiple different shot types.
Material
Mostly, shooting bags are available in various materials, including nylon, polyester, and leather. Therefore, before going for a specific shooting bag, make sure that the material is good enough to protect your firearm from any rough handling or during transport. Again, you must ensure that your bag is waterproof.
Filling
There are different ways to fill a shooting bag. Some bags need to be filled, whereas others come with a firm filling. Again, a good filling material should be resistant to water absorption, as this will prevent the filling from rotting or molding when wet.
Besides, the filling material affects the weight. The versatility of the filling allows you to tailor the stiffness of the bag to your specific needs.
Again, unfilled bags are usually cheaper than filled versions. People who have their own preferences for the filling material should go with the unfilled bags. But, professionals recommend using plastic pellets for filling yet.
Functionality
Most multi-functional shooting bags are designed for more than one type of shooting position. These shooting bags help you to get into different shooting positions. But it is wiser to choose such a shooting bag that works best for your shooting position. However, in terms of target practice and hunting games, a multipurpose bag is ideal for hunters and shooters.
FREQUENTLY ASKED QUESTIONS
Q: What is a shooting bag?
A: A shooting bag is a type of support for firearms that helps stabilize and improve accuracy while shooting.
Q: What are the different types of shooting bags available?
A: The three most common types of shooting bags are lead sleds, front rifle rests, and shooting bags.
Q: What are the benefits of using shooting bags?
A: Shooting bags can provide a stable base for shooting, help to reduce recoil, and improve accuracy.
Q: Can shooting bags be used for all types of firearms?
A: Shooting bags are generally suitable for rifles and shotguns, but they may not be suitable for handguns.
Q: What should I look for when choosing a shooting bag?
A: When choosing a shooting bag, consider the material, size, weight, and design to ensure that it meets your specific needs.
Q: Can shooting bags be used for hunting as well as target shooting?
A: Shooting bags are primarily designed for target shooting, but they may also be useful for hunting in certain situations.
Q: Do shooting bags come in different sizes?
A: Yes, shooting bags come in a variety of sizes to accommodate different types of firearms.
Q: What are some popular brands of shooting bags?
A: Some popular brands of shooting bags include Caldwell, Vanguard, and Tipton.
Q: Can shooting bags be used with a bipod?
A: Shooting bags can be used in conjunction with a bipod to provide additional stability while shooting.
Q: How should I care for my shooting bag?
A: To care for your shooting bag, clean it regularly and store it in a cool, dry place when not in use. Avoid exposing it to extreme temperatures or moisture.
Final Thoughts
That's all for the best shooting bags reviews. I hope you liked our article. All the products mentioned above are amazing in terms of quality, performance, and price. If you pick any of the above, you will not regret it. Still, the best depends on the need of the consumer.
The one that fulfills all your needs will be the best one for you. Check which one from the above list meet your need and your budget. After that purchase, enjoy your shooting session. It's time to say goodbye. If you need to know anything, feel free to ask. See you soon with many more!