Last Updated on January 11, 2023
Mil-Dot reticle scope is a standard tool for long-range shooting. Many assume that Mil from Mil-Dot reticles stands for military reticles. That is not the case. Mil stands for Milliradian and is a unit to determine the angular measurement.
It is mainly used in the adjustment of firearm sights depending on the angle of sight compared to the barrel. A Mil-Dot reticle has few dots in its horizon and vertical line. And the space in between two dots measures 1mil, which is equal to 3.6 inches (10 cm) at 100 yards.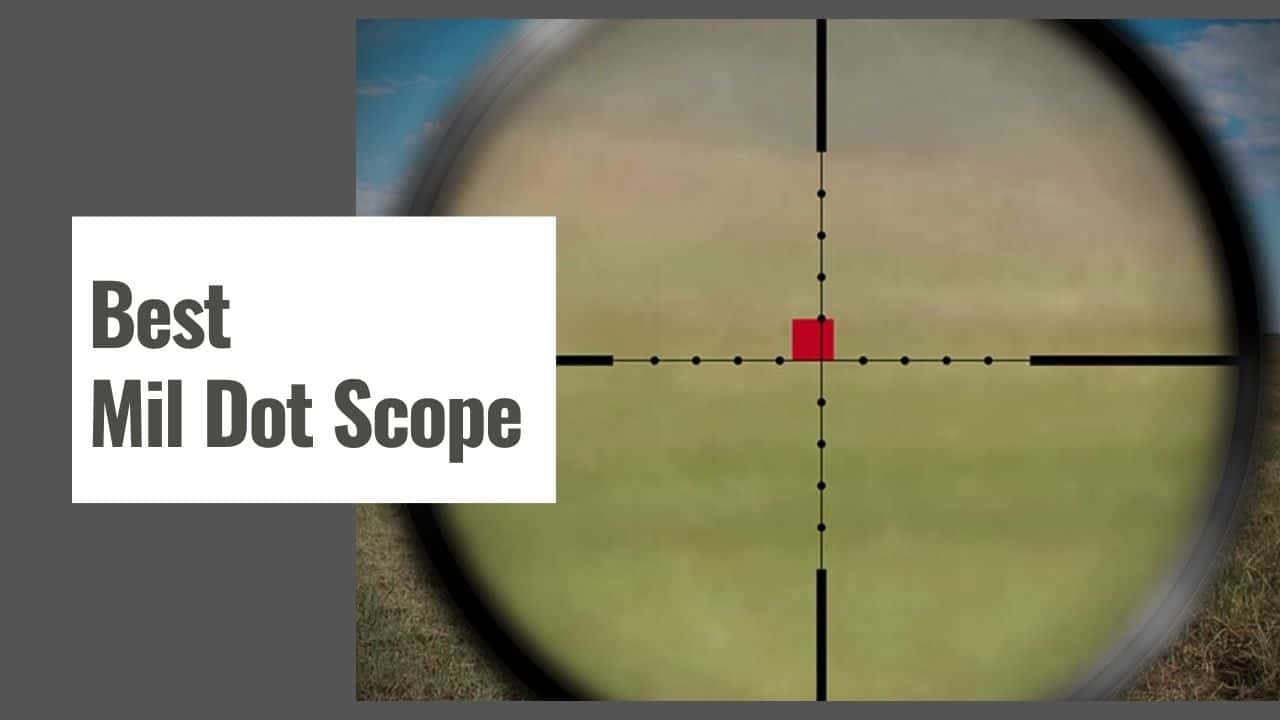 Hunters or shooters use these scopes for range finding. Such scopes make long-range shooting easier. Estimating the size of a target at a known distance or vice versa is possible with this tool. It allows bullet holdover as well.
So, for any firearm users, Mil-Dot reticle scope is essential for targeting at a distance. It is the need for both beginners and most skilled. Here, we are making a list of the best Mil Dot scope.
Quick Answer – Top 10 Best Mil Dot Scope
2. VORTEX OPTICS DIAMONDBACK SECOND RIFLESCOPES
7. MILLETT BUCK GOLD 4-16X 50 SIDE FOCUS RIFLE SCOPE
8. BUSHNELL TACTICAL MIL-DOT RETICLE
Reviews of the Best Mil Dot Scope
In a standard mil-dot reticle scope, you will get some common features. They might be the same in each one of them, but those common factors make the best Mil Dot scope. The scopes we are reviewing are from some of the best brands.
So, you can rely on them. They are all durable and apt for long-range shooting. We all know how crucial the dimensions of the magnification and objective lens are. They are responsible for light transmission and optimum clarity. All the mil-dot rifle scope has target turrets.
With the knobs, adjusting the windage and elevation becomes easy. Some of them have parallax adjustment and fast focus eyepiece, as well. When you are hunting, you will face extreme weather conditions. Humidity is evident in this case.
Then, with every gunfire, you are going to withstand recoil. The scopes we are reviewing are all shockproof, waterproof, and rainproof. The protection helps in maintaining durability. We are going to discuss more in our review. So, let's start.
1. UTG 3-12X44 30mm 36-color Mil-dot
UTG 3-12X44 compact scope is built on the True Strength Platform. It has a unique circuit and housing design. For uninterrupted illumination under heavy recoil, it's apt. The durable 30 mm tube is sealed and filled with nitrogen.
So, shockproof, fog-proof, and rain-proof. It tackles the harshest of conditions with ease. With the solid of shocks, it is not going to move. So, reliable. Multi emerald coated lenses work in maximizing light transmission.
It has a magnification of 3-12x. On the lenses, it has integrated angled front sunshade. It's complete with flip-open lens caps. The scope uses premium Zero Locking and Zero Resetting turrets.
It guarantees precise, responsive, and most consistent 1/4 MOA per click windage and elevation adjustment. It is an IE tactical range estimating scope with 36 colors mil-dot. One can change the colors the way he wants.
The colors prove to be handy in different light and weather conditions. For each situation, there is one color that provides optimum clarity. Lighter or darker light conditions don't matter here. The process happens with just one button click. It also offers a lifetime warranty.
Pros
Tube built on a True Strength Platform
A 36-color EZ Tap Mil-Dot reticle
Best-in-class multi emerald coating
Continuous illumination under heavy recoil
Zero Locking and Zero Resetting target turrets
2. Vortex Optics Diamondback Second Riflescopes
Vortex is a well-known manufacturer of scopes. This rifle's scope is from the Diamondback series. It comes with a one-piece aluminum tube with a black hard anodized finish, which helps to camouflage the shooter's position.
This rifle's scope is both argon purged and O-ring-sealed. So, fog-proof and waterproof for a lifetime. It is shockproof and absorbs heavy recoils due to its durable construction.
It features 1.75-5x power magnification and a 32mm objective lens. The dimensions are ideal for the big game, muzzleloader, slug shotgun, and brush hunting applications. Fully multi-coated lenses offer crisp, clear, bright images from dawn till dusk.
Magnification adjustment ring makes your job less frustrating and quick. It features a Dead-Hold BDC MOA Reticle- a combination of customized dot design and a second focal plane. The design helps to estimate the hold-over, and the SFP maintains the same appearance even after magnification.
With the metal on metal precision turrets, elevation and windage adjustments become easy. Zeroing and resetting it after sighting in is also possible with this scope. There are a precision glide erector system and a fast-focus eyepiece. They are for accurate tracking and repeatability and quick reticle focusing.
Pros
One-piece tube with a hard-anodized finish
Fully multi-coated lenses
Second Focal Plane design
Dead-Hold BDC reticle
Metal on metal precision turrets
3. UTG 4-16X44 30mm Scope
It's a 30mm sturdy aluminum tube with 4-16X power magnification and a 44mm objective lens. The best in class emerald lens coatings ensure maximum light transmission. The mil-dot reticle provides the most optimal aiming and shooting performance.
UTG max strength twist-lock weaver rings make it reliable. It is a UTG Mil Dot scope, therefore, built on the True Strength Platform. The quick power selector ring makes target acquisition and zooming in easy and accurate. It has a field of view of 100 yards.
Equipped with premium lockable and resettable turrets, it ensures fast and intuitive zero adjustments. Retention also takes only a few seconds. The windage and elevation have a wide range due to the size of the tube.
It is completely sealed and nitrogen filled, thus shockproof, and fog-proof, and rainproof as well. The scope also features the innovative EZ-TAP Illumination Enhancing System. This system works with red/green in dual-color and 36 colors in multi-color mode.
Both the mode keeps the precision intact in any light and weather conditions. 1-Click Technology allows quick access to brightness and color.  It has a built-in sunshade complete with flip-open lens caps.
Pros
Emerald coated lens
EZ-TAP Illumination Enhancing System
Quick access to color and brightness
Lockable and resettable turrets
Sealed and nitrogen filled
4. Tasco Varmint 2.5-10x 42mm True Mil-Dot
Tasco 2.5-10x scope is a 1-inch tube scope from its target and varmint series. It is a black scope and has a matte finish on it. It performs extraordinarily at intermediate and long ranges.
It has an extra-large 42mm objective lens. The lenses are Supercon/multi-layered and fully coated. The crisp, clear, ultra-bright images it provides makes finding and exterminating the smallest targets hassle-free from a far distance. It has a 35-9 ft field-of-view at 100 yards.
It is a True Mil-Dot reticle with easy windage and elevation adjustments. The scope follows the 1/4 M.O.A. per click adjustments and features glove-grip turrets. So, the target turrets can be handled and gripped with the gloved hands.
Capable of holding the zero tightly, alignment of the scope while targeting was never this easy. The parallax setting of 10 ft to infinity allows keeping the target reticle on the same focal plane. It is essential for long-range shooting. It is durable and has a lifetime warranty.
Pros
A True Mil-Dot reticle with 42mm objective lens
Multi-Layered coated lenses
2.5x power minimum and 10x power maximum magnification
Excellent intermediate and long-range performance
Comes with a limited lifetime warranty
Cons
Requires frequent adjustment to sight in
5. Primary Arms 4-16×44 SFP Rifle Scope
Primary Arms Riflescope ranges target at a variable 4-16x power magnification. It has a Second Focal Plane design where the image remains the same even after the different levels of magnification. The 44mm objective lens uses higher magnification for a more extended period.
With the larger lens, the user gets better light transmission, which is excellent for low light situations. It provides a broad, bright field of view, and the images are more crisp, clear, and vivid.
The scope has an illuminated mil-dot reticle. It offers the ability to switch between short and long-range viewing. The partial red illumination works as a boon in low lights. It requires a CR2032 battery, which is included.
The reticle works with a total of 12 brightness settings. Depending on the light condition, you can adjust brightness levels and get a clear view. It is a durable, shockproof, waterproof, and fog-proof scope.
Locking turrets with resettable zero give audible and tactile 1/4 MOA clicks. Not just that, it has a side-mounted parallax adjustment knob as well. It keeps the reticle parallax-free and the target image sharp at extended ranges.
Pros
An illuminated mil-dot reticle
Has a Second focal plane design
Comes with partial red illumination with 12 brightness settings
Locking turrets with resettable zero
Shockproof, waterproof, and fog-proof
Cons
Lens, a little bit unclear
6. Vortex Optics Viper PA Second Focal Plane Riflescopes
It is a solid 30mm single-piece tube with 6.5-20x magnification and 50mm objective lens. Made from a block of aircraft-grade aluminum, this is the best Mil Dot scope by Vortex thus far that covers long-range.
It has a hard anodized finish and tough enough to handle heavy recoil. Moreover, it is O-ring sealed and argon purged, so both waterproof and fog-proof. The scope's premium, fully multi-coated, extra-low dispersion lenses provide excellent resolution and color fidelity.
For enhanced light gathering capability, it uses XR coatings, and the armored coating is for protection. The crisp, clear image is soothing to the eyes and easy to set the target. It features the MOA reticle that is known for helping to estimate range, windage, and bullet holdover.
MOA reticle features SFP, as well. It fulfills all the requirements of shooters needing ranging ability. Re-indexing to zero after sighting in the scope becomes quick with the capped turrets. Chances of unintentional adjustment are also rare, which is excellent for hunting.
The Parallax adjustment knob keeps range numbers visible. It also features fast-focus eyepiece and MAG-Bar. The first one guarantees quick and easy reticle focusing, and the latter ensures fast, easy adjustments in magnification.
Pros
Sturdy main tube with hard anodized finish
Extra-low dispersion lenses
O-ring sealed and argon purged
Fast-focus eyepiece and MAG-Bar
Quick reset turrets
7. Millett Buck Gold 4-16x 50 Side Focus Rifle Scope
Millett Buck Gold guarantees pinpoint accuracy. It's a 30mm tube with a matte black finish. The variable 4-16x power magnification and 50mm large objective lens is for large light gathering and covering a good range while targeting.
It doesn't matter whether you are in low light conditions or at great distances; all this mil-dot reticle does is offering accuracy and clear viewing. The optics used in it are fully multi-coated. So, you get vivid images.
Each material used in its construction is 100% quality material and tested extensively. It has target turrets for zeroing while sight in. They are resettable. The Mil-Dot Bar system functions similar to a standard Mil-Dot, but there is a slight difference.
It has an additional thin line, which ensures more natural alignment. It features adjustable green illumination with ten brightness settings. It performs better in low light. Moreover, with all the brightness settings, precision in varied lighting conditions becomes easy.
Pros
100% quality materials
Matte black finish tube with multi-coated optics
4-16x magnification and 50mm objective lens
Ten brightness settings
Mil-Dot Bar system
8. Bushnell Tactical Mil-Dot Reticle
Bushnell riflescope is a matte finish scope with a fixed power magnification. The 40-millimeter objective lens and 10x magnification offer unfailing reliability, maximum image clarity, and accurate precision.
The reliability of the scope comes due to a few features. It is a one-inch aluminum tube and argon purged. It makes the tube shockproof to have the ability to absorb heavy recoil. Next comes the image clarity. That also depends on a few features.
The fully multi-coated optics, along with the Ultra Wide Band Coating, ensures proper light transmission and image clarity. It uses RainGuard HD anti-fog technology on the lenses to continue using it in heavy rain and other extreme situations.
The optics will remain clear even in the maximum humidity due to extreme weather conditions. Then comes the precision. It is a mil-dot reticle with target turrets.
With the easy adjustment of windage and elevation, precise target acquisition is a matter of fun. The blacked-out finish makes it easy to blend in any condition for concealment. It comes with a limited lifetime warranty.
Pros
Sturdy one-inch body tube with a blacked-out finish
10x magnification and 40mm objective lens
Ultra Wide Band Coating and fully multi-coated optics
Mil-dot reticle and target turrets
RainGuard HD anti-fog technology and argon purged
Cons
Lacks  parallax adjustment
9. UTG 3-9X32 1″ BugBuster RGB Mil-dot
This one is comparatively shorter, considering other Mil Dot scopes from the same brand. So, it is ideal for Airsoft assault rifles as they have short barrels. Portability is the key feature here. It is a 1-inch tube and has a variable 3-9X power magnification and 32mm objective lens.
It has all the essential features of USG scopes, which make them distinctive from others. Built on a True Strength Platform, it features Red/Green dual illumination. The lenses have emerald coatings on them for maximum light transmission and optimum clarity.
It works in any light conditions, lighter or darker. It absorbs shocks well with the heaviest of recoil. Water intrusion is null and void as it is completely sealed and nitrogen filled.
The target turrets with 1/4 MOA per click adjustment allow for consistent and precise windage and elevation adjustments. Not only that, lockable and resettable turrets make zeroing easy.
It has the apt field of view and eye relief for Optimum Critical CQB Mission. The scope has a 2-inch sunshade and high-quality lens caps, which flip-opens. Moreover, the quick-detachable rings allow for sturdy mounting.
Pros
1-inch tube built on True Strength Platform
Emerald Coated lenses with red/green dual illumination
Range Estimating Mil-dot Reticle
Zero lockable and resettable turrets with 1/4 MOA Per Click adjustment
Has 2″ Sunshade, flip-open lens caps and quick-detachable rings
Cons
Not as efficient for weapons with longer barrels
10. Bushnell Trophy Rifle Mil-Dot Reticle
Bushnell's 3-9X magnification scope from their Trophy series offers you the best-in-class light transmission and optimum clarity. The variable magnification provides unbeatable edge-to-edge clarity from a far distance and low light conditions.
The 1-inch one-piece tube construction with integrated saddle makes it is easy and quick to mount on the rifle. It has a matte black finish. Optics are multi-coated. So, sturdy, bright, and provides optimum clarity. It comes with a 40mm objective lens.
Not just that, it applies Rain Guard HD technology on the lens. The technology offers 91% light transmission in any weather conditions. It has a mil-dot reticle with a 4-inch eye-relief. With the 1/4 MOA fingertip target turrets, it allows quick and easy adjustments and alignment.
There is a fast-focus eyepiece at the end of the scope, as well. The second name of this rifle's scope is durability. Bushnell Trophy Rifle Scope comes with 'No Questions Asked' lifetime warranty.   The scope is 100% waterproof, fog-proof, and shockproof. It's a tall but valid claim.
Pros
Integrated saddle
4-inch eye relief
Rain guard HD technology
1/4 MOA fingertip windage and elevation adjustments
Lifetime Warranty
Final Thoughts
Scopes are a tricky tool. And Mil-Dot rifle scopes are the easiest of them all. But, not with an average scope. Using the best Mil Dot scope becomes mandatory. Especially for easy sighting in. We have done our research well to let you know what is best for you. We have discussed scopes for both the long and short barrel.
Mounting the scope on the rifle depends on the size of the barrel and scope. Then, comes different magnification power and objective lens. Some have variable power magnification and some fixed. The larger the objective lens, the better the light transmission. Choose the right magnification according to your needs.
Keep in mind that such tools need proper maintenance. They are durable and ready for combating harsh conditions. But with appropriate care. Not just that, a bit of knowledge about how the scope works are essential, as well. It makes your shooting and hunting experience much better. So, spent on the best one and have a happy hunting experience.
You May Also Like to Read