The 10 Best Shooting Sticks for Hunting in 2023
Last Updated on April 6, 2023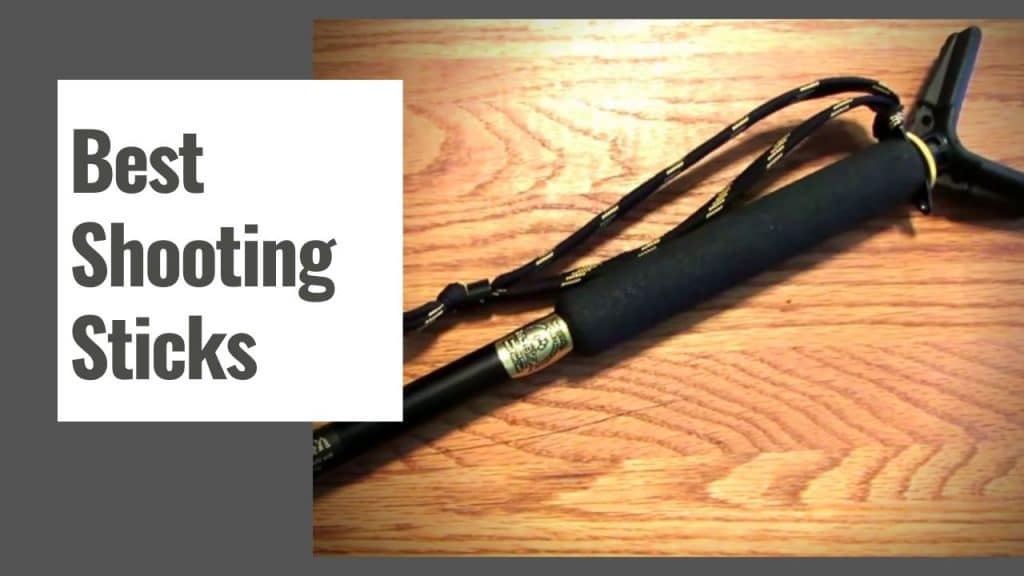 The Best Shooting Sticks for Hunting: Whether the passion lies in wildlife shooting or photography, having an attachment to wildlife comes with many risks, but benefits too.
While it may be risky to get out there and hunt, by putting your own life at risk, the contentment of a successful hunting trip is unmatched with any other.
How proudly can you show off that deer head framed in your living room to your friends, family, and colleagues?
Or boast the horns of a reindeer that you kept as a souvenir to your guests when they visit you? Other than praise and admiration, these are also the signs of a pro shooter and proof of accomplishments.
A good shooter must remain many things; calm, composed, energetic, active, and, most importantly, prepared. Many things come into light when it comes to being made.
While some things take an entire life of practice to gain preparedness such as experience, being prepared with the proper gear and equipment does not take much effort.
All it takes is a bit of research and some asking around to know what is suitable for your style. From many things required to shoot, such as archery, weapons, and bows, a hunting stick is an overlooked quintessential item.
Quick Answer – Top 10 Best Shooting Sticks for Hunting
Reviews of the Best Shooting Sticks for Hunting
One of the many things that a shooter must be prepared with is a shooting stick. Many consider this as unnecessary, but a hunting stick has more uses than you probably know. First, they provide stability to hold your gun.
This will provide more security than random objects you may find to use as a gun rest, such as tree branches or stones. A stable rest is essential for making accurate shots in the long range. Second, hunting sticks give you more control and let you aim better.
This, in effect, will allow you to hunt more successfully and let you add more treasured prizes to your collection. Lastly, shooting sticks can be for multipurpose usage.
Sometimes, hunting and shooting for a long time can make you tired and weary. In such circumstances, a shooting stick can provide you support like a cane. So here, we have listed down the top ten Best Shooting Sticks for Hunting available in the market today.
1. Primos 65807 Gen 2 Tri Pod Trigger Stick
This primos shooting stick gen 2 will be your companion in your hunting mission. It is 24.62 inches tall and has a removable V yoke. The V yoke can be rotated, and the fluid handle can be twisted.
These will allow you to take full control while hunting. The V yoke can be removed, and a camera or spotting scope can be attached instead. To make carrying and setting more comfortable along with stability on any surface, it has the fluid handle and leg adjustments.
This will give you a better fluid handle movement. This tripod trigger stick comes with buttons and triggers to make your hunting experience smooth. The height of this can be adjusted using a trigger.
In the case of shakiness or abrupt changes in height, you can set your desired height and lock the trigger. This latest tripod trigger stick comes with the newest features.
With the pull of a finger, you can get a whisper-quiet telescoping leg operation. Made of aluminum, it is lightweight and easy to carry around with the attached wrist strap. This will not add up to your baggy luggage.
Pros
Lightweight and portable
Removable and rotating V yoke
Comes with fluid handle, leg adjustment, and wrist strap
Camera or birding spotting scopes can be attached
Smooth trigger movements and management
2. BOG-Pod CLD Camo Shooting Rest
This bog pod shooting rest is not only useful but has good aesthetics too. It stands out from the mundane and ordinary black ones with its legs covered in a matte camouflage print.
The middle telescoping leg sections have inch markers. This will let you quickly reach the height that you set and will save you time. The integrated leg stops also prevent overextension. These are significant factors to look for because shooting is often impromptu.
This shooting tripod for hunting will provide you with optimum stability and versatility. You can use it while you are sitting, kneeling, or standing. The legs adjust automatically to a 40-degree angle.
The legs have screws pointed outwards known as "foot spikes" that will give you added stability, by poking itself to the ground. There is an adjustable tension that will help you achieve maximum accuracy, whether you are shooting, hunting, or photographing.
A universal shooting rest is also provided that revolves 360 degrees. Despite its aluminum body and lightweight, this best shooting stick for coyote hunting is solid. To make carrying this tool easier, a weatherproof bag is provided with an Allen wrench.
Pros
Unique camouflage print
Strong and durable
Comes with a weatherproof bag and wrench
Attached with foot spikes
Adjustable tension for better accuracy
Cons
Some people may find the design flashy
3. Primos Trigger Stick Gen 3 Series Tall Tripod
It is always a wise decision to purchase a product from a reputed and well-known brand. This seals the mark of quality and durability. Primos is one such brand that has been in the industry for years and delivers excellent quality products.
These primos trigger stick tripod is a product of their Gen 3 series. This series has added and improved many features. Its prime features include a new contoured grip. This allows you to have better control and grip.
Additionally, this also has a no-slip backbone, which will make carrying more comfortable. The rotating joint is now stronger, which will allow for smooth panning. This means you can rotate, scan, and find your perfect shot easily.
Adjusting the shooting tripod to your desired height is now easier than before with just one pull of the trigger. Switching from gun to optics is also facile with the click of a switch only.
With these impressive features integrated into one product, make shooting more comfortable. No matter what position you are in, standing, sitting, or kneeling, hunting will genuinely be more natural.
Pros
A well-known and reputed brand
Made with the best quality raw materials
New contoured grip
No-slip backbone
The easy trigger for height adjustment
4. Caldwell DeadShot FieldPod Rifle Shooting Rest
While hunting or shooting, it is necessary to feel confident, and this shooting tripod for hunting will make you feel just that. Its stylish design is not only good to look at but has usability purposes as well.
Surprisingly, the robust design weighs under 6 pounds, and you can adjust it from 20 inches to 42 inches high. The piece features a dual frame for maximum stability. The upper frame is to balance point adjustments.
A tension knob is provided for tilting the frame up or down and adjusting it with independent height. There is a rest at the front fore-end that will securely and tightly hold your gun in place.
The upper frame also has a tension knob that allows for quick and easy adjustments. Furthermore, this product is very versatile as you can use it for rifles of any size and crossbows.
Although it looks robust, it is actually lightweight, portable, and easy to carry. You can quickly fold it and bring it with the carry strap. Whether you are in the mood for predator hunting, long-range rifle shooting, or ground blinds, this will be your companion.
Pros
Modern, chic look
Portable and foldable
Features two yokes
Adjustable with any rifle and crossbows
Tension knob for tilting the upper frame
5. Hammers Telescopic Shooting Tripod
This tripod has three telescopic legs with twist locks, which gives it utmost stability. The legs adjust to 68 inches and fold down to 25 inches, while the top part features a freely rotating V yoke.
This feature, along with EVA foam grips on the legs add to stability by providing a steady base for shooting. The body is made of aluminum and alloy tubing, which makes it very lightweight and facile to carry around.
A Velcro strap tie-down and nylon carrying pouch with shoulder strap is also included with the product. A wear-resistant carbide tip is also attached at the end of each leg for a firmer grip on the ground.
This makes shooting from any platform or any position easier, be it sitting, kneeling, or standing. Finally, the tripod is also suitable for multipurpose usage.
A camera can be attached to it as well. Buying this product will give you great value for money because you can use it both ways. It is everything a shooter needs in one complete package.
Pros
Lightweight thus easy to carry
Foldable making it portable
Rubber grips attached for stability
Use it as a camera stand too
Carrying pouch and shoulder straps provided
Cons
Lacks an instruction manual
6. Vanguard Scout B62 Bi-Pod
This made it to our list of the best shooting sticks for hunting for many reasons. Firstly, it is a lightweight material. The body is made of aluminum, giving it the lightest weight possible for robust equipment.
Secondly, it features a V-shaped rubber yoke at the top. This yoke can be swiveled completely 360 degrees, providing you with the utmost flexibility and the angle for shooting. The bipod can be easily folded and is portable enough to carry around without much hassle.
As for stability, rubber grips are attached in multiple places. The feet have rubber tips making it stand firmly on any surface, and the handgrips have weatherproof cushioned foam linings for better handling. It can be extended up to 62 inches that comes down to 22.25 inches after folding.
As if these features were not enough, the legs have quick flip locks so that you have smooth shooting experience and do not have to fidget with triggers. The shape of the bipod makes it quick and effortless to set up. Lastly, it comes with 2- years warranty that can be extended for another year.
Pros
Lightweight
Easy to set up and carry
360⁰ rotatable yoke
Rubber grips on legs
Foldable and portable
7. BOG-Pod RLD Black Shooting Rest
This tripod is another great piece of equipment to aid you during shooting. It has a standing height of 68 inches, giving you the utmost ease while hunting in any position; sitting, standing, or kneeling.
Do not worry about overextension because the integrated legs prevent it. Three legs can move in a 40-degree angle and are attached with adjustable tension. This will give you eagle-eyed accuracy to spot your target precisely.
The middle section leg has inch markers that will help you reach a set height quickly. Other than that, it has attachments that can hold a camera or crossbow so that you can hunt, shoot, and photograph all with the same equipment. Its modern look is also what makes it one of the best shooting sticks for hunting there is.
It has a matte black finish and red-colored handgrips. Despite being made of the lightest metal aluminum, it is durable and sturdy. Both the nonslip handgrips and rubber feet are attached for added stability. An Allen wrench and a bag are provided with it to carry the tripod.
Pros
Modern, fashionable outlook
Stable tripod with rubber feet
Wrench and bag are provided
The middle leg is marked with inch measurements
Lightweight and easy to carry
8. Vanguard Quest T62U Shooting Stick
This vanguard multipurpose tripod will give the usability scope of all three; a tripod, bipod, and monopod. This means you can remove the legs and use them according to your will.
The U-shaped yoke is also removable and rotates in a full circle. This gives you the ultimate control and supremacy over your shooting stick, and you do not have to reposition it every time for a new angle or position.
You can extend the monopod to a height of 62 inches that is over 5 feet. This height will give you a better view and angle, making your shooting accuracy. The body of the tripod shooting sticks for crossbow hunting is made of aluminum, making it lightweight and easy to carry, yet durable.
This equipment has all the problems of gripping sorted. The contoured handgrip features a soft foam, and the rubber feet make the product anti-slip.
This will give you better steadiness on the ground. The legs have quick flip lever leg locks that will ensure stability while using it as a bipod. Attach this with a gun, crossbow, camcorder, or camera; it works well for all!
Pros
Steady grip
Multipurpose usage
Lightweight and portable
360⁰ rotatable yoke
Durable product
9. Primos Trigger Stick Gen3 Monopod Camo
You might be questioning its existence in the list of top ten, but this monopod shooting stick is a beast on its own. Primos products are known for their superior quality and durability, and this product does not fail to deliver.
This stick is a rated hunting range gear monopod that will be your companion while shooting, hunting, or photographing. The shape of the monopod makes handling it easier while hunting or shooting.
With just one hand and the pull of a trigger, you can adjust it to your desired height. You can also switch from gun to optics with one easy switch using the integrated lock.
The panning action will help you rotate and scan effortlessly, giving you a smooth shooting experience. Two features make it easy to use in any position; the optimal gear mount and the gun rest that can be adjusted with any height.
The V-shaped yoke atop can be detached from the main monopod and can be rotated in full circle. Not only for shooting, but this versatile equipment will also let you attach any gear, including spotting scope, binocular, and camera.
Pros
Easy to use and carry
Versatile product
Multipurpose usage
Superior quality
Fully revolving V yoke
10. Primos Pole Cat
Last but definitely not the least in the list of best shooting sticks for hunting is the Primos Pole Cat. This monopod is made using the best quality raw materials that give it a stylish finish and better durability.
The outer tube is tapered with aluminum making it seamless. The top part has hand grips made of excellent quality rubber. This will allow for better grip and stability.
It has a full standing height of 62 inches and features a Posy lock that will let you adjust the height. It is lightweight and portable due to its style. The yoke is made of nylon and rugged. This makes it weatherproof and ensures it will not rust. A wrist strap is also provided for a better grip.
Often during hunting and shooting, a lot of hiking is involved that will make you tired. In such instances, you can use this monopod as a cane to give you support. The bottom part has rubber grips attached, and so does the V grip, these will provide your stability and a steadier shot.
Pros
Lightweight
Weatherproof
Steady on the surface
Multipurpose usage
Multi-position usage
Cons
Withstands only limited weight
What to Consider When Choosing Shooting Sticks for Hunting?
Every hunter wants to shoot fast and accurately. Hunting sticks were invented to assist hunters in hitting their targets. Whether you're a professional or a newbie hunter, tripod shooting sticks for hunting can help you find your rhythm.
For making a good choice between the hunting sticks, it is necessary to know several factors regarding the best shooting sticks for hunting.
Though there are many variations of hunting sticks on the market today, you will own the most suitable one if you follow the recommendations below. Here's an overview of the crucial factors to consider:
Type
There are 3-different types of shooting sticks available for purchase. They are- monopods, bipods, and tripods. But due to the stability, tripods are the most widely used variant among them.
When you are planning to hunt at long distances, choosing a bipod or monopod will help you carry less weight. Otherwise, the choice of stick type entirely relies on shooter preference.
Weight
In terms of shooting sticks, you won't get much stability from a light stick than the heavier one due to a lot of vibration.
If you want to shoot from a long distance, you should use a heavier stick. A heavier stick will result in improved accuracy in your shooting.
On the contrary, when you're planning a backpacking trip that entails a lot of hiking, a lightweight shooting stick will be better for you.
Material
The material used to construct your stick is crucial. The majority of top-notch shooting sticks today are built from aluminum or unique carbon fiber. Although carbon fiber sticks are lighter, aluminum sticks are more stable and last longer.
Carriage
A carriage is a structure that supports the barrel of a gun and allows the gun to be fired. It is also necessary for firing in various directions.
For a more exact aim, these devices can turn around up to 360 degrees. Usually, carriages come in different shapes and designs. It would be best if you chose a flexible stick and able to adjust according to your needs.
FAQs
Are All Shooting Sticks The Same?
It's not uncommon for products within one category to differ from one another. Leg count and adaptability are the two most significant variations among shooting sticks.
Even though they all have the same goal, not all produce the same results. In addition, it is crucial to keep in mind that a single shooting stick can have a wide range of features.
Why Should I Get a New Shooting Stick?
There are numerous advantages to utilizing a shooting stick, including increased accuracy. Your shots will likely be more accurate due to this helpful gear.
Having more stability means you'll almost always get a clean and fair shot. You'll also be able to shoot above bushes with ease.
How to Carry Shooting Sticks?
There are lots of ways to hold your shooting stick. Most professional hunters just sling it across their back for convenience. But you also have the option of strapping it to your waist; it's really up to you.
Video From Vortex Nation Podcast Channel
How Do Shooting Sticks Work?
Shooting sticks come in many shapes and sizes, any of which can improve your accuracy and steadiness. It would be best to take time to get the most out of them.
The first step is to place the device on a level surface and adjust the height accordingly. Your body position can help you modify the height of the muzzle.
Keeping your elbows in front of your knees will help with your posture. Once you've done that, it's time to take your shot!
Final Thoughts
In conclusion, there are a lot of factors that need considering while choosing the perfect shooting sticks for hunting. The frequency and length of your expeditions, the gear you are using, the distance and height, and finally, your requirements.
Other external factors also play a crucial role, like weather factors and environmental conditions. While you might not get what you are looking for, you can at least tick most of the checkboxes. This list will guide you through it and will help you pick what is best for you.
Each of the products listed above is unique in their own way, but all of them are useful. This is a comprehensive list of the best shooting sticks for hunting just to guide you. It has been selected, keeping all factors in mind, but the final decision is yours to make. You ought to choose whichever suits your needs in the best way.