The 10 Best Compound Bow Case in 2023
Last Updated on April 16, 2023
The Best Compound Bow Case: Being a fan of archery, you may know how important a bow case is to carry during your shooting trip. A perfect bow case becomes your best friend during the journey to hold all your necessary pieces of equipment.
It protects your archery gear and saves you from the dilemma of what to carry and what not. Besides, a bow case also protects your archery tools even during the harshest weather. It also simultaneously provides a pristine way of the organization for your tools.
The compound bow cases are the perfect go-to carrier that you need during your exciting adventures. Again, you might be a good archer, but choosing the correct toolbox may not be your cup of tea. Most people do not get the perfect box for them in the first attempt.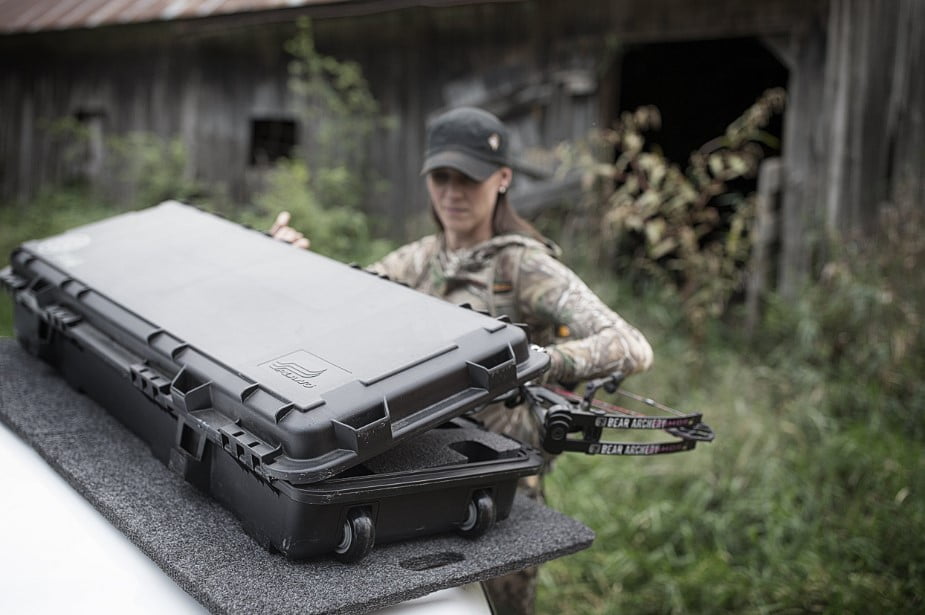 However, this trial basis purchase comes with an expense; it is not free after all. There are some factors that need to consider while choosing the perfect bow box. The size, material, number of pockets, inner compartments, and cushions, all play a significant role in taking the decision.
So we are here to help you choose the perfect gearbox that will tick all the marks in your checklist at one go. The following article is a review of the 10 best compound bow cases that is available in the market currently.
Reviews of the Best Compound Bow Case
A compound bow case is not only useful as a storage case, but it will give you several other benefits. For starters, it will keep your things organized in the best way. If you have a fetish for organizing things, you will surely understand the importance of this.
Arrows, Allen wrenches, string wax, and your extra tools, all pf these can be carried in one complete and compact package. Other than making things easy to carry, this toolbox provides complete protection. It acts as a safeguard for all your stuff worth thousands of dollars, during travel and while sitting idle.
Choosing a compound bow case depends a lot on your personal discretion. What type of bow are you using; is it a new model or an old one? The length of the bow, the weight you are willing to carry, and the accessories also play a role. Below are reviews of 10 best compound bow case that are chosen keeping all necessary considerations in mind.
1. Allen Compound Bow Case
This stylish bow case has a soft exterior and is designed for people who love archery and organization. It has seven specially designed pockets that can hold your little tools while the larger space can store your magnificent bows.
This case will fit most bows in your collection. In the smaller compartments, you can store your box wax, targets, bowheads, and personal items. This bow case is easy to carry. While going out for an adventure, it sometimes becomes a hassle to carry all the stuff around, and bulky baggage just adds up to this.
However, this bow case is readily fitted with a padded handle grip and a shoulder strap. This makes it easy to carry. However, if you want to hang it on your shoulder or carry it with your fist, the tight grip will make your carrying more comfortable.
Lastly, a bow case does not have to infringe your style and make you look dodgy. This stylish bow case is available in a subtle mauve-burgundy color that makes it fit to carry with any attire. The black lines and pockets running around accentuate the outlook.
Pros
Easy to grab zipper makes it easy to open
Will fit most bows up to 35 inches axle to axle
Padded handle grip and shoulder strap included
Seven pockets inside
Stylish design
Cons
No straps included inside to hold the bows
2. Plano Protector Compact Bow Case
This hard case has many superior qualities. As it is hard, the interior is padded with foam ensuring the safety of your precious bows. You do not need to worry about bumps and thumps during your adventures. You can place your bows according to your will and rest assured they will be sound and cozy inside.
Another great benefit is that despite being hard, it is compact and lightweight. Thus it will not add up to unnecessary bulky load during your journey but rather make things easier for you.
Furthermore, it is sturdy and durable and is perfect for carrying along if you do not have a lot of things to carry. This case also has a specially designed holder to store your bow limbs and arrows properly. Taking care of your bow accessories even during your travels will make them last longer.
Its long length allows you to store any bow of 42 inches or shorter and will fit almost all sort of modern, new bows available today. Made with the best quality materials, it promises to deliver durability and reliability.
Pros
Durable and strong
Made with the highest quality materials
The padded foam inside for protection
Compact and lightweight
Fits most modern design bows
Cons
Padded foam is only 1 inch thick
3. Plano 108110 Bow Guard AW Case
Measuring 46.5 x 16 x 6.75 inches, the hard protective case of this bow box is suitable to carry during your bold adventures. It not only provides room for storage, but the hard case is also weatherproof.
It uses a continuous Dri-loc seal to provide weatherproof protection. So, you can carry it tension-free even during harsh weather conditions whether it storms or snows. Its crush-resistant feature makes it ideal for military usage and other daring adventures.
You also do not need to worry about theft because the case is lockable. Its airline-approved PillarLock system will keep your bows and tools safely. It is fitted with spring-loaded, lockable latches with padlock tabs and high-strength pinned hinges.
Spending thousands of dollars on bows and arrows only to lose them is just bad luck. Instead, this case is a smart investment where you can keep everything locked up. This bow case is very spacious and will provide storage space for fully loaded inline or offset quivers. The elastomeric arrow storage will fit both standard and carbon fiber arrows.
Pros
Lifetime warranty for defects
Lockable and weatherproof
Crush resistant
Fits most type of bows
Spacious interior
4. Plano Mil-Spec Compound Bow Case
This hard bow case measures 46.4 inches in length, 7.2 inches in width, and 18 inches in height on the exterior and 39.25 x 12.75 in the interior. It is specially designed with a pluck foam interior which will let you customize and choose the bows and arrows you want to store.
It has a military specification case featuring a heavy-duty Dri-Loc gasket to keep out elements. Along with all these, it also features padlocks and a heavy-duty clasp to keep your equipment safe and secure.
The design is very user-friendly. The case has wheels attached for easy transportation and movement. It is made with excellent quality materials that make it durable and perfect for everyday use.
If you are a heavy-duty user, then this bow case is the best option for you. You can also carry it during your trips to places with unpredictable temperatures. The pressure release valve comes to play by equalizing pressure caused by altitude and temperature changes. Being made in the USA since 1952, Plano Bow Case has served many generations, and its quality is unquestionable.
Pros
Suitable for heavy usage
Strong and durable
Attached with padlocks and wheels
Allows customization for compound bows
Pressure release valves equalize pressure
Cons
Contains harmful chemicals known to cause cancer
5. Allen Company Black Gear Fit X Fits Case
This compound bow case is a rather good-looking soft bow case, more like a portable bag. The chic black demeanor can actually be used as a fashion statement. Not only stylish looking, but this case also provides benefits with its features.
Inside the case, tie-down straps are provided to hold the bows in place and a soft interior lining that will give protection. So you do not need to worry about displacing your bows even during heavy movement while traveling or moving.
The Compound Bow Case will fit bows measuring up to 35 inches axle to axle, providing for massive storage space. The interior dimensions are 40.5 x 15.5 inches, which can be stretched a little more for the fabric.
Furthermore, it includes a total of ten pockets that will let you store all your bow accessories and other personal items too. There is a padded shoulder strap that makes it easy to carry around, and a rubber carry handle fitted on top of the case. Both will make moving around with it effortless. The light fabric also makes it light and easy to carry.
Pros
Stylish look
Easy to carry and portable
Soft and stretchable fabric
Includes 10-pockets
Provided with tie-down straps to hold bows
Cons
Fabric susceptible to damage and tear
Does not protect against weather
6. Case Club Parallel Limb Bow Case
This hard bow case is very spacious and roughly measures 47 inches by 17 inches. It can hold up to twelve arrows so that you do not have to choose. However, quivers will not fit. Other than that, this hard case is also waterproof, protecting your prized bows from water damage.
This means you can carry it in your rainy adventures without worrying. The case is also suitable for heavy usage and will not easily wear away. The good quality materials used in the manufacturing process of this case speaks volumes about its quality and durability.
Although this is a heavy-duty bow case, the way to carry it is well thought out. The attached wheels at the bottom make it easy to carry and scoot around. The compact size also adds up to its portability.
Furthermore, this case is totally airtight and has options to lock it. Thus, the contents inside will be safe if you leave it around somewhere. It is also airline-approved. Considering all these benefits, this made it to the list of the best compound bow case.
Pros
Suitable for heavy-duty
Protects against water damage
Contains wheels to scoot around
Airline approved and shippable
Built-in system for the padlock
7. Mossy Oak Compound Case
This stylish bow case features Mossy Oak's signature break up infinity pattern with a sleek black trim. It also has unique designs of a tree trunk, branch, and leaf, making it the perfect pick for outdoors.
When you go out in the woods, this will be your best bet at camouflage. Apart from a sleek look, the most significant advantage this bow case comes with is its size. The universal size lets you fit in any bow of any size; it can easily hold bows of a variety of sizes.
The shape and size of the case make it easy to carry around. The fabric handles attached on top also makes it easy for the user to move around with it. The lightweight fabric ensures the case is not bulky in weight.
This compound bow case is the definition of a classy sporter. It is thoughtfully created for the archery fans with their ease in mind. Not only does it hold your bows carefully, but it also does the duty of being a chic fashion statement. This is a true blend of adventure and classy.
Pros
The stylish and chic look
Provides for excellent camouflage in the woods
Fits almost about any bow size
Easy to carry
Lightweight and portable
Cons
Does not have any protection
Is not weatherproof and lockable
8. Flambeau Outdoors 6461SC Bow Case
Next in the list of the best compound bow case is this unique crush-resistant bow case which is designed perfectly to hold your gear in place. This case is padded with convoluted foam on the inside where your bow will rest.
On the other side, there is twelve rubber racking system to hold twelve compound bow hunting arrows securely in place. You do not need to worry about them moving around or being displaced during your travel or adventures.
For enhancing the safety of your bows and arrows, the internal lid is strong and crush resistant with twin support columns while the exterior is made of rugged polymer construction. The base pillar also provides sufficient support. Additionally, hook and loop tie-down straps are provided.
The Flambeau Outdoors comes with a built-in 3 and 4 blade broadhead changer. Four lock hasps and four latches are provided for locking up the case. This will ensure total security when the case is lying around and will protect your goods inside worth thousands of dollars. This sleek black case will be your best buddy in your next journey.
Pros
Rubber tracking system included holding arrows in place
The padded foam inside to hold the bow in place
Durable and crush resistant
Lock hasps and latches provided for security
Built-in 3 and 4 broadhead changer included
9. Southland Archery Supply SAS 43-in Case
Made with nylon and measuring 16 inches in length, 43 inches in width and 2 inches in height, this bow case will be your perfect companion during your next bow hunting trip. The long length will fit most bows up to 36 inches axle to axle.
For ensuring good quality and durability, this product is tested for quality to make sure you get the best for yourself. This trendy case looks more like a sports bag and is attached with a padded handle grip and sling for smooth movement.
The bag is pretty spacious, with five durable and spacious pockets on the inside and outside. The three front pouches are perfect for storing all your essentials, such as releases, nocks, bow squares, and broadheads.
An inside net pocket and an outside arrow pocket are also provided. The shape of the bag is the ultimate one to fit your bow. The main compartment has Velcro straps so that your bow does not get displaced. The inner compartment also has a mesh lining to store your clothes and essentials for a day-long trip.
Pros
Spacious and durable
5-pockets with maximum storage space
Big size to hold larger bows
Lightweight and portable
Velcro straps to keep your bow intact
Cons
Is not crush resistant
Has no system for locking
10. Legend Archery Superline Bow Case
Last but not the least in the list of the best compound bow case is the Legend Archery Superline Compound Bow Case. It has a stylish and cool outlook with lines of vibrant blue running around.
With sufficient space inside, it also has two large pockets on the exterior. Both have zippers and include plenty of space to hold your fundamental bow and archery accessories. The compact case has a comfortable grip to hold the bag, making a move, and carrying easy.
As if all these qualities were not enough, this case specifically has backpack shoulder straps and is the only one in the market to have these. This makes it very facile to carry around. The lightweight material will not add up to your bulky load given that bows and arrows are typically heavy.
Its spacious design will effortlessly fit your personal items such as clothes, water bottle, towel, and mobile phone. This compound bow case will not disappoint you if you are going for a day-long trip. It will be your second companion during archery after bows and arrows.
Pros
Cool blue exterior
Spacious and lightweight
Portable and easy to carry
Backpack shoulder straps attached
Two zipper pockets on the outside
Frequently asked questions
Q: Why do I need a compound bow case?
A: A compound bow case protects your bow from damage during transportation and storage.
Q: What are the important features to consider when choosing a compound bow case?
A: The important features to consider when choosing a compound bow case are size, material, padding, and storage capacity.
Q: Can I use a rifle case for my compound bow?
A: It is not recommended to use a rifle case for your compound bow as it may not provide enough protection for the bow.
Q: How do I measure my compound bow to ensure a proper fit in the case?
A: To measure your compound bow, measure the length from the top of the bowstring to the bottom of the riser. Then, measure the width of the widest part of the bow limbs.
Q: Can I store accessories in my compound bow case?
A: Yes, some compound bow cases come with pockets and storage compartments to store accessories such as arrows, quivers, and release aids.
Q: What are the benefits of a hard shell compound bow case?
A: Hard shell compound bow cases offer more protection against impact and crushing forces. They are also more durable and offer better weather resistance.
Q: What are the benefits of a soft shell compound bow case?
A: Soft shell compound bow cases are lightweight and easier to carry. They also offer some protection against scratches and minor impacts.
Q: Can I use a compound bow case for other types of bows?
A: Yes, some compound bow cases are designed to fit other types of bows such as recurve bows and longbows. However, it is important to check the compatibility before purchasing.
Final Words
From hundreds of products available in the market and online, we condensed it to the top ten products. All of these have been carefully selected to make it to the list of best compound bow case. Many important factors were taken into consideration while compiling this list.
These include weight, size, material, whether it is shockproof and waterproof, durability, reliability, and portability. Other special factors were also assessed, such as several pockets and compartments, their size, options for locking and security, exterior look, and overall product features.
When it comes to fancying a sport, you deserve to enjoy it to the fullest. Archery is a passion for many, and being prepared for the game is vital. Carrying and organizing your essential items in the best possible way is very important. All these cases will contribute to making your game better and warrant that you relish the game to a great extent.