The 10 Best Scout Scope in 2023
Last Updated on March 31, 2023
Scout scope is a low powered scope and apt for scout rifles. It's positioned forwardly on the rifle. A scout rifle is known for its utility more than the appearance. It is shorter than regular full caliber rifles. So, the scout scope is mounted on its short barrel and maintains the stability of the rifle.
It provides easy sighting in and fast target acquisition. Most of the scout scopes are shockproof. Withstanding recoil is essential for a scout scope as shorter barrels create intense muzzle flash. The purpose is to increase precision and accuracy.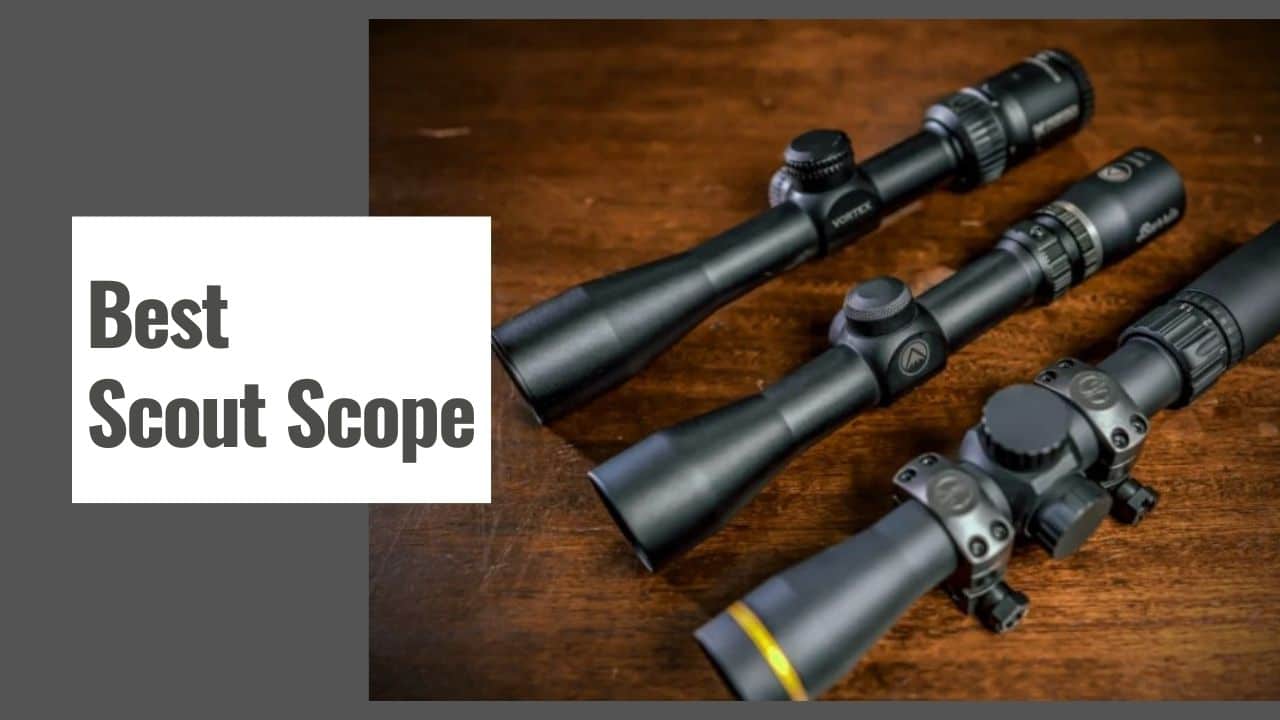 With such a lightweight device carrying a rifle becomes easier. The shooter can shoot, keeping both eyes open. Low power means a larger field of view. Scout scopes usually feature longer eye relief, as well. So, the happenings around become more visible with scout scopes.
The hunter is aware of what is happening around him all the time. We are reviewing the best scout scope here – not just one or two, but 10.  We hope the information will prove to be handy for you during the purchase.
Quick Answer – The 10 Best Scout Scope
5. NIKON FORCE XR 2.5-8×28 EER MATTE WITH BDC
Reviews of the Best Scout Scope
There are a few things one must consider before buying a scout scope. It is wise to keep it basic. A basic scope can be the best scout scope. You don't need a lot from it, and it's a fact. A scout scope must be durable and lightweight.
Make sure the scope is not making your firearm heavy. Such scopes must withstand the strongest of recoil. Aside from that, it would help if you also consider the magnification. Fixed power is not always inferior, and the same applies to low power, as well.
Neither higher magnification means better target acquisition. A mere 2x to 5x strength is enough for such scope. In our review, we have some scope that touches up to 8x, as well. That one is equally high-quality, like the low magnification scopes.
Consider the type of reticle as well. The easier, the better. Or you can buy it depending on the reticle you understand the most. The rest of the features are bonuses. Let's discuss the scopes more in our detailed review.
1. Vortex Optics Crossfire II Riflescopes
Crossfire II is a single-piece 1-inch tube with a 2-7x32mm power. The aircraft-grade aluminum body conserves it in harsh weather conditions. So, it provides strength and shockproof performance.
Besides, it is both O-rings sealed and nitrogen purged. It helps to deliver water and fog-proof performance. The multi-coated, anti-reflective lenses are capable of providing a clear, bright view.
Not just that, it has a 9.45″ of eye relief, an ultra-forgiving eye box as well. With the above features, the view, clarity, and light transmission one gets is unreal. You can at once get a clear sight picture and acquire the target.
It uses a V-Plex reticle, which is an all-purpose hunting reticle. Formed in the second focal plane, it maximizes long-distance shooting and ranging techniques and abilities. It features various hunting applications.
Then for quick and easy reticle focusing, the scope comes with a fast-focus eyepiece. Target turrets allow for elevation adjustment and easy windage. They are capped, and finger adjustable with MOA clicks. You can reset to zero after sighting in, and there is no chance of accidental change.
Pros
2-7x32mm scope with 9. 45″ of eye relief
Built from aircraft-grade aluminum
Anti-reflective lenses
A V-Plex reticle
Capped turrets
2. Vortex Optics Crossfire II 30mm Riflescopes
This Vortex scope is a 30mm tube built from aircraft-grade aluminum. It has a single piece tube construction, so sturdy and durable. For fog and waterproof performance, it is O-ring sealed and nitrogen purged.
The lenses are multi-coated and anti-reflective, as well. So, you are getting optimum clarity and maximum light transmission. You get a quick sight picture of the target and can acquire it. It is possible due to the long eye relief and ultra-forgiving eye box.
It uses a V-Brite reticle that works with battery-powered electronics and the V-Plex format. In the process, the center dot illuminates during low light conditions. It benefits the shooters in extra-low light. At the end of the tube, you get the illumination adjustment knob.
Such reticles also have a Second Focal Plane design. SFP maintains the same image appearance with the change of the magnification. It is located near the eyepiece, behind the image erecting and magnifying lenses.
This scout scope reticle includes fast-focus eyepiece. For zero reset after sight in, it has finger-adjustable capped reset turrets. They allow MOA clicks.
Pros
A single piece tube and multi-coated lenses
V-Brite reticle illuminates center dot
Long eye relief and ultra-forgiving eye box
Capped reset turrets for zeroing after sighting in
O-ring sealed and nitrogen purged
Cons
Low lighting in the highest setting
3. AIM SPORTS 2-7X42 30mm Scout Scope
AIM SPORTS 2-7X42 comes with superior functionality. The tube diameter is 3 mm, and it is black with a glossy finish. It has Green lens coating, and the objective lens is 42mm.
As we can see, it has a variable magnification strength of 2-7X. Though 7X magnification is not even required, it still is great. So, it is going to provide the right amount of magnification in target acquisition.
The location of the target is not a hindrance. Because with the variable power, every spot is the right spot for target acquisition. The SFP design of the reticle plays a major part in keeping the appearance the same every time as well.
It is a scope with long eye relief, which is a must for any scout rifle scope. It offers a wide range of views. You can shoot from a better and more natural shooting position. The scope includes sturdy mounting rings and a microfibre cloth. Not only that, it comes with lens caps for both objective and ocular lens.
Pros
2-7X42 30mm scope
Green lens coating
10.5″ long eye relief
Comes with ring mounts
Has lens cap and microfibre cloth
4. Leupold FX-II Scout 2.5x28mm Duplex
FX-II Scout from Leupold is durable and provides a clear view. For a standard scout rifle scope or any scope, it's crucial. The one-inch main tube is lightweight and compact, as well. It is compatible and fits more legacy rings.
Designed, machined, and assembled in the USA, this one delivers rugged performance. Nothing happens to the device even after its exposure in extreme climate. It can combat -40ºF to 160ºF.
The reason for durability doesn't end just there. It uses Leupold's Proprietary nitrogen sealing process. It's ready for a lifetime in the field in all conditions. Anti-fog and water resistance play their part well. It is shockproof, handles recoil well.
The scope has a fixed magnification strength, which is 2.5x and 28mm objective lens. It uses the popular Duplex reticle. The 1/4-MOA field-click windage and elevation adjustment is quick and easy. With the Twilight Light Management System in the reticle, it delivers brightness and clarity.
It keeps the right balance between light transmission, glare reduction, and image contrast and resolution.  In low light as well. As a result, you get a crisp image in any lighting condition.
Pros
Lightweight and rugged
Performs well in low light
Duplex reticle
1/4-MOA field-click adjustments
Water and fog-proof
5. Nikon Force XR 2.5-8×28 EER Matte with BDC
Nikon Force XR is designed for handguns. It is not for rifles. Though it might seem to be a con, for handgun users, it is the ultimate scope. It is dependable and easy to use. It might be for a handgun but is nitrogen-purged and o-ring sealed.
So, it is resistant to shock, fog, and water, as well. With its ultra-rugged and recoil-proof construction, it holds up to the most powerful recoil. It is an imported scope, made of polymer. Under the toughest of conditions, the user can stay confident.
It is a 2.5-8x28mm scout scope. The magnification strength touches up to 8x. Like any other heavy-duty scopes, it has a longer eye relief of 9-11″. So, it is going to offer a larger field of view and will not strain your eyes.
Target acquisition becomes easy with trajectory-compensating BDC handgun reticle. You are getting instant aiming points. There is no need to guess holdover at longer ranges.
It uses anti-reflective, multi-layered optics for optimum light transmission. You get bright and vivid sight pictures due to the maximum brightness. You also get hand-turn turrets. They allow 1/2-inch at 100-yards click-stop moves.
Pros
An imported scope
Built from quality polymer
Ultra clear coat optical system
Long eye relief
Water, fog and shockproof
6. Leupold VX-R 1.5-5x33mm Riflescope
The compact VX-R is crafted from 6061-T6 aircraft quality aluminum. It's designed and created for the mounting forward of the receiver. It is lightweight and durable to an extent to ensure a lifetime of extreme use.
The main tube of the scope has a matte black finish and a diameter of 30mm. With a variable magnification of 1.5-5x and a 33mm objective lens, the scope provides excellent clarity and a clear image. It also offers a suitable eye relief of 6.89-6.06 inches, which is ideal for a typical scout rifle scope.
The scope is equipped with patented FireDot technology that incorporates a fiber optic-powered red dot at the center of the reticle, enabling quick and precise target acquisition.
Basically, it's a blend of daylight illumination, optimal light transmission, and contrast. It performs the best in low light hunting situations. With the multiple brightness settings, you can change the lighting depending on the changing conditions.
It features Motion Sensor Technology as well. The illumination shuts-off if the tool remains unused for 5 minutes. Then, reactivates at once upon movement. 1/4 MOA finger click turrets call for absolute repeatability. It is water, fog, and shock-resistant. Hunter can go for long hunts in harsh conditions with it confidently.
Pros
Built from 6061-T6 aircraft quality aluminum
1.5-5x33mm Illuminated Scope
FireDot Duplex Reticle
Tactile, repeatable finger click adjustment
Waterproof and fog-proof
7. Burris 200261 Ballistic Plex 2-7x32mm
Burris 200261 is a versatile scope, maintaining a compact and low profile. You get 2-7x 32mm power. Besides, a long eye relief of  9-12″. The multi-coated lenses are hand-fitted. Steel on steel adjustment system is repeatable with audible clicks.
The double internal spring force ensures terrific performance and holds zero well. It features Posi-lock, which is a  coil-spring assisted retractable steel post for securing and locking the accuracy into its place.
It is filled and purged with laboratory grade dry nitrogen. The nitrogen absorbs residual surface moisture and airborne. The absorption of the humidity makes it weather resistant. It is somewhat immune to heavy recoil as well.
The scope features a Ballistic reticle. Such reticles are simple and effective. Not complicated and cluttered to look at and understand. It is prevalent among the long-range shooters.
Your eyes at once draw towards the center dot, and you see a clear view with both eyes open. It has hash marks for holdovers, so no guesswork required. It provides ultra-fast target acquisition with both eyes open.
Pros
Multi-coatings on lens
Steel on steel adjustment system
Fast target acquisition with both eyes open
Ballistic Plex
Posi-lock
Cons
Bolder crosshair would have been better
8. Burris Scopes 200269 Scout Riflescope
Here we have another Burries scope and its number 200269. The brand makes a few fixed power scopes, and this is one of those few. It is a matte black scout scope with a fixed power of 2.75x.
Scout scopes are low power scopes, so it is enough. It magnifies everything up to 3x and no need to zoom at all. The lenses are all multi-coated. It is made in the USA. It's a 1-inch tube with high-quality optics.
Mounting it on the rifle is easy and quick. The 20mm objective lens might seem less. But it offers decent light transmission. It, as usual, has a long eye relief of 8.5-14″. Longer eye reliefs are mandatory for scout scopes.
The reticle the scope uses is a Heavy Plex reticle. A Heavy Plex reticle will have thick crosshairs with bold edges. So, you can see clearly with both eyes open.
The versatility lets you zero in on any animal irrespective of size. So, all this implies that the Heavy Plex reticle is simple. Both windage adjustment and the elevation is 140″ at 100 yards. It comes with Burris Forever Warranty.
Pros
Rugged built
Multi-coatings on lens
2.75x20mm compact scope
Heavy Plex Reticle
Made in the USA
Cons
 Not that great in low light
9. UTG 2-7X44 Long Eye Relief Scout Scope
UTG 2-7X44 is the best scout scope in terms of useful features. We have reviewed quite a few, but it is the one that screams quality just with the look. It has all the 'must-haves' of a standard scout scope.
Decent power, larger lens diameter, emerald lens coatings, target turrets, longer eye relief, and it continues. It is durable and compact, as well. It has 2-7X44 power and is a 30mm sturdy tube. 11″ long eye relief comes handy where the scope cannot be mounted directly above the action. It is fog, shock, and waterproof.
However, what makes it distinct! There are quite a few reasons. The scope is built with Smart Spherical Structure on the True Strength Platform. An assurance of maximum dependability starting at the true center of our scopes' structure.
TSP is USG scope patented. The illumination in the reticle is patented as well. It has a six Mil-Dot etched glass reticle. Different from other scopes. The scope has two different options. Red/Green lighting in dual color and multiple color options in 36-color mode.
Depending on the light conditions, you use different modes. The color setting performs well in different weather conditions. It provides a clear image brighter, lighter, or darker, practically in any situation.
Pros
2-7X44mm scope with 11″ eye relief
Built on a True Strength Platform
Six Mil-Dot etched glass reticle
Zero locking and resetting turrets
Twist lock weaver rings
Cons
Needs time to learn how the adjustments works
10. Aim Sports 2-7×42 8.5-10.5″ SCOUT SCOPE
This one from Aim Sports is a black, matte scout scope. It has a minimal power of 2x, which touches 7x if zoomed. The target acquisition is pretty easy, and it provides a clear image. It is built from a single piece of aircraft-grade aluminum.
The tube diameter is 30mm. The diameter of the objective lens is 42mm. Eye relief ranges from 8.5″-10.5″. That is one large lens, and eye relief is also decent. Long eye relief keeps you safe from recoil.
It uses a green fused multi-coated lens system on the lenses. So, you can not only expect a wide field of view and enhanced light transmission but also an excellent resolution and scratch-free lens.
It is a Mil-Dot scope. So, the calculation during target acquisition becomes simple. With windage and elevation adjustment, you can get the target with a blink of an eye.
It's sealed and nitrogen purged as well. So, shockproof, fog, and waterproof. Heavy recoil is a given for scout rifles. So, this is an apt scope for using in harshest conditions all the time.
Pros
2-7x42mm Mil-Dot reticle scope
8.5-10.5″ long eye relief
Green fused multi-coated lens
Holds zero well
Water-resistant and stands recoil well
Frequently asked questions
Q: What is a scout scope?
A: A scout scope is a type of rifle scope that is mounted forward of the receiver on the barrel. It is designed to provide quick target acquisition and a wider field of view.
Q: What are the benefits of using a scout scope?
A: Scout scopes offer a faster target acquisition and a wider field of view than traditional scopes, making them ideal for hunting and other outdoor activities.
Q: Can a scout scope be used on any rifle?
A: Scout scopes are designed to be used on rifles with a forward mounted rail or scout base. It is important to check the compatibility of the scope with your rifle before purchasing.
Q: What is the eye relief on a scout scope?
A: The eye relief on a scout scope is typically longer than traditional scopes, ranging from 9 to 12 inches. This allows for a greater range of head movement and flexibility in shooting positions.
Q: Are scout scopes waterproof?
A: Yes, many scout scopes are waterproof and can withstand exposure to rain and other outdoor elements.
Q: Can scout scopes be used for long-range shooting?
A: Scout scopes are primarily designed for mid-range shooting, but some models can be adjusted for long-range shooting.
Q: How do I zero my scout scope?
A: To zero your scout scope, you will need to adjust the windage and elevation until the reticle is aligned with your target. This can be done through trial and error, or with the help of a bore sight.
Q: Can a scout scope be used for hunting?
A: Yes, scout scopes are commonly used for hunting, especially in situations where quick target acquisition and a wider field of view are important.
Final Thoughts
Scout scopes are versatile. It's a perfect match to the scout rifles. Even if you are not using a scout rifle, just a handgun, we have the best scout scope for that as well. Our review offers options. Before buying a scout scope, keep three factors in mind- dependability, power, and weight.
The performance can't fluctuate in different light conditions. The power must enhance the performance level.  A fixed or variable is not an issue. Many prefer variable ones for better viewing in long-range shootings. But, you can go for a fixed power scope.
Last but not least, make sure it is not overloading your firearm so that you can carry it in long treks with ease. The knock-off is inevitable when you are using a scout rifle. So, it has to be sturdy as well. So, we are back to square one, and that's emphasizing reliability.
First, know about the weapon that you are going to use. Then buy a scope that matches its requirements. We have given you a few choices. We hope you are going to make good use of it.
You May Also Like to Read :