The 10 Best Sniper Scope in 2023
Last Updated on March 30, 2023
Snipers are highly trained soldiers who use rifles to shoot at targets from very far away. They often have to sit and wait for a long time to make sure they hit the target without being detected. Snipers are used by military and law enforcement to accomplish various goals while staying hidden from their enemies.
Snipers need to be able to shoot accurately when necessary, and they rely on powerful rifles and precise aiming to do so. Sniper scopes are used to help them aim from long distances to ensure the safety of others.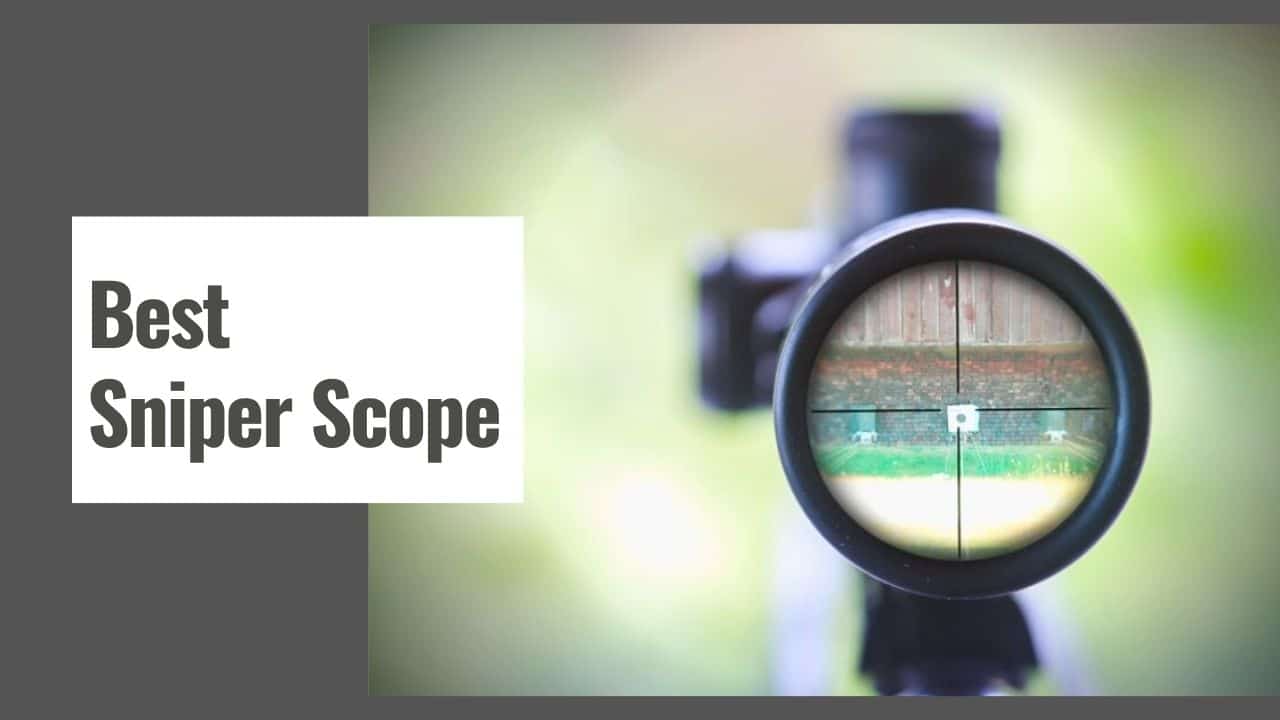 The best sniper scope will have to provide the best accuracy while targeting the object. Though not as severe as the duty of a sniper, rather a mere hobby, hunting also requires the same precision.
Quick Answer – Top 10 Best Sniper Scope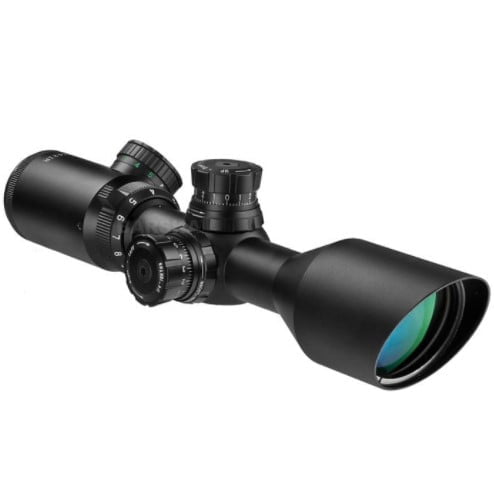 5. BARSKA 3-9×42 IR 2ND GENERATION SNIPER RIFLESCOPE
Reviews of the Best Sniper Scope
Sniper rifle scopes need many high-quality features to prevent any mistakes. The most important features are magnification and the objective lens, which should allow clear, crisp, and consistent images. Since snipers must spend hours targeting objects, the scope must perform well in low light conditions, so the lenses need special coatings. The reticle must be easy to use and appropriately dotted with the necessary adjustments. A good sniper scope must also be shockproof since recoil is common during rifle use. It is best to choose a waterproof and fog-proof scope for harsh weather conditions. We will now review some of the best sniper scopes based on these features.
1. Firefield FF16001 NVRS 3×42 Night Vision Riflescope
Firefield FF160001 NVRS is specially made with the purpose of high-quality night vision. The riflescope is lightweight and has a sturdy, durable, titanium body. It's high 3x magnification lens focus objectifies things 3- times clearer and sharper.
The 42mm lens objective lens used provides high-quality images and resolution with its higher light-gathering capabilities. The design of the 6mm diameter exit pupil is also ergonomic.
The multi-coated optics and an illuminated Red duplex reticle with incremental brightness adjustment make it extremely easy for the user to get used to the surroundings very quickly.
It features a built-in Infrared Radiation illuminator. The IR illuminator emanates its own infrared light and enhances image details and increases viewing range in darkness.  The battery life without the IR illuminator is 50 hours, and   20 hours with it.
The riflescope is easy to mount and detach, and the reason for the ease is its quick-detach weaver mount. Changing optics and switching to iron sights with simultaneously maintaining return-to-zero reliability is as easy as it can be.
Pros
High 3×42 magnification lens focus
Stable, durable titanium body but lightweight
Built-in, high power IR illuminator for a clear night vision
Detach weaver mount for easy and quick attachment to the rifle
High-quality image and resolution with adjustable incremental reticle brightness
Cons
Optimal distance, not more than 50 yards
2. Vortex Optics Viper HS-T Second Focal Plane Riflescopes
The Viper HST is the best sniper scope for a wide range of shooting applications. It's versatile and apt for hunting and tactical as well. It is built of a solid 30mm one-piece machined aircraft-grade aluminum tube with a hard anodized matte finish.
The tube is argon purged, and O-ring sealed. It also guarantees shockproof, fog-proof, and waterproof performance. The hashmark-based second focal plane VMR-1 MRAD Reticle is highly effective even at extended ranges and provide accurate holds in case of wind and moving target leads.
Adjusting the reticle becomes more accessible with the fast-focus eyepiece. It also features side focus parallax adjustment to provide parallax removal and optimal image focus. The exposed target-style turrets ensure repeatable and precise finger-adjustable clicks.
For returning zero capability, it also features CRS Zero Stop. It efficiently incorporates premium-quality, fully multi-coated 50mm objective lenses. With a 24x, magnification becomes smooth, and the 4x zoom provides versatility.
The extra-low dispersion lenses offer excellent resolution and color fidelity.  For enhanced light gathering capability, it uses XR coatings on the lenses, and the Armored coating shields the lenses during rigid use.
Pros
24x magnification and 50mm objective lens
Premium, fully multi-coated, extra-low dispersion lenses
Versatile 4x zoom range with side focus parallax adjustment
Exposed target-style turrets allow precise and repeatable finger-adjustable clicks
O-ring seal and argon purge guarantee waterproof and fog-proof performance
Cons
Crosshairs, difficult to see
3. Vortex Optics Viper PA Second Focal Plane Riflescopes
This one is an apt sniper scope for long-range, predator/varmint, and target applications. It is also a 30mm single-piece tube constructed from a solid block of aircraft-grade aluminum. The ultra-strong and rigid construction makes it shockproof and withstands recoil and impact.
It's a 6.5-20×50 riflescope, which means it uses a 50mm objective lens with a 6.5-20x zoom range. For high resolution and color fidelity, it uses XD Lens Elements, which results in crisp and sharp images.
Armortek coating protects the lens, and XR coatings provide an increased light gathering capability. The MAG-Bar is for fast yet easy magnification. It features a Dead-Hold BDC reticle and Capped reset turrets.
The former is apt for accurate targeting at varying ranges where holding-over is difficult, and the later is appropriate for quick re-indexing of the turret to zero.
Then, there is the side knob parallax adjust for quick and easy parallax adjustments and fast focus eyepiece for smooth reticle focus. Like most of the Viper riflescope, this one is also O-ring sealed and argon purged, therefore, waterproof and fog proof.
Pros
A hard-anodized 30mm main tube
6.5-20x zoom range and 50mm objective lens
Fully multi-coated, extra-low dispersion lenses with XR and Armortek coating
Quick re-indexing of the turret to zero
Waterproof and fog proof
4. Redfield Revolution 3-9x40mm Riflescope
Redfield Revolution is a solidly constructed shockproof matte black tube. The tube is 25.4 mm, and robust and rugged enough for withstanding recoil and any substantial impact on it. It is entirely waterproof and fog proof, thus apt for a lifetime active field use.
The objective lens diameter is 40 mm, and zooming ranges from 3x to 9x.  This 3:1 zoom ratio allows a wide variety of hunting scenarios. It uses premium lenses with cutting edge vapor-deposition coatings.
The coatings offer superior light transmission even in low-light or blue wavelengths. It features the Accu-Range reticle, which is based on the Duplex reticle design. This particular reticle is known for combining long-range precision with ease of target acquisition.
The eye relief is pretty generous and ensures comfortable prolonged viewing. The alignment of the eye with the eyepiece becomes quicker with the lockable RTA eyepiece. It also features Accu-Trac turrets with resettable stainless steel finger-click.
Pros
3-9x zoom range and 40mm objective lens
Premium lenses with cutting edge vapor-deposition coatings
Accu-Trac turrets with stainless steel finger-click adjustment
Features Accu-Range reticle and Rapid Target Acquisition eyepiece
Waterproof, fog proof and shockproof
5. BARSKA 3-9×42 IR 2nd Generation Sniper Riflescope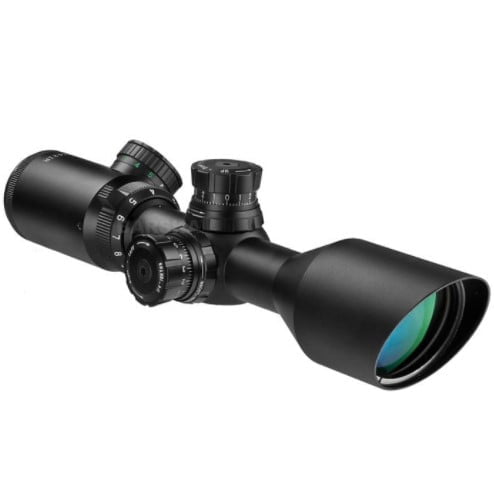 BARSKA sniper riflescope is distinctively different from the rest of the similar scopes. The distinctive quality comes look-wise as the sniper riflescope is constructed with a built-in sniper edged sun-shade.
Its purpose is to cast a shadow and decrease flash for use in bright sun conditions providing comfort to the eyes. The solid 1-Inch rigid shockproof construction of the tube guarantees 100-Percent waterproof and fog proof.
The multi-coated optics provide a clear, crisp, bright image with excellent contrast. It has illuminated red and green mil-dot on its reticle. Easy-grip target-style windage and elevation adjustments allow the reticle to adjust in such a way that matching the aiming point with the crosshairs becomes easy.
The side parallax adjustment and 1/4 MOA click adjustment handles the target at any distance and results in precise and easy maneuvering during the tactical defense. It includes a set of rings, protective scope caps, lens cloth to mount it on the sniper rifle. It also offers a limited lifetime warranty.
Pros
1-Inch tube construction with smart built-in sniper edged sun-shade
Multi-Coated optics with red and green mil-dot reticle
100% waterproof, fog proof and shockproof
Adjustable and lockable windage and elevation with side parallax adjustment
Limited Lifetime Warranty
6. Leupold VX-R Patrol Riflescope
Leopold sniper riflescope is made of 6061-T6 Aircraft Quality Aluminum and designed, machined, and assembled in the USA. The 30mm sturdy shockproof main tube with a matte finish can be a perfect companion in the harshest of conditions and recoil as it offers incredible strength.
It's not just a mere claim, but punisher tested to a lifetime of performance. It is fog proof and waterproof as well. The sniper riflescope uses 20mm military-standard scratch resistant lens. Its 25-4x magnification covers the targets at a  distance.
This sniper features Motion Sensor Technology as well. This technology extends battery life and deactivates illumination right after 5 minutes of inactivity. Not only that, it adds up to 10 extra minutes of glassing light with its Twilight Light Management System.
It comes with FireDot SPR Illuminated Reticle provides a bold aiming point, and it ensures a clear vision even in low light conditions. Due to the increased range of windage and elevation adjustment, matching the aim with the crosshairs becomes simple.
Pros
6061-T6 aircraft quality aluminum construction with a matte finish
25-4x zoom range and 20mm objective lens
30mm main tube provides a good range of windage and elevation adjustment
Illuminated FireDot SPR reticle
Uses Motion Sensor Technology and Twilight Light Management System
Cons
Adjustments take time to understand
7. Vortex Optics Viper PST Gen II Riflescopes
Introducing the PST Gen II from Viper, built with a tough, single-piece, aircraft-grade aluminum tube that measures 30 mm in diameter and has a hard-anodized matte finish for durability.
It is apt for dual-use and versatile enough for close to long-range shooting. It is argon purged and O-ring sealed, thus delivers waterproof and fog-proof performance.
The 5-25×50 first focal plane riflescope uses extra-low dispersion glass, which ensures color fidelity and increases the resolution. For superior light transmission, it has XR fully multi-coated lenses. Lastly, the Armortek coatings on the lenses are for protecting them from scratches, oil, and dirt.
The reticle features 10- intensity levels between each setting with off positions. It keeps the viewing clear, optimal, and uncluttered even after offering specific hold points and being highly functional. It also features a fiber optic rotation indicator, laser-etched turrets, RZR zero stop, and adjustable parallax.
Pros
30 mm diameter single-piece, aircraft-grade aluminum tube with a 5-25×50 first focal plane
Features laser-etched turrets with a fiber optic rotation indicator, adjustable parallax, and the RZR zero stop
10- intensity levels with off positions reticle
XR fully multi-coated, extra-low dispersion lenses
O-ring sealed and argon purged
8. Vortex Optics Viper HS Second Focal Plane Riflescopes
This durable Viper HS 4-16×44 scope is constructed on a 30mm main tube, which has a hard-anodized matte black finish. The objective lens diameter is 44mm, and the zoom range is 4-16x.
It uses multi-coated lenses and an advanced optical system. The XD glass provides a sharp, crisp image edge to edge, and the XR coating allows the lens capturing the maximum amount of light for dawn till dusk use.
On the exterior lenses, it uses Armortek coatings, which protects them from scratches and other damages. The argon purging makes the scope fog proof and waterproof.
The Dead-Hold BDC reticle is perfect for those aims where estimating hold-over would be a concern. So, this multiple configurations riflescope is apt for hunting or shooting at any range.
It features capped quick-reset turrets where reindexing zero after sighting in can be done at once. The elevation and windage efficiently control the reticle and coordinates the aim and crosshairs smoothly.
Pros
4-16×44 configuration and allows dual use of both tactical and hunting
30mm main tube with hard-anodized matte black finish
XR multi-coated and ultra-hard, scratch-resistant Armortek coated lenses
Dead-Hold BDC MOA Reticle
Capped quick-reset turrets
9. Primary Arms 4-16×44 SFP Rifle Scope
Primary Arms highlights the ability of its illuminated mil-dot reticle switching between short and long-range viewing. The objective lenses are 44mm, and zooming ranges from 4x to 16x.
So, it is capable of reaching aims up to 16x magnification. The second focal plane design always ensures the reticle stays the same size in each zooming range or level of magnification.
The reticle is parallax-free due to the adjustable side-mounted parallax knob. The knob enables sharp images at extended ranges. It also features locking turrets with resettable zero.
These turrets give audible and tactile 1/4 MOA clicks. It includes a CR2032 battery, which powers the partial red illumination of the reticle with a total of 12 brightness settings.
The scope is shockproof and survives recoil and harsh impacts efficiently. Being waterproof and fog proof makes it apt for rough and vigorous use, in any and every condition.
Pros
Illuminated Mil-Dot reticle
4-16x levels of magnification and locking turrets with resettable zero
Second focal plane maintains the same size reticle at all magnifications
Partial red illumination with 12 brightness settings
Shockproof, waterproof, and fog proof in any weather condition
Cons
Underwhelming lens quality
10. Bushnell Elite Tactical G2DMR FFP Reticle Riflescope
Bushnell Elite is a rifle scope created with feedback from law enforcement and military experts. Quite naturally, it will have its place among the top sniper scopes.  It is a 30mm, argon purged, one-piece tube.
It is sturdy and has a 3-inch sunshade, which ensures ease to the yes in the harshest sunlight. The sniper rifle scope comes with a 6 to 24x magnification and a 50mm objective lens. The diameter of the lens and zooming range give extraordinary brightness and an increased range of magnification.
The optics have Ultra Wide Band Coating on them, and they are fully multi-coated as well. These ensure superior light transmission and optimum image clarity. The Rain Guard HD anti-fog technology is used for keeping the lens clear in any condition.
The reticle it uses is mil-hash marked First Focal Plane reticle, which is ideal for ranging, holdover, and windage correction. It also features side focus parallax adjustment to target the aim accurately at a long distance. It offers a limited lifetime warranty.
Pros
30mm one-piece tube with a 3-inch sunshade
50mm objective lens and 6 to 24x magnification with Rain Guard HD anti-fog technology
Ultra Wide Band Coating and fully multi-coated lenses
Mil-hash marked First Focal Plane Reticle
Side focus parallax adjustment for long-range accuracy adjustment
Buying Guide of the Best Sniper Scope
The market for sniper scopes is expansive, so finding a scope that meets your needs will require you to consider all of their significant features. Let's go through the essential factors that you should consider when buying a sniper scope.
Durability
Manufacturers must build a sniper scope to last. Because, under certain circumstances, you may need to lie down on the ground and get your scope covered in dirt. Even you may also experience inclement weather while you're hunting. Therefore, in these situations, your scope can get dirty or wet. At this moment, all of the scopes we've chosen here are built to last, which will make your money worthwhile in the long term.
Lens Coatings
The best sniper scope collects as much light as possible and ensures the optical quality is sufficient to present you with a bright, clear sight picture. So, make sure your scope, whatever it is, has multicoated lenses so you can use it efficiently from a range. Thereby, all of the scopes we picked here are equipped with multicoated lenses and offer optimal light transmission.
Windage and Elevation Turret Quality
A scope with good windage and elevation adjustment turrets will help you adjust for different distances. Especially when making a long-distance shot, having turrets that are easy to adjust or allow exact adjustment increments is necessary. Besides, to help you lessen parallax effects on long-distance shots, several scopes also have adjustable objectives or parallax adjustment. Therefore, the scopes we selected for you have all the features you'll need for accurate long-range shooting.
First or Second Focal Plane
It's important to know if the reticle in scope is whether on the first or second plane because that will impact how well you shoot. The first focal plane reticle has a different amount of magnification for each different power setting. As its magnification increases, the reticle appears larger. Similarly, when its magnification decreases, the reticle appears smaller. The first focal plane reticles should always be accurate, regardless of how far you zoom in or out.
Again, the reticle in the second focal plane scopes is situated behind the magnification lens. At every magnification level, you can expect the image to remain the same. For decades, the second focal plane has become the standard configuration of most scopes. Overall, because of the versatility coupled with its magnification setting, FFP is the best choice for long-range targeting.
Frequently asked questions
Q. What is a sniper scope?
A. A sniper scope is a specialized optic designed to provide a clear and magnified view of the target, allowing snipers to engage targets at long distances.
Q. What are the benefits of using a sniper scope?
A. The benefits of using a sniper scope include improved accuracy, increased range, and greater precision in shooting.
Q. What is the best magnification for a sniper scope?
A. The best magnification for a sniper scope depends on the shooter's preference and the distance of the target. Generally, a magnification of 10x or higher is recommended for long-range shooting.
Q. What is the difference between a fixed and variable power scope?
A. Fixed power scopes have a set magnification, while variable power scopes allow the shooter to adjust the magnification.
Q. Can I use a sniper scope for hunting?
A. Yes, a sniper scope can be used for hunting, but it may not be necessary for all hunting situations.
Q. Do I need special training to use a sniper scope?
A. Using a sniper scope effectively requires training and practice. It is recommended to receive proper instruction before using a sniper scope in a real-world scenario.
Final Thoughts
Hunting and sniper missions, both require accuracy in targeting; otherwise, the target will be missed. The target will move in both cases, as the targets are living beings, and the aim will have to be from a concealed position as one cannot let the opposition or the target know the intention. So, a scope is a must, just like its compulsory to have a rifle.
Not just a scope, for efficient hunting and shooting, one will have to invest in the best sniper scope. So, if you are hunting and missing your targets quite often and not understanding what the issue is, then our suggestion will be to try and invest in a proper quality scope and experience the difference it makes. Hopefully, our review on some of the best scope available in the market will make your mission easy and convenient.