The 10 Best Gun Cleaning Kit in 2023
Last Updated on May 30, 2023
The Best Gun Cleaning Kit: Pistols, rifles, Glocks, guns, revolvers, or any other firearm, they require maintenance. The dangerous weapons are prone to get contaminated with the dirt, oil, moisture. It is impossible to keep the gun away from these external elements.
When for an extended period, the gun is not cleaned, with the contamination, the firearm starts reacting to the elements. It can result in rust and degradation of the firearm. It will hamper the performance of the gun and will be risky as well to use.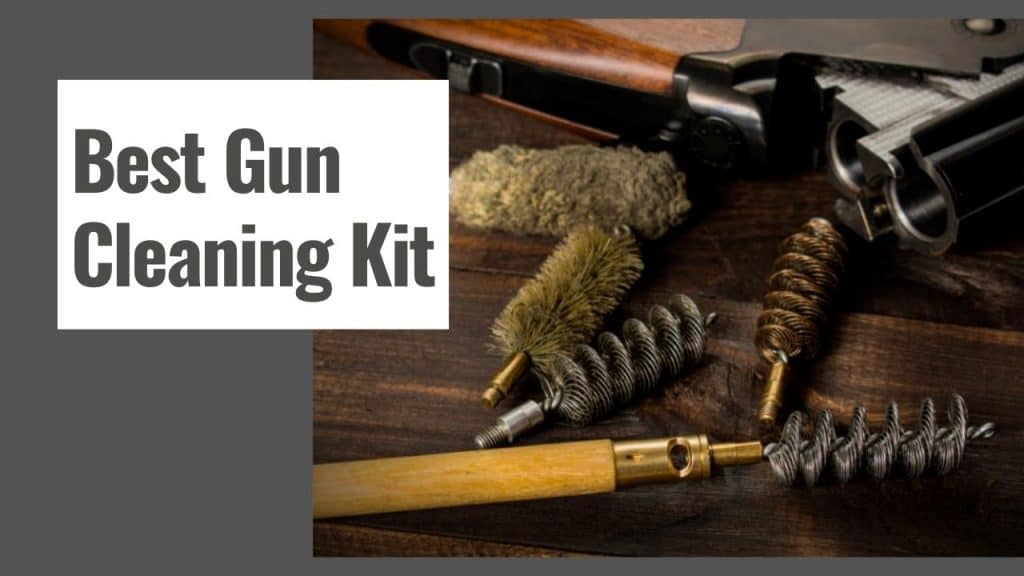 So, it is imperative to clean the gun after every use, if not possible, then every few days is a must. Now, the overall construction of any firearm is pretty complicated. One needs special tools to clean the inside of the arm.
For that, one must spend on the best gun cleaning kit available in the market. There is a variety of gun cleaning kit at a range of prices, both affordable and expensive.
Reviews of the Best Gun Cleaning Kit
Cleaning kit for firearms is available in a considerable number. However, finding the best ones is what we need to do. After assessing quite a bit, we are now going to make a list on the best gun cleaning kit. We are going to review all of them in details.
To decide which one is the best, we have considered a few factors. Among those few factors, the first one was the quality and durability of the tools and supplies. The versatility in the size of the brushes and other cleaning tools is another deciding factor.
In our list, we also included both compact and big cleaning kits so that you can buy the tool kit depending on the requirement. So, without further delay, let us commence our review.
1. Otis Technology The Otis Elite
Otis Technology has created a perfect kit for cleaning different types of firearms. It is made in the USA and also comes with a soft nylon pack case. The case is super helpful in organizing all the tools of the kit.
It also includes little airtight containers to store the bronze brushes. Elastic loops conveniently hold the airtight containers without creating a mess inside the bag.
A set of 16 bronze bore brushes with size marked on brush stem, six different lengths of aircraft-grade memory-flex cables for Breech-to-Muzzle cleaning, three slotted tips, male and female rod for precise cleaning, pin punch, straight pick, end brush, short and double-ended AP brushes, scraper and locking lug scraper, it has everything a cleaning kit must have. It also comes with Otis's Bio CLP, 100% cotton patches, and two patented patch savers.
It includes separate tools for cleaning the scope mounted on the firearm. From lens tissue, lens spray to lens brush and lens cloth, it has everything for the optic care. The tactical components are organized in a small compact bag. It offers a no-nonsense warranty.
Pros
Very well organized with compartments and a small bag in a nylon case
Six aircraft-grade memory-flex cables
16 firearm bronze bore brushes
Specific tool for optics maintenance of scopes or rangefinders
No nonsense warranty
Cons
A zipper could have been better
2. GLORYFIRE Universal Gun Cleaning Kit
GLORYFIRE Universal Gun Cleaning Kit gathers an excellent range of tools to make it a complete all-in-one kit for gun cleaning. The sections or compartments divided for storing the pieces are very well-set, yet doesn't look messy, instead looks spacious. It also includes two extra spaces for storing cleaning oil and solvent.
The tool kit stores things in the lid of the lightweight and portable plastic case as well and has snap locks. The tool kit includes a total of six solid brass rods with two t-handles for different caliber rifles, pistols, shotguns, and muzzleloaders. In the package, the user will also get a total number of 14 bronze brushes, 9 mops or swabs, 12 spear-pointed cleaning high-quality plastic jags, and a black powder jag.
The four slotted patch loops, utility or AP brushes, muzzle guards are also made of high-quality plastic. It also carries three accessory adapters. Fifty cleaning patches and four polishing cloths are also available in this kit. It is the USA made product and comes with a 3-year warranty on the cost-effective, high-quality items.
Pros
Universal cleaning all-in-one accessory kit
Aluminum carry case with 28 pieces of tools
No cheap plastic, only high-quality brass, and nylon plastic tools
Lightweight, well-organized and portable
3-year quality warranty
Cons
Needed to one or two longer rod
3. Hoppe's Universal Gun Cleaning Accessory Kit
Hoppe's is a renowned company known for making many types and sizes of cleaning tool kits, and they have one of every possible kind of kit for gun cleaning. This one is their universal kit with a big sturdy looking, foil-covered cardboard, aluminum framing storage case. It doesn't have too many sizes of tools but has the most required ones which are enough. Even the handle and locks seem to be pretty solid on this one.
Among the tools, it includes nine different sizes of phosphor bronze brushes for cleaning variety of shotguns and caliber rifles, three universal aluminum cleaning rod with a T-handle, five different-sized caliber swabs, also four plastic slotted ends made with high-quality materials and a good amount of patches. It also has two brass adapters for both rifles and shotguns.
The gun cleaning rods have ball-bearing swivel on them. Brushes have stout bristles which are perfect for efficient cleaning and swabs are 100% cotton, soft, washable yet provides thorough cleaning.
Pros
Well-organized aluminum case with specific compartments for specific accessories
3-piece universal aluminum cleaning rod
Phosphor Bronze brushes with stout bristles
Five 100% cotton, soft, effective swabs, and four slotted ends
Two different, rifle to shotgun adapter brass
4. Hoppe's No. 9 Gun Care Case
As we already mentioned above, Hoppe's have different types of kit for cleaning the firearms. According to one's requirement, an individual has options to make a choice. Now, this Hoppe's kit is totally distinct from the previous one.
It is a cleaning kit which has solvents and lubricants in it, instead of various sizes of brushes and other accessories. It includes a 2.25oz lubricating oil, and a 2oz cleaning solvent or gun bore cleaner. Other than these, it also consists of an aluminum rod with ball bearing swivel and a T-handle, a bronze brush, a plastic slotted end, a plastic jag, and 40 cleaning patches.
The storage box that comes with it is of high-quality sturdy plastic, spacious, well-sectioned and has snap locks for tight closure. It is mainly for cleaning or .38, .357 and 9mm pistols.
Pros
Snap lock plastic storage box, not clamshell
Aluminum cleaning rod with swivel handle
2 oz. ultra-effective cleaning solvent and 2.25 oz. high-viscosity lubricating oil
Include brush for the intended caliber
Perfect for the maintenance and cleaning 0.38, 0.357 and 9mm pistols
Cons
Internal tray quality could have been better
5. Real Avid Gun Boss Handgun Care Case
Real Avid Gun Boss kit for handgun cleaning comes in a distinct looking zippered case with a ballistic nylon shell. The internal tray, elastic loops, and mesh are made of high-quality materials. It is weatherproof as well.
The best part of this case is that it is not huge, rather compact, and easy to carry with it in your range bag. This universal kit for cleaning the pistols includes a variety of high-quality accessories for the field or the range.
In the storage bag, it has 2 section rods with a T-handle connecting to the swivel tip, and four phosphor bronze bore brushes, four red nylon jags, two durable black nylon slotted ends, and fifty cleaning patches. The cleaning rod can reach up to 9 inches.
Name each type of firearms, be it Colt, a Glock, S&W M&P, .38 SPL revolver, a 1911, SIG Sauer p226, or any other, this kit ensures the ideal maintenance of the firearm.
Pros
Compact, weather-resistant travel case with ballistic nylon shell and internal parts tray
Two section cleaning rod with swivel tip reaches 9-inch
Comes with phosphor bore brushes and red nylon jags,
Also includes 50 patches, slotted tips, and a T-handle
Perfect for Colt, Glock, revolver or any other handgun
Cons
No scope for carrying lubricants or cleaner
6. New Hoppe's 9 Rifle Cleaning Kit
New Hoppe's 9 Rifle Cleaning Kit has all the same accessories and cleaning supplies like the last Hoppe's cleaning kit we have mentioned above. The difference is in the case and quantity of the liquids. It is intended for .22, .222, .223, .224, .225, .243, .25, .25-06, .257 caliber rifles and pistols.
All the accessories of this kit are packaged in a clamshell instead of a storage box. Such cleaning kits are perfect for emergencies where one need accessories immediately or while traveling when there is no scope to carry storage boxes.
As usual, it comes with a 35 inches 3-piece aluminum rod with swivels to connect the T-handle. It includes a 4 oz bottle cleaning solvent and a 2-1/4 oz lubricating oil. The quantity of the oil and cleaner are more in this kit, compared to the previous one. It also includes a jag, a slotted tip, and a bore brush. Like all other Hoppe's cleaning kit it comes with 50 patches as well.
Pros
Perfect for sudden need
Two aluminum rod with one T-handle
Includes a bottle of Hoppe's 2-¼ oz high-viscosity lubricant oil
4 oz. gun bore cleaner
Also comes with a slotted tip, a jag, bronze brush, and few patches
Cons
Doesn't comes with a storage box
7. Allen Company Ultimate Gun Cleaning Kit
Allen Company presents the best gun cleaning kit, which has everything one needs for cleaning a firearm and maintaining it years along. It is a professional-grade cleaning kit. Every single thing in this tool kit screams quality and durability, and hence even after being a pricey one, it is worth every penny.
It also includes a quintessential toolbox with dual latches which not only has enough sections and compartments for supplies and tools but also has enough space for carrying bottles of cleaner and oil. The toolbox measure approximately 15″ x 10″ x 8. 75″.
The toolbox has 65 cleaning tools and supplies which include 14 bronze brushes, 13 brass jags, five cotton swabs, four brass slotted tips, three brass adapters, two muzzle guards, six cleaning rods with 2 T-handles, pick, two cleaning brushes and cloths, cotton buds and cotton patches.
The components perfectly clean standard rifle or pistol calibers, also 12 gauge, 20 gauge, and 0. 410 bore shotguns. Every single thing in this tool kit screams quality and durability. Therefore, even after being a pricey one, it is worth every penny.
Pros
Professional grade accessories with a toolbox with dual latches
Includes 65 cleaning tools in the kit
Sturdy T-handle with robust cleaning rods
Bronze brushes, brass jags, slotted tips and adapters, and cotton patches and swabs
Provides enough space for lubricants and cleaner
8. DAC Winchester Soft Sided Gun Care Case
DAC cleaning kit comes with a 68-piece set of cleaning tool and supplies. The tools and supplies are stocked in a custom fitted Winchester EVA soft sided case which has ample of space inside it with an adequate number of accessory pouches, elastic loops, and sections.
It includes six solid brass rods, with a sturdy machined aluminum handle, 14 phosphor bronze brushes, and the same number and sizes mops or swabs,13 solid brass spear pointed jags, all stored in airtight containers.
It also adds four brass accessory adapters, a double ended metal cleaning pick. Among the brushes, it has three utility parts, 2 choke/breech, and two double-ended brushes.
Other than all the above it includes a polishing cloth and three sets of 50 cleaning patches. It is so well-organized that even after vigorous movement, none of the tools moves an inch.
Pros
A set of 68 cleaning tools
Winchester super deluxe universal gun case with a soft-sided case
Six solid brass rods and machined aluminum handles
Heavy-duty zipper with two loops loop handles with a velcro strap on the soft nylon case
Jags, swabs and bronze brushes come with airtight containers
9. Hoppe's No. 9 Deluxe Gun Cleaning Kit
The next in our list is another Hoppe's cleaning kit. This one is very different from all other cleaning kits, be it the Hoppe's ones or other brands. The thing that makes it apart from all the similar cleaning kit is its wooden storage case. All the tools and accessories of the package are packed in a heavy-duty presentation wooden box.
It includes 3-Piece brass rod with a robust T-handle. The lubricating oil and cleaner are both from Hoppe's No. 9. The Gun Bore Cleaner is widely used worldwide since a century. On the other hand, the lubricating oil is extra-long lasting. It is a high-viscosity oil which is refined to perfection.
Besides, the kit includes four nylon slotted ends, five phosphor bronze brushes with stout bristles, two brass adapters, silicone cleaning cloth, and patches. The bronze brushes fit different sizes of caliber rifles, caliber pistols, and gauge shotguns. Hoppe's "Guide to Gun Care" booklet is also there in this universal gun cleaning kit.
Pros
Comes in a classy looking wooden presentation box
Includes a 3-piece brass rod with a T-handle, 4 slotted tips, and 5 phosphor bronze brushes
Hoppe's gun bore cleaner, and lubricating oil also included
Fits 0.22 and 0.30 caliber rifles, 0.38 caliber pistols, and 20 and 12 gauge shotguns perfectly
Also comes with a silicone cleaning cloth, Hoppe's booklet, and cotton patches
Cons
Flimsy plastic slotted tips
10. Hoppe's BoreSnake Rifle Care Case
This rifle cleaning kit from Hoppe's has a very different tool to clean, which is a bore snake. A bore snake is a flexible fabric cord which gradually narrows at the end and also has a weight at the end. The bore snake this kit comes with is of high-quality with brass weight at the end of its tapered end. It claims to be the world's quickest three-step bore shine.
The cleaning kit is compact yet complete, containing all necessary cleaning tools, cleaners, and oils, including Hoppe's No. 9 Solvent and Lubricating Oil.
All the accessories and supplies come in a Rugged, soft-sided case which fastens with velcro straps. The case can be attached to the belt; hence portable and fits compactly into a box or bag. It also includes Hoppe's weather-guard gun cloths and pulling tool.
Pros
High-quality BoreSnake with brass weight at the end of its pull cord
Three steps quick-cleaning compact kit
Rugged, nylon, soft-sided case
Includes Hoppe's No. 9 lubricant oil and solvent
Also comes with Hoppe's weather-guard cloths and pulling tool
Cons
If not used correctly bore snake might snap and remain inside the barrel
Gun Cleaning Kit Buying Guide
When choosing a gun cleaning kit, you want a kit that fits your needs and has the features you need. You want it to be easy to use and reasonably priced.
That's why we make a buying guide for generations of shooters so that they can enjoy their favorite pastimes to the fullest. Here is a quick guide on considering the most important features when buying a gun cleaning kit.
Accessories
Each accessory may serve a different purpose. The best cleaning kit is the one that is best stocked with accessories. That's why it's crucial to choose a gun cleaning kit that has the accessories you need and can help you clean your gun.
Also, make sure that your gun cleaning kit contains a brush, solvent, and a cleaning rod. Moreover, it would be best to look for a few other items in the cleaning kit.
Here are some recommendations of accessories for the best gun cleaning kit:
Nylon Brush Bore Brush
Utility Brush
Bronze Barrel Brush
Cleaning Rod
Gun Mops
Cleaning Swabs
Cleaning Solvents
Lubrication Oils
Muzzle Guards
Slotted-Tip Swab Holder
Material
To keep your gun in good working condition, you have to invest in the best gun cleaning kits available. So, when it comes to choosing a cleaning kit, you should never forget about the material of which it is made.
Plastic pieces in a cleaning kit are likely to break down quickly and may not work well. The kit components made from cheap plastic materials do not last long, especially when a bit of force is applied.
Besides, there are kits available in the market with parts made of plastic and metal, which are good to some extent. However, metal gun cleaning kits are the best ones because they can ensure the best quality and durability.
Portability
When traveling with your cleaning kit, make sure you choose a more portable option. You can also try a ballistic nylon cleaning bag to bring your cleaning kit.
Usually, Ballistic Nylon bags are more transportable than heavy canvas bags. However, it's crucial to look at the weight of the bag too.
Frequently asked questions
Q: What is a gun cleaning kit?
A: A gun cleaning kit is a set of tools and accessories used to clean and maintain firearms.
Q: Why is it important to clean guns?
A: Regular cleaning and maintenance of firearms ensures their proper functioning and extends their lifespan.
Q: What should a gun cleaning kit include?
A: A gun cleaning kit should include cleaning rods, brushes, jags, patches, cleaning solvent, lubricant, and a storage case.
Q: How often should guns be cleaned?
A: Guns should be cleaned after every use or at least once a month if not used frequently.
Q: Can I use household cleaning products to clean my guns?
A: No, household cleaning products should not be used to clean guns as they can damage the metal and finish.
Q: Can I clean my guns without a cleaning kit?
A: While it is possible to clean guns without a cleaning kit, it is recommended to use a proper gun cleaning kit for optimal cleaning and maintenance.
Q: Are gun cleaning kits universal?
A: No, gun cleaning kits are specific to the type of firearm and caliber.
Q: What is the difference between a basic and advanced gun cleaning kit?
A: A basic gun cleaning kit includes essential cleaning tools and solvents, while an advanced kit may include additional specialized tools and accessories.
Q: Can I clean my guns myself or should I take them to a gunsmith?
A: While it is possible to clean guns yourself with a proper gun cleaning kit, it is recommended to take them to a gunsmith for more complex maintenance and repairs.
Final Thoughts
A firearm is a pricey possession and a risky one as well. When the longevity and performance depend on the maintenance of the expensive ownership, then it should not be ignored or compromised by buying an average cleaning kit. Most of the cleaning kit specifically mention which brush or swab or patches are for which type of gun.
So, before purchasing the tool kit, first search for the one which is apt for your firearm. Even a set of 68 pieces will be of no use if you have a gun that cannot be cleaned with one of those tools. We have discussed all the features of all the ten cleaning kits in detail and tried our best not to skip any information.
You can have a look at our review on the best gun cleaning kit and see which kit is apt for your gun and then buy the cleaning kit assessing all the features in-depth personally. Our purpose is to let you inform about the best products, but the decision-maker is always you.