The 10 Best Air Rifles for Hunting Small and Big Game in 2023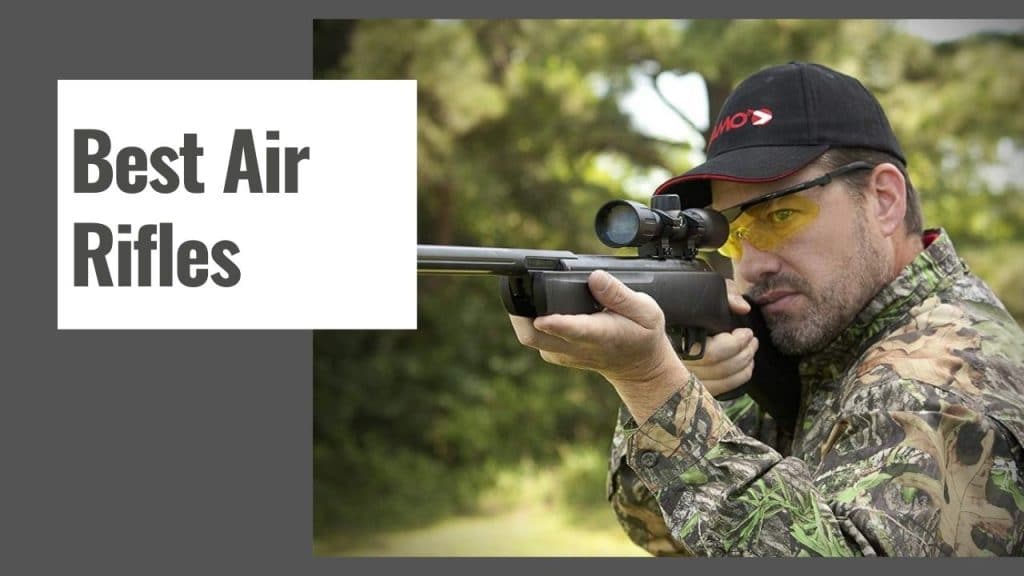 The Best Air Rifles for Hunting Small and Big Game: A good air rifle isn't mandatory for hunting, target shooting, and pest killing unless you take one of these points seriously. But if you do so, you need to choose the best air rifles for hunting to get your job done. Otherwise, you may experience an unpleasurable day by being a failure at what you wanted to do with your gun.
Although a lot has been changed in the world of air rifles, it is easy to find out the best one if you know how to get that. As we know, most air guns fire projectiles with air or compressed gas and either they use BBs or caliber pellets for shooting the target.
Again, some hunting rifles can use both bullets. Hence you should know what types of ammo do your gun uses. Also, there are some other significant features regarding air rifles that you should know before choosing. And to know more about hunting air rifles, you may read through the article on the top ten best air guns for hunting.
Quick Answer – Top 10 Best Air Rifle for Hunting Small and Big Game
8. BENJAMIN ACTION VARIABLE PUMP AIR RIFLE
9. CROSMAN NITRO VENOM BREAK BARREL AIR RIFLE
Reviews of the Best Air Rifles for Hunting Small and Big Game
Most of the newbie and experts make a huge mistake while choosing the best air rifles for hunting. They select one by thinking that it will work well, or they make a purchase on a friend's recommendation. As you see, there are various brands which are aimed at different personalities. So, before taking any decision, you should take enough information to ignore the mistake.
Also, you may learn about how the rifles work and what features you should look at before making any purchase. For that, you need to know some key features of a gun which are; it uses caliber pellets and BBs to kill the target. And some rifles use both ammo for hunting the target.
Again, most rifles provide high velocity with accurate shots when others fail to deliver. That means you need to do pretty research to get the best one. And to help you, we have described details about some of the top ten hunting air rifles that you may choose.
1. Gamo Varmint 6110017154 Air Rifles
Gamo has been manufacturing high-quality and high-powered air rifles for more than 120 years. And now gamo is one of the most recognized manufacturers in air gun industries.
So, undoubtedly, Gamo Varmint 6110017154 Air Rifles have excellent features that outdoor enthusiasts will love. The Gamo Varmint 6110017154 Air Rifle is an ideal pellet gun for hunting small game as it shoots a .177 PBA Platinum alloy pellet at 1250 fps. The rifle uses a long-lasting spring piston to generate standard velocity.
Besides that, the gamo varmint hunting rifle features a 4x32mm scope which allows you to see small targets. The scope sight comes with a Monte Carlo cheek pad which helps you to align your eye with the scope-sight. Also, the rifle has a rubber recoil pad which keeps its buttstock firmly on the shoulder.
Again, the grip and forearm have non-slip texturing so that you can comfortably hold the weapon. The gamo 6110017154 allows you to experience an enjoyable outdoor shooting, because it features a break barrel, cocking system, and has an automatic manual safety.
Anyone can use the rifle as it is lightweight yet sturdy. And the gun is manufactured with molded synthetic stock so that it can last in all weather condition. Overall, it can be an ideal option for beginners and experts as well.
Pros
Uses 177 caliber pellets
Generates excellent velocity
Sturdy and lightweight
Suitable for small game hunting
Affordable price
Cons
Creates a bit of noise while shooting
2. Gamo Silent Cat air rifle
Gamo Silent Cat air rifle is specially designed to kill annoying pets. It is built with a synthetic stock which is resistant to weather conditions, and it makes the gun quite sturdy and durable. The weapon can fire at 1200 fps as it follows PBA-ammunition during firing. But sometimes the range decreases when you shoot with 0.177 lead bullets.
Besides that, it features a 4X32 scope and mounts which help you to achieve accuracy against moving objects. The scope-sight comes with an additional base to give you support during mounted shooting.
Also, the gun has a rubber pad which is ventilated to decrease recoil and protect you from any side-effects. Again, engineers have taken special care of it so that it can ensure maximum safety.
That's why it has an automatic cocking-safety system to keep you safe. Aside from that, the rifle comes with a break barrel and spring cylinder which make the gun suitable for both learners and experts shooters.
That means people find the weapon simple to utilize. Lastly, the significant feature of the rifle is it doesn't make noise at the time of the shooting. It features a noise dampener which is mounted to the barrel so that it can reduce the sound of the shot. In summary, Gamo Silent Cat air rifle is better than usual air rifles, and you can solely use it for hunting.
Pros
Comfortable to use
Provides faster muzzle against targets
Allows shooting at 1200 fps
Attractive design
Comes at a reasonable price
Cons
Some may find the trigger hard to pull
3. 880 Powerline Air Rifle Kit
880 Powerline Air Rifle Kit is very popular for its fantastic shooting power. It can shoot both BBs and Pellets. It is a pneumatic air gun which follows a multi-pump mechanism for firing. The rifle allows you to shoot BBs up to 750 fps and pellets up to 715 fps.
That means the weapon comes with dual ammo capacity. And the gun features a front sight which has fiber optic so that you can quickly aim your target. Not only that, but you can also fix your aim with the 4×15-millimeter scope.
The scope is adjustable, and so your target shooting becomes easier that would be difficult with the other rifles. Again, 880 Powerline Air Rifle has a fantastic design. It features a wood-grained Monte Carlo stock and a forearm which ensure a comfortable grip.
Besides these features, the weapon offers additional equipment which you may need. It comes with safety glasses, 500 Daisy pellets, and 750 BBs to maximize the thrill of outdoor shooting.
The only drawback of the Powerline Air Rifle Kit is, you need to pump the gun three or up to ten times to achieve maximum velocity. In summary, it is suitable for first-time shooters and indoor practitioners.
Pros
Allows shooting up to 291 yards
Ensures accurate shooting
Lightweight and comfortable
Sturdy construction
Suitable for beginners
Cons
Safety system could be better
4. Benjamin Marauder Stock Pellet Air Rifle
If you are inquiring for the best air rifles for hunting, then you may have a look at the features of Benjamin Marauder Synthetic Stock Pellet Air Rifle. It is a lightning-fast rifle which allows you to shoot at up to 1100 fps. And you can use .177 caliber pellets to make severe damage on your target.
Generally, the gun works as a ten-shot repeater. And sometimes, it will work as an eight-shot repeater if you use it with .25 caliber pellets. As the rifle follows pneumatic mechanism to make a shot, it uses an air compression of 3000 psi in general.
That means it comes with a pressure gauge to control air pressure. Besides that, Benjamin Marauder features an adjustable metal trigger, and it makes your triggering easier. Lastly, the rifle features a dovetail so that you can accurately shoot your prey. In a nutshell, it can be a perfect hunting weapon for outdoor adventurers.
Pros
Offers better grip
Comes with unrivaled barrel
High quality
Stable and durable
More than a toy
5. Crosman M4-177 Pneumatic Pump Air Rifle
Crosman M4-177 Pneumatic Pump .177 Air Rifle is specially designed for the new generation shooters.  It features a steel barrel to shoot both pellets and BBs. And the rifle uses valve technology to give you higher velocity.
As a result, it allows you to shoot at up to 625 fps with pellets and 660 fps with the BBs. And the rifle features a pellet clip which can hold five .177 calibers and it also has a BBs reservoir to store up to 350 BBs.
That means you can enjoy firing without worrying that you don't have enough ammo in your air gun. Besides that, The Crossman M4-177 comes with weaver scope which you can replace with a Picatinny scope ring.
The rifle also features a telescoping stock which is adjustable and allows vision from both the front and back for better accuracy. And the main attractive feature of the gun is the material it contains.
Although it is built with plastic, it is sturdy and resistant to accidental impacts. Overall, the rifle is handy during competitive shooting, and you may choose it to hunt your prey.
Pros
Safe and easy to use
Lightweight and durable
Features impressive reservoir
Excellent firepower
Comes at a reasonable price
Cons
Has no noise dampening feature
6. Gamo Whisper Fusion Mach 1 6110063254 Air Rifles
Gamo is a very reputed and well-known company for making high-quality air guns. The company's rifles always impress their customers with its excellent craftsmanship which you find in the Gamo Whisper Fusion Mach 1 6110063254 Air Rifles.
The gun is equipped with a gas piston named the IGT Mach 1 to deliver higher-muzzle velocity, less vibration, and smoother cocking. As IGT Mach 1 is the most potent gas piston, it can shoot a pellet at up to 1420 fps through a 33 mm cylinder.
Besides that, the rifle features the Whisper Fusion, which is a noise-reduction technology, and the Gamo patents it. The technology allows the pellets to go through two different chambers to prevent noise expansion.
Hence, both the Whisper Fusion and the IGT Mach 1 technology make the weapon quiet, powerful, and accurate as well. Again, the Mach 1 6110063254 hunting Air Rifle features a Gamo 3-9×40 scope, and the scope comes with RRR (Recoil Reducing Rail) which absorbs the recoil of the rifle to increase the lifespan of the scope-sight.
Aside from that, the gun features the CAT (Custom Action Trigger) which allows you to adjust the trigger according to your preference. In summary, the weapon is appropriate for target shooting and outdoor hunting.
Pros
Durable and comfortable
Ensures high velocity
Attractive design
Provides great accuracy
Good value for the price
Cons
Not suitable for beginners
7. Ruger Blackhawk Combo Air Rifle
The Ruger Blackhawk air rifle is widely popular for its excellent performance. It uses .177 caliber pellets and blasts them out with the 1000 fps velocity, and this is the primary feature of the air gun. And the gun is very comfortable to use as it comes with a durable stock.
The stock is comprised of composite material, which is entirely black. Besides being black, this stock has a pattern of checkered grip on the forearm and grip sections. And the checkered grip makes the rifle usable for both right-handed as well as left-handed shooters.
Besides that, the gun comes with fiber optic sight, which helps you for target acquisition. And it also has a4x32 air-gun scope to mount quickly with the 11mm dovetail. The only drawback of the Blackhawk Combo air rifle is its break barrel system.
After firing a shot, you need to pump the barrel every time. If you make yourself familiar with the feature, you will find it one of the ideal air rifles available in the market.
Pros
Doesn't produce harsh noise
Affordable price
Easy to use
Features high velocity
Ensures optimal accuracy
Cons
Some users may seem little unfamiliar with the break barrel feature
8. Benjamin Action Variable Pump Air Rifle
Benjamin 392 Bolt Action Pump Air Rifle is on the list of the most expert shooters because of its timeless performance and dependable accuracy. Again, some pest hunters consider the weapon as one of the best air rifles for hunting for its fantastic features.
It features a Monte Carlo stock which is designed with American Hardwood. That's why it is lightweight and is very convenient to use. Also, it comes with an entirely rifle-brass barrel which helps to pass .22 caliber pellets at up to 685 fps velocity.
That means the rifle is powerful enough for small game and target shooting. And the weapon uses compressed air by following a multi-pump mechanism to deliver you effective shots. Besides that, the gun has an adjustable sight, which allows you to target your prey accurately. In a nutshell, it is durable, compact, lightweight, and it can be an actual weapon for active shooting.
Pros
Scope provides laser-like precision
Budget-friendly
Allows making powerful shots
Durable construction
Classic design
Cons
Doesn't feature noise dampening
9. Crosman Nitro Venom Break Barrel Air Rifle
Crosman Nitro Venom Break Barrel Air Rifle is known for its high-quality features. The rifle is easy to carry around as it is 44.5 inches long, and its weight is about 7.4 lbs. So, you can quickly aim and shoot a running target with the rifle. Another significant feature of the gun is its firepower and average speed.
The air gun can provide you with an impressive velocity of about 800 fps. And it will increase up to 950 fps if you use alloy pellet instead of steel. Besides that, it comes with a break barrel system which allows you to shoot as long as you want.
The barrel utilizes a nitro piston power source so that it can be unlimited in the number of shots. Also, the break barrel system helps the rifle to produce more powerful shots. Aside from that, the Crosman Nitro Venom hunting rifle features a center-point scope which is 3-9×32 mm in size, and it is easy to mount.
You can raise the scope-sight to aim your target accurately. Lastly, the air gun comes with a fluted muzzle brake, which is complemented with a rubber pad and a safety lever to sustain recoil.
Also, the rifle features Picatinny style optics rail so that it can provide comfort even during shooting. Overall, the gun delivers some serious performance, and it can be useful for pest control.
Pros
Allows variable uses from pest eradication to target shooting
Fairly priced
Ensures high velocity
Features noise cancellation
Easy to cock
Cons
Not suitable for beginners
10. Daisy Outdoor Products Model 1938 BB Gun
The Daisy 1938 Red Ryder air rifle is specially designed with a spring-powered cocking lever. It has a coiled spring and a piston behind its chamber. And they help the gun to make air compressed and deliver you a powerful shot. When you pull the trigger, the piston moves forward inside the barrel.
As a result, the compressed air propels the projectile to provide you required pressure for the shot. And all of this happens in the blink of an eye. That means you don't have to pump the gun repeatedly.
You only need to load the lever to prepare for a shot. The rifle uses 0.177 calibers BBs and can shoot it at up to 350 fps velocity, which is ideal for target shooting.
You need to feed the BBs into the barrel while keeping the muzzle upward, and then you have to cock the cocking lever by pulling for making a shot.
To provide you a more accurate shot, the Red Ryder features forearm with blade and ramp front; it also has an adjustable rear front sight. Overall, the air gun is suitable for everyone, and you can use it anywhere as it doesn't produce much noise.
Pros
Easy to cock and shoot
Lightweight
Ensures high accuracy
Easy assembly
Comes at a reasonable price
Air Rifles for Hunting Small and Big Game Buying Guide
The first step toward a better air rifle is knowing what you want and need in an air rifle. When you know what to look for in purchasing an air gun, you will be more likely to find the right air gun for the money and be pleased with your purchase.
Besides, there are several models and categories of air guns available on the market today, and each one works differently.
And, it's also necessary to know the various properties of pellets and accessories before buying an air gun. So here we've put together a guide to assist you in selecting the right air rifle for your needs. This guide will provide all the necessary information about hunting air rifles.
Types
Here's a review of the various types of air rifles and some benefits and drawbacks of each:
SPRING POWERED: A lever on the barrel manually operates Spring-powered air rifles. The operator needs to pull the lever first for every shot. It is a single-shot rifle with self-sufficient capability. But, smaller individuals may find it challenging to manage this gun.
CO2-powered: CO2 weapons are powered by carbon dioxide gas. CO2-powered air rifles generate pressure by using a small canister of CO2. It is a multi-shot rifle, and it is also a little bit costly.
PRE-CHARGED PNEUMATIC (PCP): The most effective choices are PCP air rifles, which have a small cylinder under the barrel. Air rifles are typically powered by high-pressure air. They operate similarly to CO2 air rifles but are not temperature sensitive, and they can also be semi-automatic. This rifle is powerful and accurate.
Precision & Power
Precision in hunting air rifles refers to a consistent velocity of the BB or pellet. Those who only shoot small targets or do so for fun do not need to concern about it seriously. But when you look for a gun for competition or target shooting, precision will be a crucial factor in your air rifle selection.
Durability & Safety
The level of reliability and protection needed for an air gun varies depending on its primary use. Therefore, high-powered air rifles need stronger air pressure and faster muzzle velocity. But if you're buying a gun for casual outdoor shooting in harsh weather, you should consider buying a model that is weatherproof and safe.
Frequently asked questions
Q: What is an air rifle?
A: An air rifle is a type of gun that uses compressed air to fire pellets or BBs.
Q: What is the advantage of using an air rifle?
A: The advantage of using an air rifle is that it is much quieter than a regular firearm and can be used for target shooting or small game hunting in more populated areas.
Q: What is the most accurate air rifle?
A: The most accurate air rifle can vary based on the individual shooter and their specific needs. Some popular options include the FX Impact MKII, Air Arms S510 Xtra FAC, and the Daystate Red Wolf.
Q: What is the best air rifle for hunting?
A: The best air rifle for hunting can depend on the type of game being hunted and the shooter's personal preference. Some popular options include the Benjamin Marauder, Hatsan 95, and Gamo Whisper Fusion Mach 1.
Q: What is the maximum range of an air rifle?
A: The maximum range of an air rifle can vary depending on the model and caliber. Generally, most air rifles have a maximum range of around 100-150 yards.
Q: Can an air rifle be used for self-defense?
A: While an air rifle can be used for self-defense, it is not recommended as they typically do not have enough power to stop an attacker effectively.
Final Thoughts
There are many reasons for a hunter to switch to air rifles and guns as they are much more economical and can help the hunter or shooter save a lot of money. Still, it is essential to remember that there are different types of weapons available in the market.
And beginners find it challenging to choose. If you use all the information above, it will be easier for you to determine which weapon is best suited to your specific situation and needs.
You need to remember that the budget is essential, but quality should not be ignored. As you know, sometimes it is better to spend a little more money to get a better quality weapon. However, there are many other features that you should consider before depositing your money.
You must take the time to read the features properly. Once you have received this information into account, you have a good idea of the most appropriate brands and models.
Then you may make your final decision on the purchase. And if you want to avoid any hassle, you may pick one of the best air rifles for hunting small and big game from the above list.