10 Best Compact Binoculars for Birding in 2023
Last Updated on March 31, 2023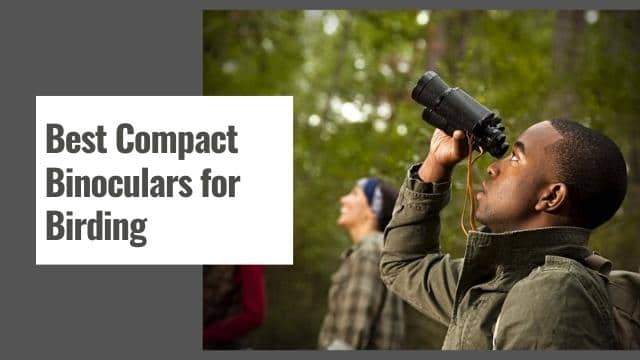 The Best Compact Binoculars for Birding: Binoculars provide you with a clear vision of an extensive range of views and great focal length. You can easily find your targets with them. To enhance your experience in birding in every environmental condition, you will need a well-designed upgrade quality binocular.
Effective performance requires birding binoculars for both a beginner and a pro-birder. Binoculars always favor the viewers. But identifying the birding binoculars is pretty confusing and stressful sometimes.
To make it easy for you, today we will talk about several of the bird-watching binoculars available in the marketplace. We have come up with the ten Best Compact Binoculars for Birding to help you easily watch distant birds.
You can also do it yourself. But If you don't have enough time, you can read this article to pick the best one for you.
Quick Answer – Top 10 Best Compact Binoculars for Birding
5. WINGSPAN OPTICS PROBIRDER ULTRA BINOCULARS
1. Bushnell Legend Ultra HD Roof Prism Binocular
Rainguard HD technology-based binocular by Bushnell is one of the best compact binoculars for birding. It is enriched with ED prime glass, which delivers incredible color resolutions even in low light. Its fully multi-coated optics ensure optimum clarity and excellent brightness.
Moreover, the Rainguard HD lens coating prevents water, fog, snow, and oily fingerprints. It is outstanding in daylight and also in dark twilight. You can get the edge-to-edge sharpness and crisp, clear vision in the low light situation. It is not too heavy and thus easy to use for a long-time birder.
The weight of this bird watching binocular is only 22.5oz. It includes a soft carrying case, neckstraps, microfiber carrying bag, magnesium chassis as well as twisted up eyecups. This 5.3x4x6.9 inches and 1.54-pound binocular is self-focused.
It has 10 x magnifications with a 42mm objective lens. Ultra-wideband coating provides you with a large field of view with long eye relief and a locking diopter. A waterproof exterior helps you for bird watching in various outside situations.
Pros
ED prime glass provides amazing color contrast
Rainguard HD lens coating
100 percent waterproof and fog proof construction
Lightweight, soft-touch grip and neck strap
Crystal clear ultra-wide view with long eye relief
Sharp optical quality
Cons
Focusing for both the eyes might disturb
Little pricey
2. Occer 12×25 Compact Binoculars
This compact binocular by Occer gets you set up for different birding situations. The pocket-size birding binocular is easy to use and carry wherever you go. FMC broadband coating technology adopted with premium BAK4 prism ensures your low light night vision.
So It is a perfect tool for camping, concert, sports, hiking, wildlife, traveling, exploring, opera, and many other outdoor activities. It is suitable and fit for any situation.  It's 15mm large eyepieces provide you 273ft/1000yds wide field of view.
You can fold it and also adjust the eyecups for clearer visuals. Its rubberized secure grip is durable that resists water, which is shockproof also. You can get close to the lens by a smooth center and right eye focus knob and see even small birds easily.
Its angle of field is 7.5 degrees. Its weight is only 0.65 pounds, with a dimension of 4×4.4×1.9 inches. Adjustable rotating goggles are perfect for glasses wearers and also for those who do not wear glasses. Even kids can use it comfortably.
Pros
FMC broadband green film provides crisp, bright color contrast
High powered large and adjustable eyecups
Inexpensive, small size design, easily portable
Waterproof shockproof and durable
Easy usage and comfortable for both adults and kids
Provides a wide field of view
Cons
Optics are not properly aligned
3. Bushnell H2O Waterproof Roof Prism Binocular
The H2O waterproof roof prism binocular by Bushnell is manufactured of high-quality durable multi-coated optics. Its rugged body is O-ring sealed and nitrogen purged for more reliable and superior clear viewing experience.
The BaK4-roof prisms provide you unparallel splendid light transmission and HD clear bright visual. Besides, the 12-foot close focus distance by center-focus knob ensures great sharp focus. It is a bit inexpensive but has many features of expensive binoculars.
The binoculars are resistant to water, snow, and fog, which makes them suitable for use in various weather conditions. Additionally, they provide comfortable use for birders, thanks to the non-slip rubber eyepiece collars, neck strap, carrying case with a belt loop, and soft-grip lens cover included with the purchase.
Its soft-touch rubberized armor is shockproof. 8x magnification and 42mm objective diameter optics give you 17mm eye relief with a 325ft wide area of view.
Its weight is 25oz, having glass protection for easy transportation and storage. Its dimension is 7x6x3 inches, 1.56 pounds. You can adjust and twist up the eyecups at your comfort. Easy to use for birders wearing glasses or without.
Pros
High-quality optics with HD clarity
100 percent waterproof, rugged body construction
Soft non-slip rubber grips absorb shock
Adjustable twist-up eyecups
Very reliable close sharp focus and wide eye relief
Inexpensive, easy carrying and storage
Cons
Slightly heavy
Limited lifetime warranty
4. Nikon 7548 MONARCH 7 8×42 Binocular
If you need a binocular with an extra-large field of view with stunning bright vision and accurate color production, this MONARCH compact binocular for birding by Nikon is suitable for you. It gives you an extensive area of viewing experience and high contrast standard image.
The binoculars are constructed with a dielectric multi-layered prism that reflects light efficiently, and all lenses are weatherproof and nitrogen-filled. The design also features expanding eyecups and extra-low dispersion glass, making it a well-rounded option.
Its durable rubberized armor coating gives you comfort to hold it. Roof prism with phase correction is very useful in scanning wildlife and has excellent waterproof performance. It renders better image quality and color accuracy.
It has 8x magnification and 42mm objective lens diameter, providing you outstanding brightness and smooth view to focusing subjects. Besides, it is lightweight, weighs only 1.3 pounds.
Also, It includes storage cases and lens protection covers for convenient transportation. Its large field of view provides you to find your subject easily and clearly. It is durable and applicable in many ways. The price is also great.
Pros
Extensive range of view
Waterproof, durable housing
Comfortable to hold and use for rubberized coating
High-reflective optics ensures perfect color contrast and clarity
Impressive brightness and better image quality
5. Wingspan Optics ProBirder Ultra Binoculars
The wingspan optics pro birder ultra HD binocular is light and easy to carry. These wingspan optics are mainly designed for birding. Its 42mm high index prism coating ensures a high-resolution image and much better clarity.
Chromatic aberration at 8x magnification renders a perfectly aligned view of every vibrant color. The body is solid metal moisture with rubberized manufacture and nitrogen filled to be waterproof in harsh natural conditions.
The easy turn center focus wheel gives laser 2m close cutting edge keen focus with less eye fatigue. Its durability and travel light provide you enjoyable birding experience. The extendable eyecups work great with or without glasses and give sharp vision in low light. 32mm objective lens diameter provides 393ft large field of view.
Its dimension is 5×4.5×1.75 inches, and its weight is 1.3 pounds only. It includes a storage bag, eyepiece cover, lens protectors, comfortable neck strap, and microfiber lens cleaning cloth. It prevents rain and splash so that you can explore smoothly in a wet and wild environment.
Pros
Ultra HD clarity and extra-wide field of view
ED glass with phase correction and fully multicoated lens
High-resolution edge sharp close focus
Lightweight solid body case with leverage Dura-Tech technology
Lifetime warranty
Cons
Compact but not that small
Not excellent for stargazing
6. Nikon 7576 MONARCH 5 8×42 Binocular
The Nikon 7576 MONARCH comes with a premium ED glass resilient frame, and its protective rubber armor coating gives you non-slip feeling. Dielectric high reflection of its prism surface provides rich color embellishment.
High quality, fully multicoated Eco-glass lens with correct chromatic variation renders high light transference in a broader range of view covering the furthest extreme points. It is nitrogen-filled & O-ring sealed for outstanding performance in the wettest conditions.
It gives a clear view of objects against a dark background. Its high eye-point design allows adjusting eye relief for a smooth custom fit. Turn and slide rubber eyecups, flip-down lens caps, central focus knob ensure birders maximum comfort with natural-looking images.
Its weight is only 1.3 pounds, so it is easy to grab for any birding situation. It gives a clear vision with eyeglasses. You can choose it for extreme use. These small-size binoculars for bird-watching works are great in low light. Its waterproof and fog proof feature help you bird-watching with comfortable viewing in a wet and wild environmental situation.
Pros
Multicoating Eco-glass lens provides high light transmission and natural-looking view
Nitrogen filled and O-ring sealed for waterproof performance
Lightweight, durable
Accurate color reproduction with superior resolution
Advanced low light brilliance
Cons
Close focusing might become little indistinct
7. Vortex Optics Diamondback Roof Prism Binoculars
Like all other Vortex binoculars, this reasonably compact diamondback roof prism binocular is highly effective for birding experience. 8×42 magnified vortex lineup prisms provide one of the most extensive fields of view.
Its enhanced dielectric fully multi-coated lens delivers shading-free images, brighter optical quality, and apparent light transference. A sleek, short-hinged secured rubber shield thumb indents and non-slip grip ensure your supreme comfort.
You can adjust the twist-up multi-position eyecups for smooth eye relief. It is argon purged for anti-fog protection and waterproof even in extreme weather conditions. You can effortlessly indicate your subjects with its 5 feet close focus.
It is adjustable for eyeglasses and also for bare eye viewing. With the purchase, you are getting a nice fitted semi-rigid shell zippered case and a neck strap. It works excellent in low light and gives a clear vision of the surroundings.
Its dimension is 7.2×8.4×3.9, and the weight is 1.57 pounds only. The richness of color, lighter weight, and fair price range influence you to choose it for backyard birding.
Pros
One of the largest field of view
Adjustable eyecups for smooth eye relief
Argon purged for waterproof & fog-proof performance
High light transmission with better image quality
VIP lifetime warranty
Cons
Fatigue edges in very close focus
8. Celestron 71348 Outland X Binocular
Celestron Outland binocular is constructed with high-quality multi-coated optics and BaK4-prism material. It ensures topmost comfort and meets up the needs of every field user. Rubber-coated 50mm large objective lens has the capacity of enhanced light transmitting with upgraded contrast and resolution.
You can enjoy high resolution crisp, clear, detailed views, and more reliable viewing performance.  The easy turn focus wheel gives 9.8 feet close focus to find your subject effortlessly.
Its easy usage is fairly well for a beginner and adventurous youngster who admire birding. This Nitrogen filled extremely durable binocular is capable of sustaining rugged use in wet and wild weather conditions. Its multiple positioned twists up eyecups give you 17.4mm eye relief with 10x magnification.
Besides, you are getting a neck strap, objective lens caps, lens cloth, eyepiece rain-guard, and durable protective stuff carrying case for convenient storage. It gives dependable viewing, even with eyeglasses. You can adjust the eyecups to your comfort zone.
Pros
Well designed to satisfy the requirements of every outdoor adventurer
Huge light gathering capacity through the multi-coated optical path
Extremely durable and waterproof
Comfortable and easy to use
Eyeglass-friendly adjustable eye-pieces
Cons
Not best for nighttime use and stargazing
The focus knob is a bit sensitive
9. Bushnell H2O Compact Roof Prism Binocular
Bushnell H2O waterproof binocular is efficient in a superior clear viewing experience. It is an excellent choice for birding. BaK4 roof prism with upgraded multi-coated optics gives splendid light transference and vibrant color reproduction.
Also, its large center-focus knob gives a 15-foot close focus to find your subjects. The housing is O-ring sealed, nitrogen-purged so that you can experience a dependable waterproof and fog-free sighting.
8x magnification and 25mm objective lens provides 12mm long eye relief. Twist-up Eyecups are extendable for your comfort. Its dimension is 5x4x2.7 inches, weighs 12 ounces. Moreover, it comes with a neck strap, a well-fitted protective storage bag, and lens cleaning cloth.
It is suitable for the concert and great to look at planets and stars. Its rubberized non-slip soft texture grip is shockproof. You can easily get HD clear and brighter vision with it.
It is supremely durable and fit for rugged use. Overall, quality products, reasonable prices, and compatibility with different environmental conditions.
Pros
High-quality multi-coated optics texture with HD clarity
100 percent water protected and durable, also shockproof
Wider angle field of view with a larger focal length
High light-transmitting multicoated optics
Adjustable eyecups for a custom fit
Cons
Not so good focusing edges
Lifetime warranty is limited
10. Carson 3D Series High Definition Binoculars
The 3D series HD birding binocular by Carson is constructed with full-sized 3D ED glass and rubber armor-coated high-end HD optics. The body is nitrogen-filled, O-ring sealed to be waterproof, and fog proof in wet circumstances.
It is comfortable to use for its lightweight. It's a BaK4 fully multicoated prism, and extra-low dispersion glass delivers the brighter and sharper image quality and excellent light transmission.
The 3d aspect gives an impressive, crisp, clear field of vision. 8×42 magnified lens provides a 392ft wide range of view with 19.5mm extra-large eye relief. It is excellent in exterior activities like camping, concerts, hiking, traveling, sporting events, birding, hunting, and so on.
The HD lens renders 6.6ft close focus to locate your target. Its dimension is 5.5x2x5 inches and weighs 1.44 pounds. Besides, the standard packaging includes a neck strap, shoulder harness, a Bino-Armor deluxe storage case, lens covers, and lens cloth.
It has the best warranty sponsored by Carson. Overall, it is one of the best compact binoculars for birding to enhance your sighting experience in outdoor adventures.
Pros
3D optical coating technology with sharp ED glass
Fully multi-coated prism with water protected rubberized finishing
High-quality packaging with plenty of accessories
HD clearer and sharper image quality with extra long eye relief
America's best warranty binocular
Cons
Does not have eye-piece covers
A bit expensive
Compact Binoculars for Birding Buying Guide
If you're looking for binoculars for bird watching, you should check a few qualities in the binocular. Here are a few features that can make bird watching more effortless and more enjoyable.
Weight
Size doesn't always matter. More extensive models are heavier and harder to carry than smaller ones. It can be a significant disadvantage if the binoculars are overly lightweight to carry.
We recommend buying binoculars that weigh less than 2 pounds for birding.
Field Of View
The overall area visible via your binoculars is referred to as the field of view. Usually, a birding binocular with a wide field of view helps to spot more birds.
Besides, when you want to zoom in on a target, the field of view is essential. It indicates how wide the binoculars will capture.
Magnification
For bird watching, the ideal magnification for binoculars is 8x or 10×50. This magnification is great for watching the birds in your area without causing an unstable or blurry image.
Lens Aperture
42mm is the ideal size for an objective lens. It's a perfect balance between clear, sharp images and bright light transmission.
Besides, you can use binoculars with smaller or larger objective lenses, but if you buy compact binoculars for bird watching with a small objective lens, they may not work well in low light conditions.
Again, a birding binocular with lenses that are too large will make it difficult to carry around. So, invest in a quality pair of binoculars that will fit your outdoor needs well.
Types of Prism
You will see two types of prisms in the best compact binoculars for birding, and these are the roof prism and the Porro prism. Binoculars with roof prism designs are typically the best for birding.
Roof Prism binoculars use a prism system that allows for more accurate viewing by reducing distortion and providing a slim design. Afterward, if you get a Porro prism binocular, the birding binoculars will have wider eyepieces than the lenses.
Eye Relief
When picking binoculars for birding, be aware of the eye relief. The distance between your eye and the ocular lens is defined as eye relief. Confirm that the pair you select is the correct size.
Furthermore, if you wear glasses, seek a binocular with at least 16 mm of eye relief. It enables you to fully view the surroundings without strain to see through your binoculars.
Waterproofing
Regardless of the season, you'll want your binoculars to be able to stand up to a variety of weather conditions.
If your binoculars are not waterproof, they can ruin in the rain. So, look for binoculars that have waterproof covering and a fog-proof feature.
The more expensive binoculars are also made from quality materials to withstand the dust and shock yet.
Frequently asked questions
Q: What are compact binoculars?
A: Compact binoculars are small-sized binoculars that are easy to carry around and designed for travelers, bird watchers, and hikers who need a compact and lightweight device for long-distance viewing.
Q: What magnification power should I choose for birding?
A: For birding, a magnification power of 8x or 10x is recommended. Higher magnification can make the image appear shaky, and it can be difficult to maintain focus on moving targets.
Q: What is the objective lens size of compact binoculars?
A: The objective lens size of compact binoculars usually ranges from 20mm to 28mm, which provides a clear image and a wider field of view.
Q: Are compact binoculars waterproof?
A: Many compact binoculars are designed to be waterproof or water-resistant, which makes them suitable for outdoor activities, including birding.
Q: What is the field of view of compact binoculars?
A: The field of view of compact binoculars varies from model to model. It is generally wider in lower magnification binoculars and narrower in higher magnification binoculars.
Q: What is the exit pupil of compact binoculars?
A: The exit pupil is the size of the beam of light that enters your eye when using binoculars. Compact binoculars usually have an exit pupil of 2mm to 4mm.
Q: Are compact binoculars suitable for eyeglass wearers?
A: Many compact binoculars are designed with adjustable eyecups that can be easily twisted up or down, making them suitable for eyeglass wearers.
Q: Can I use compact binoculars for stargazing?
A: Compact binoculars are not the best option for stargazing, as they do not have a high enough magnification to view distant stars and planets.
Q: What is the difference between roof prism and Porro prism binoculars?
A: Here..
Final Thoughts
So, it can be concluded here, and these are the most favored binoculars from all works. You can improve your sighting efficiency by recognizing and purchasing the finest quality binoculars.
Besides, all binoculars available in the marketplace are not of the same quality. You have to choose the perfect piece for your need.
That's why we come up with compact bird watching binoculars review articles to help you make the right decision in time easily.
Whether you are a beginner or pro-birder, hopefully, the mentioned Best Compact Binoculars for Birding will help you experience much better performance.
You Should Read: The 10 Best Spotting Scope for Birding
                            : 10 Best Long Range Scope for the Money
: The 10 Best Night Vision Binoculars for Hunting
: 10 Best Compact Binoculars Under $100