10 Best Air Pistols for Self Defense in 2023
The Best Air Pistols for Self Defense: Whether you are planning for a hunting trip in the dark forest or practicing targets, you must need a high-quality air pistol.
You may not have enough time to visit the shooting center. Don't worry; you can practice long-range shooting at home using an Air Pistol. Apart from the safety need, it is also fun to use.
Shooting sports is one of the fun and thrilling activities for adventure freak people. While looking for the best air pistols for self defense, one must consider accuracy, range, stability, perfect triggering, design, balance, magazine capacity, and many more.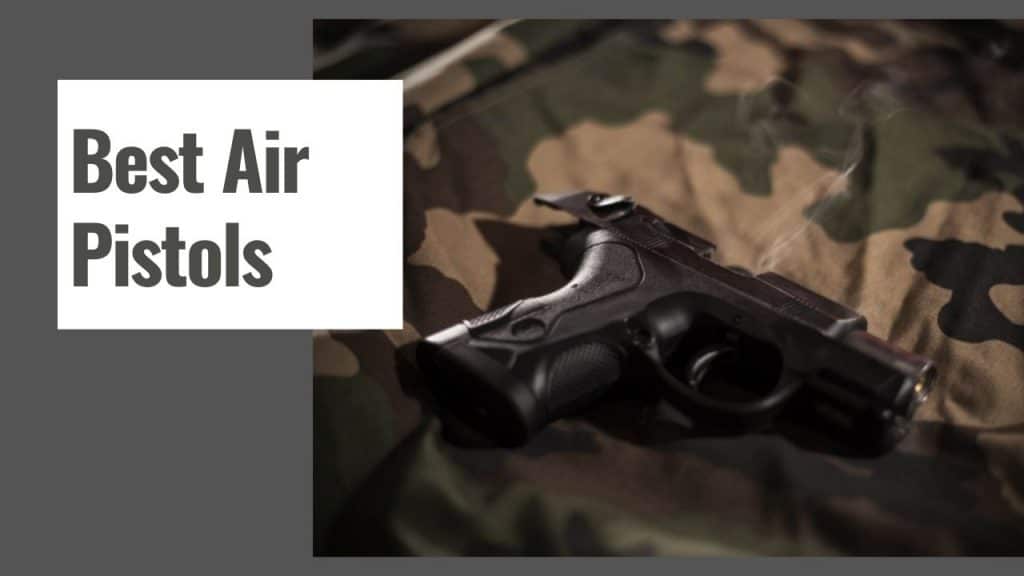 Air pistols are gaining popularity with time as they are easy to carry, have firm, and comfortable grip. Since it includes several technologies, it is not easy to understand every feature while purchasing.
Especially for beginners, it could be a tricky decision. So, to help you in this case, we have come with a list of high-quality air pistols. Let's check them out.
Quick Answer – Top 10 Best Air Pistols for Self Defense
Review of the Best Air Pistols for Self Defense
Air pistols use compressed gas or air. They are easy to use, and you don't have to be master in this skill. Owing an air pistol is an excellent thing as you have free access to practice more and more. Like we mentioned, we are going to discuss some of the best air pistols for self defense available in the market.
Whether you are pro or beginner, you must know the functionality and basic features. From our top picks, you can compare different pistols before making a decision. They all are the manufacturer's top suggested air pistols. Without wasting any more precise time, let's have a brief look over them.
1. Gamo 611138254 Pt-85 Blowback Pellet Pistol
The first one on the list is a CO2-powered pellet air pistol that comes in an authentic look. The Gamo is a trusted name in the market, and Gamo Pt-85 is their reliable addition.
The pistols measure 7.8 inches in length, and it is weighted about 1.5 pounds. It features a blowback slide mechanism that delivers a genuine firing experience. Besides, it includes 0.177 calibers and the capacity of the 16-pellet double magazine.
You can fire many shots once you've loaded the pellet. Its fixed sights on the Pt-85 have sufficient white dots that help to aim and shoot accurately even in light conditions.
The pistol also includes a riffle steel barrel for optimum accuracy. Its textured grip on the hand gives the guns more authenticity. You can shoot in 450fps speed, and the pellet works great up to 300 feet distance.
However, the Gamo Pt-85 is powered by a 12g CO2 can. One single can lasts for about three magazines, and also it uses platinum pellets. One more bet about these pistols is its backward moving slides that deliver realistic action.
Pros
Sufficient pellets capacity
Textured plastic grips
CO2 powered pistol
Authentic look and feel
Blowback design
High velocity
Lightweight
Cons
Allow use of particular pallets
Not good for hunt
2. Umarex 2254048 Colt Peacemaker Nickel Pistol
The Umarex Colt pacemaker pistol is an icon of the old west. You don't have to work on a ranch to experience the fun. It is a near-perfect replica of the legendary CO2 air pistol.
A 12g CO2 cartridge powers this quality pistol. It features a functional hammer and a working cylinder that is loaded with a reloadable and removable cartridge. It uses 0.177 caliber pellets, and it packs quite a punch.
The pistol works at 410fps speed that allows you to put a bullet from 20 yards without any hassle. The steel-BBs-shoots version provides more accuracy than other pellets.
The pistol measures 0.75inch in length with a 5″ barrel and 2lbs weight. It comes with a steel construction all over the pistol, which gives an authentic feel.
Moreover, the pellets are loaded in shells or cylinders. The realistic shooting action helps to take careful aim with the authentic v-notch sight. Indeed, it's a great buy, and the price is reasonable as well.
Pros
Authentic and Legendary look
Realistic feeling
CO2 operated
Easily reloadable cartridge
Fun to use
Durable
Cons
Hammer rests away from the cylinder
3. Umarex Beretta M92 A1 .177 Steel BB Airgun
The next Umarex pistol allows you to take precision shots with the fixed barrel. The Umarex Beretta steel airgun is perfect for enjoying single, double, and full-auto firing mode.
The entire body of pistols is made with steel material, which gives it a real look and feel. It includes durable and reliable metal magazine drop-free, and it can be loaded with 18 steel BBs.
Besides, one 12g CO2 capsule is placed conveniently in the magazine. It has an integrated accessory rail where you can attach your favorite laser or light. The pistol comes with 8.5″ length and weighs about 2.4lbs.
According to your firing situation, you can fire in three selectable modes. The pistol's weight and field strips are almost the same as the real one. Its low impact delivery and ease of firing make it the most straightforward gun to shoot.
In short, with an intense great look, it becomes a demandable choice for practice and fun shooting. The durable construction will give you the handgun that feels in your hand. The price is also within range.
Pros
Perfect weight
Looks like real
Functional slide catch
Fun to use
Identical field strips
Full-size magazine
Durable metal construction
Cons
Few people claim that paint wears easily
Extra magazines of the same model are expensive
4. Umarex XBG 2254804 Air Gun Pistol
Do you want a pistol with more trigger time? Well, nothing is more reasonable than a BB gun from Umarex. The Umarex XBG BB air gun comes with a more drop-free metal magazine. It is considered as one of the best air pistols for self defense available in the market.
It comes with a stylish slide and muzzle design, which is combined with a functional under-muzzle Picatinny rail. You can use accessories like laser and flashlight. The pistol features a metal construction that assures the durability of the gun.
Unlike others, it includes a 19-shot drop-free metal magazine for quick reloading. A 12g CO2 capsule powers it. The efficient magazine release button is perfectly placed within the elegant polymer frame.
The polymer molded build of this air pistol features a comfortable and stylish grip, complete with texture and grooves for a non-slip hold. The front sight is designed with a white dot for quick target acquisition.
Moreover, the compact design of the pistol makes it more accessible. With excellent power, consistent accuracy, and simple design, it becomes one of the top selections among experts. Also, the price is extremely reasonable. So, go for it!
Pros
All-metal construction
CO2 powered capsule
Maximum distance
Great accuracy
High-speed operation
Stylish frame
Comfortable grip
Fast action pistol
Cons
A bit noisy
Some claims that the magazine clip stuck sometimes
5. Crosman Vigilante CO2 Caliber Revolver
The next one comes with a semi-automatic revolver style air pistol. The Crosman Vigilante BB revolver comes with an excellent loading mechanism. It is a modern weapon that takes on the classic revolver style.
The full metal frame construction makes it durable. This Crosman Revolver can shoot both pellets and BBs, and comes with 6-BBs clips and a 10-shot pellet clip. With a 6-inch steel barrel, it can shoot up to 435 feet.
With a unique loading mechanism, you don't have to put your pellet in the wheel every time. It automatically loaded and ready to fire, every time you make a shot.
Moreover, the pistol looks like the colt python. The pistol lets you fire in both single and double-action. It has a tactical rail system attached with the gun for attaching flashlights and laser.
Indeed, it's a fun pistol and gives you a real gun-like feeling. The adjustable rear sight helps you to make a target, as well. Surprisingly, you are getting this at a reasonable price.
Pros
Cover large area
Durable steel construction
Dual-mode firing
East to get spare magazines
Excellent accuracy
6. Daisy Powerline 340 BB Repeater Pistol
Daisy is a trusted name in the industry for many reasons, like the look, quality, and efficiency. Similarly, the Daisy Powerline BB repeater pistol is a spring-air pistol. The pistol comes with a smooth bore steel barrel, which is easy to use and durable enough.
With a sturdy bore steel barrel, it looks like a real gun. It comes with an 8.5-inch length with a 24-fps velocity, which can cover almost 100yards. The pistol features a blade and ramp front for accessible sights. Also, for added safety, it includes the Crossbolt trigger block.
The gun features a 13-shot speed load clip that is located in the grip. Once the reservoir is loaded, you can make almost 200 shots at one load. Due to this, it is considered a pistol for hunting.
The Powerline 340BB is one of the powerful pistols available in the market. It is so easy to hold the gun due to the molded grip. So, beginners also find differences, and it is also suitable for practicing and competitions. This is probably the lowest priced pistol on our list. So, check the store before it is over.
Pros
Powerful
Maximum pellet speed
Removable Speedload clip
Safe to use
Lightweight
Smooth steel barrel
Cost-effective
Real gun-like performance
Cons
Seems like plastic
Durability might be an issue but worth it.
7. Crosman Vigilante 357 Co2 Air Pistol
One more Crosman addition in the list with semi-automatic design is the Crosman Vigilante pistol. It is similar to the previous Crosman pistol in the lit. The difference is that it comes with an air pistol kit.
The pistol is equipped with heavy-duty steel material, which is exceptionally durable. You will feel the well-built feeling once you get it in your hand. Also, it includes a 10-shot pellet clip along with a 6-hot BB clip.
It comes with an adjustable rear sight that allows for better accuracy. The pistol operates on both single and dual-action mode. You can smoothly perform both actions due to the smooth trigger.
Besides, it is powered by the CO2 mechanism, which utilizes the CO2 mechanism very well. It allows you to have almost 75 shots with this. Also, the gun is surprisingly oiled for smooth operation.
Overall, it allows us having almost the finest and far shots. The pistol has 0.177 calibers, and it also has an additional holster for carrying purpose.
Pros
Adjustable rear sight
Optimum accuracy
Smooth trigger
Dual-mode operation
Durable construction
Cons
The grip seems a bit flimsy
Double action trigger is somehow heavy
8. Beretta PX4 Storm .177 Airgun Pistol
The Beretta feels, looks, and shoots like the real firearm. It allows you to shoot faster. The pistol is equipped with a sealed, clear plastic clamshell. Instead of the plastic body, it feels like you are holding a real gun.
You can have both double and single action. Also, it includes 16 shots of capacity pallet for allowing you to have the most exceptional result. A 12g CO2 is loaded into the grip and it will enable you to perform lots of shots.
Even you'll get an accessories rail under the barrel for flashlight and leaser. However, the pistol weighs about 1.6lbs, which is exceptionally lightweight. The blowback repeater gives you the maximum power. The magazine of the gun holds both BBs and pellets.
In short, it's a quality pistol-like other Umarex. One more significant about this pistol is that it comes in a textured grip, which is very comfortable to hold. Overall, all these features make it as one of the best air pistols for self-defense of the present time.
Pros
Lightweight
Easy to hold
Dual-action operation
Maximum shooting range.
Sufficient shots
Optimum velocity
Better accuracy
9. Colt Commander .177 Caliber Steel BB Air Pistol
One of the best and elegant pistol on our list to make you feel like using a real pistol. The Colt Commander comes to some modern and adjustable features to fill the requirements.
It comes with all metal frame construction, which offers more excellent durability. The gun operates with a 12g CO2 capsule that is located inside the gun's grip. The outlook of the pistol is so reliable and perfect that it gives you the feel of real firing.
Unlike others, it features Umarex valve technology that creates a powerful slide cycle. It stimulates recoil but still fires BBs at 325 fps. The gun also includes an 18-round full-metal magazine that is drop-free.
The Colt Commander features an authentic manual grip for added safety. Also, the commander style hammer and skeletonized trigger give it a vintage-like look.
Also, the trigger is so smooth that anyone can operate efficiently. In short, it's an excellent buy for both people of any age. The pistol provides accuracy, and it is easy to shoot.
Pros
Maximum speed
Semi-automatic
Powered by 12g CO2
Easy to shoot
Smooth trigger
Realistic action
18-rounds BB magazine
10. Crosman American Classic P1377 Air Pistol
The final one is a WOW collection from Crosman. Crosman is serving its consumers with a quality product for many years. Likewise, the Crosman American Classic air pistol comes with sleek and modern design.
The pistol is equipped with synthetic material, which gives it a shiny texture. The gun comes with a single-action bolt design for easy cocking. The gun has a rifled steel barrel that works for accuracy.
It comes with 0.177 caliber pellets that offer maximum shooting. The gun operates on 600 velocities so that you can use it for hunting and shooting practice. It comes with an easy-pump forearm.
Besides, it features an adjustable rear peep and a blade front for easy targeting. The air pistols for self-defense have variable pump power, which allows you to control the velocity of shooting.
Also, the smooth triggers help you to get a better balance while shooting. The best about this pistol is that you can also use it as a riffle. Besides, it is available at the incredibly lowest price, so go for it!
Pros
Accuracy
Durable build
Variable pump power
Adjustable rear sight
Sleek and modern design
Easy pump
Optimum pellet velocity
Affordable
Fun to shoot
Cons
Sights are not entirely adjustable; they stuck sometimes
Not useable for pest
Frequently asked questions
Q: What is an air pistol?
A: An air pistol is a type of handgun that uses compressed air or gas to propel pellets or BBs.
Q: What is the difference between a pellet and a BB?
A: Pellets are generally more accurate and have a more aerodynamic shape than BBs, but BBs are cheaper and easier to find.
Q: What is the maximum velocity of an air pistol?
A: The maximum velocity of an air pistol varies depending on the model and the type of ammunition used, but it can range from 300 to 700 feet per second.
Q: Can air pistols be used for self-defense?
A: Air pistols are not typically recommended for self-defense purposes because they have a lower stopping power than firearms and may not be legal to use in some areas.
Q: Are air pistols legal?
A: Air pistols are legal in most areas, but it is important to check your local laws and regulations before purchasing or using one.
Q: How do I choose the right air pistol for me?
A: Consider factors such as power source, caliber, velocity, accuracy, and ergonomics when choosing an air pistol.
Q: What are the different types of power sources for air pistols?
A: The main types of power sources for air pistols are spring-piston, pneumatic, and CO2.
Q: What is the difference between single-shot and multi-shot air pistols?
A: Single-shot air pistols require you to manually load each pellet or BB, while multi-shot air pistols have a magazine or chamber that can hold multiple rounds.
Q: Can air pistols be used for target shooting?
A: Yes, air pistols are a popular choice for target shooting and can be used in a variety of competitions and events.
Final Words
Air pistols are the best option to learn shooting. Apart from that, you can use it to teach people how to shoot, hunting, or even to keep the pest problem under control.
Besides, you don't have to spend a considerable amount of time on shooting coaching. However, the main goal of using an air pistol is to provide entertainment.
Whenever you fire on at a target, you'll have fun. But make sure you are going with the best one. However, in our recommended list, you'll get a variety of air pistols for hunting to backyard plinking. So, choose one that fulfills your budget.
Visit Also: Types of Short Weapon