10 Best Long Range Scope for the Money in 2023
Last Updated on April 2, 2023
If you are an up-to-date shooter, then you may have noticed that manufacturers are bringing heavy barreled rifles. These rifles are chambered in magnum calibers, which is suitable for long-range shooting. Being a serious hunter or just a sport shooter, you may need to reach a little further than using regular sights.
The range is sometimes within hundreds or even a thousand yards. However, to reach this range, you must need a long-range scope. The demand for long-range scope is increasing with time due to its constant innovation and development.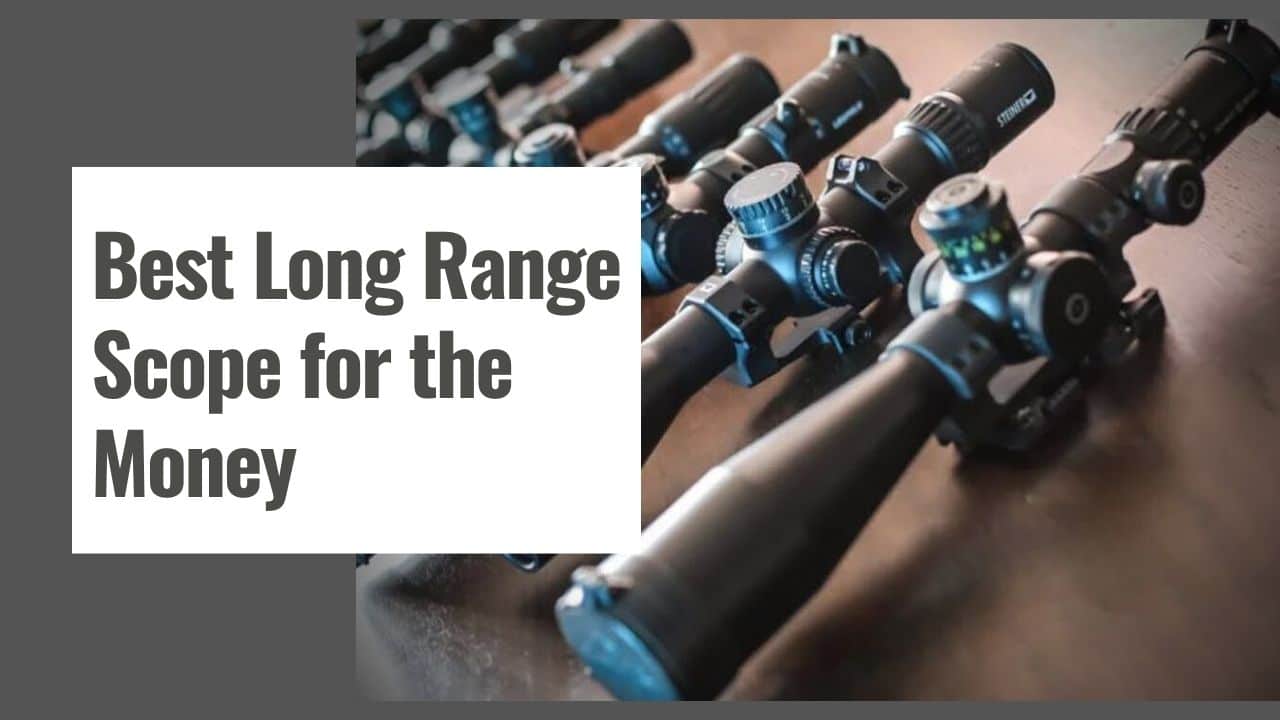 Hence, it can be challenging to find out the best long range scope for the money because you need to check several factors such as reticle system, wide elevation adjustment ranges, etc.
In case you are in a rush and don't have enough time to look into details. Here we present our top picks, and all of them are the best long range scopes. They will fit any budget. Let's get started.
Quick Answer – Long Range Scope for the Money
5. BUSHNELL 756245B TROPHY XTREME X30 SCOPE
8. BUSHNELL TACTICAL RIFLE SCOPE, MIL-DOT RETICLE
Reviews of the Best Long Range Scope for the Money
So, if you are ready to take the challenge of taking shots in the thousand-yard range. Here, we will help you to find the best long range scope for the money. Although there is no exact definition of long-range, it could be 100, 200, 500, and to more yards. Hence, your scope attachment should be precise and accurate.
It should have better magnification, good optics with parallax focus, and so on. By having all these factors in mind, we have concluded some of our top recommendations. So, consider all these factors and pick one which suits your requirements.
1. Vortex Optics Crossfire II Adjustable Riflescopes
Most avid shooters have rated the Vortex Optics Crossfire II as a high-end scope. It is the reason it grabs our top place. The Vortex Optics Crossfire riflescopes offer the highest level of performance and reliability.
This single piece tube is made with aircraft-grade aluminum, which ensures strength and shockproof performance. It is O-ring sealed and nitrogen purged, which makes it waterproof and fog-proof.
It has a Dead-hold BDC reticle, which is suitable for shooting or hunting at varying ranges. The scope features an adjustable objective that provides image focus and parallax removal to the shooter.
The lenses are anti-reflective and fully multicoated so that you can see bright and unobstructed views. Also, you can quickly get a sight picture with the more extended eye relief and an ultra-forgiving eye box.
Moreover, it comes with the capped reset turrets, which are adjustable. You can adjust them with just MOA clicks. You can reset it to zero after sighting in. Again, the Long Range Scope for the Money features a customized hashmark design, which helps eliminate guesswork while you are correcting windage.
Overall, it can be an excellent purchase. You can use it for tactical shooting or hunting. Whether it is about features or build-quality, there's no compromising on the Vortex Optics Crossfire II. The price is also within range.
Pros
It can hold zero
Heavy-duty construction
Adjustable objectives
Bright and clear views
Longer eye relief
Quicker sight pictures
Quick and easy reticle focusing
Cons
A bit heavy
Losses clarity at higher powers
2. Athlon Optics, Argos BTR, Riflescope
The next one is perfect for those who are looking to start PRS. They can take a look at the Athlon Optics Argos BTR riflescope. The features of this scope are usually found on high-end scopes.
One of the best things about this riflescope is its four times magnification. Thus, it is versatile in multiple shooting disciplines. However, the scope is equipped with a 6061T6 aircraft-grade aluminum tube.
It can protect the world-class optics used here, no matter how harsh you use it. Unlike others, this Long Range Scope for the Money has Argon purging, which gives you better waterproofing and thermal stability.
Also, it features a first focal plane reticle, which stays valid at all power settings. It enables you to utilize the reticle. Besides that, the reticle comes with etched on the glass. And it gives excellent backing support. That means it prevents shock at the time of recoiling and keep your eyes safe.
In short, it is not just well-built but well-optical as well. You can adjust it according to your needs. As it has a fully- multicoated optics, it reduces the reflection of light and increases the transmission. You are getting this at a fit price.
Pros
Quick target engagement
Fully multicoated lens
Excellent light transmission
Improved shot precision
Easily adjustable turrets for ease of use
Waterproof
Argon purged
Better strength and superior mechanical integrity
Cons
Turrets do not lock
Heavier than most units
3. Vortex Optics Viper HS-T Focal Plane Riflescopes
The Vortex Optics HST is perfect for shooters who shoot using bolt guns and rifles while standing on the tree stands or the mountain tops. It is blended with many of the best features.
The Vortex Optics Viper HST is built on an ultra-strong one-piece machined aluminum tube. The long-range scope offers enhanced windage and elevation travel. Besides, it has optimal adjustment, as well.
It features an advanced optical system that is highlighted with a four-times zoom range for magnification versatility. Also, it features a forgiving eye box along with eye relief. Both help shooter to gain accurate and safe aiming.
Moreover, the scope is incorporated with multicoated and extra-low dispersion lenses that bring excellent resolution. It has an XR coating that enhances light gathering capability. Besides, it features an Armortek coating that protects the lenses.
The long-range scope comes with the target-style turrets, which are specially designed for accurate and repeatable finger-adjustable clicks. Also, the shooter can appropriately adjust the reticle due to its fast-focus eyepiece.
Overall, probably, this is the right rifle scope to start practicing. Like others, the scope is O-ring sealed and argon purged for making it waterproof and fog-proof. Though it comes at a moderate price, it worth every penny.
Pros
Extra-low dispersion lens
Excellent image clarity
Better light gathering capability
Durable armor tech coating
Reticle mid-use adjustable
Target-style turrets
Cons
Eye relief is not comfortable though
A bit pricey
4. Nikon Buckmasters II, BDC, Riflescope
Nikon is an ancient name and trustable riflescopes among deer hunters. This time they have been revived with Buckmasters II riflescopes series. The long-range scope offers excellent brightness and clarity.
For that, many shooters have rated it as the best long range scope for the money. It is specially designed for extremely bright sight pictures that allow for high-resolution images.
As a result, you can shoot comfortably in the rough conditions. The material used here is nitrogen purged, and O-ring sealed for making it waterproof.
Also, the scope includes fully multicoated lenses that offer enhanced light transmission. It features a patented BDC reticle, which enables shooters to hold 'dead-on' at ranges. Besides that, it comes with a ballistic circle that helps users a lot during long-range shooting.
Furthermore, its positive-click reticle adjustment helps you to get zeroed quickly. Its consistent eye relief keeps your eyebrows safe, even with the heaviest recoiling cartridges.
This scope includes a versatile magnification range, which offers the flexibility needed for any hunting situation. The Buckmaster II can be your companion for the next hunt. It is less pricey, as well.
Pros
Allows for high-resolution images
Fully multicoated lens
Enhanced light transmission
Long eye relief keeps brows safe
Better reticle adjustment
Waterproof and fog-proof
Shockproof
Cost-effective
Easy to sight
Cons
The O-ring often come-off
The reticle seems a bit heavier
5. Bushnell 756245B Trophy Xtreme X30 Scope
Bushnell is one of the innovative companies in the scope manufacturing industry. The Bushnell Trophy Xtreme is a standard go-to for both professionals and amateur rifle shooters.
Most users appreciate its excellent magnifying capabilities. It can magnify up to 24 times with better eye relief.
It includes fully multicoated optics and rain guard HD, which offers 91% light transmission. You can use it in any weather since it is waterproof, fog-proof, and shockproof.
Besides, its side parallax focus and the fast focus eyepiece allows simple functionality. You can choose from the four reticle options. The eye relief is so long that it provides ease of viewing.
Overall, it delivers the clarity of riflescope by coating hundreds more, which is worth buying. The Bushnell trophy is specially made for hunters who need high accuracy and performance. It's a long-range only scope to shoot the target on the more extended range.
Pros
Excellent magnifying capability
Maximum precision on a long-range shot
Convenient fingertip windage and elevation adjustment
Fully multicoated lens
Durable construction
Cons
Not suitable for beginners
6. Leupold VX-2 Compact Waterproof Riflescope
Leupold's riflescopes are popular due to its excellent zoom ratio. The Leupold compact riflescope also has the same zoom ratio. It let the scope stay light and affordable, along with exceptional versatility.
The scope has quality O-ring sealing for complete waterproof integrity. Along with durable material, it's a tight-fitting for all details. This scope is designed for clarity throughout the field of view.
The optical surfaces are coated for reduced glare and authentic color transmission. You can vivid and see high-contrast pictures, even in poor lighting.
This versatile scope offers versatile zoom ratio to switch between the bigger picture and finer details. You can also compensate for windage and bullet-drop using distinct with finger-click.
Unlike others, it has an illuminated reticle that utilizes a 200 to 300-yard zero depending on ammunition. You can point out to 500 to 600 yards with additional aiming. The target around crosshairs streamlines target achievement.
In a word, the long-range scope offers impressive performance. Weather is not a problem now when you planned for a hunting trip. You'll get excellent brightness, clarity, and contrast whenever and wherever.
Pros
Quick and easy adjustment
Entirely waterproof and fog proof
Quality built
Better clarity throughout the field of view
Versatile zooming option
Optimum brightness and clarity of the image
Durable
Cons
Not effective beyond 400 yards
7. Bushnell Elite Tactical G2DMR FFP Reticle Riflescope
One more addition from the Bushnell family of riflescopes. The Bushnell Elite riflescope is designed with precision engineering, optical excellence, and rock-solid reliability.
It is one of the most demanding tactical weapons as it provides optical precision and allows shooters to aim accurately. Even law enforcement and military experts nationwide have praised its excellent functionalities.
It includes ultra wideband coating and fully multicoated optics, which offers better light transmission and clarity. The riflescope features Rain Guard HD anti-fog technology for keeping the lens clear in any condition.
Along with adjustable power, it can magnify most distances. Its 50mm objective lens offers excellent brightness and an extended range of magnification. The scope also features a mil-hash marked FFP reticle.
Engineers have designed its reticle for easy ranging, holdover, and windage correction. Also, you will get long-range accuracy through side focus parallax adjustment. This one-piece tube is argon purged that makes it waterproof and fog-proof. You have to pay some extra for getting this tactical riflescope.
Pros
Ultra-wideband coating on the lens
Fully multicoated optics
Excellent light transmission and clarity
Extended range magnification
Adjustable long-range accuracy
Sturdy construction
Cons
The reticle is not illuminated
Costly compared to others, but good for the money
8. Bushnell Tactical Rifle Scope, Mil-Dot Reticle
Our final Bushnell recommendation is similar to the previous Bushnell's with just a single difference. Its magnification system sets it apart from other traditional scopes. The Bushnell Tactical rifle scope provides reliable and optical precision with ten times magnification capability.
That's why many shooting enthusiasts love it, and even they consider it as the best long range scope for the money. Unlike others, it features a mil-dot reticle and target, which helps you to get a precision shot. The lens has an ultra-wideband coating that delivers improved light transmission. It boosts brightness at dawn and dusk.
Its fully multi-coated optics ensure a crisp and clear view. The riflescope also includes Rain Guard HD exterior coating on the lens for keeping it clear in any conditions. Also, its black-out finishes help you blend in.
It has a sturdy structure, which is argon purged for long-term reliability. Also, the scope features a 40mm objective lens so that it can target far away. It comes with a blacked-out finish for better concealment.
In a word, it is made for the big game for sure. Both professional and the amateur hunter can experience extraordinary hunting session. The best part is that you are getting this tactical riflescope within budget. A decent scope for the money
Pros
Maximum magnification
Excellent targets
Well-built and clear optics
Better light transmission and clarity
Anti-fog technology
Sturdy construction
Reliable performance
Cons
The power is not variable; not suitable for low light
9. Trijicon TR23 AccuPoint 5-20×50 Riflescope
The Trijicon TR23 riflescope looks sturdy and built for most severe cases. It offers tactical shooters, varmint hunters, and law enforcement spinners the ability to extend their ranges accurately.
This riflescope has multicoated lenses along with superior clarity and light-gathering capabilities. It minimizes distortion for clarity. However, its rugged all-weather construction can protect it from the harshest elements.
Again, it comes with FiberOptics technology, which helps you to adjust the brightness level and contrast of the reticle. You can now aim even in the low and no light.
Its reticle size remains constant as magnification increases. This reticle size provides exact aiming a higher magnification. Also, the lens is exceptionally eye-friendly for long hours of scoping and shooting. Overall, it's an excellent option for longest-range shooting.
Pros
Optimum lenses
All-weather rugged construction
Top-quality lens extra aiming point
Superior magnification
Cons
Not versatile enough
Do not lock in the place
10. Nikon Black X1000
We have come to the almost edge of our review. The Nikon Black X1000 is a long-range riflescope that offers the precision along with lots of features. Its ruggedness can meet most user demands.
The riflescope includes a glass-etched illuminated reticle at the riflescope's second focal plane. And all other management such as holdover corrections and ranging are done at 18 times magnification.
Its all air-to-glass surfaces feature multilayer coating. These multiple layers of coating enhance light transmission, brightness, and contrast. Its side-focus parallax adjustment allows adjustment without changing the shooting position.
Moreover, it features an eye relief that keeps your brows safe while recoiling. It assures cheek weld while adjusting magnification. It is comprised of aircraft-grade aluminum alloy.
This material is O-ring sealed to prevent moisture, and nitrogen purged offers better reliability. Also, shockproof construction makes it suitable for most cases. It comes at a reasonable price, so you should have a look at it.
Pros
Fully multilayer coating
Anti-reflective coating maximizes light transmission
Better brightness and contrast
Clear glass
Adjustable focus
Excellent magnification
Cons
The turrets are somehow misaligned
The dial seems pretty cheap
Buying Guide of the Best Long Range Scope for the Money
When looking for a long-range scope, you should consider numerous factors. So, here are some key features to look for when purchasing a long-range scope.
Reticle Type
For the best performance from your hunting scopes, you should use a reticle with evenly spaced markings on both the horizontal and vertical axis. In the riflescopes, reticles are measured in mils or MOA.
Mildot or the MOAR (for Nightforce) are the common names of the reticle. Furthermore, a long-range scope is excellent for hunting in low-light conditions. Also, when hunting at night, a long-range scope with an illuminated reticle can be pretty helpful.
Magnification
The magnification scale for most long-range scopes is 12-60 x 60. This implies you can zoom in between 12 and 60 times. In general, the scope will include a rotary dial that allows you to select magnification levels of 12, 24-, 36-, 48-, and 60. However, increased magnification will allow you to see further away objects, but you'll experience issues with decreased image clarity.
Objective Lens
You can determine the size of the objective lens by checking the magnification rating. A scope with a max magnification of 8-34 x 56 has an objective lens of 56 mm.
Furthermore, larger objective lenses allow more light to pass through them and into a viewer's eyes, making it possible for you to see a brighter image. If you want to use your scope in low light or extreme magnification situations, we recommend getting the largest size possible.
Turrets
Another critical component of a long-range rifle sight is the turrets. To make adjustments, you'll need to turn the turrets, and some will be simple to turn while others will be challenging.
We recommend seeking turrets that offer some resistance to obtain more precise results but avoid difficulty turning or have an unpleasant feeling as they move.
Durability
Durability is an excellent feature for any scope. When you look at the features, look at how durable the scope is. Always be careful when handling your rifle scope, especially under bad conditions.
Frequently asked questions
Q: What is a long-range scope?
A: A long-range scope is an optical device used for shooting targets at a distance, usually over 500 yards.
Q: What makes a good long-range scope?
A: A good long-range scope should have a high magnification, a large objective lens, good quality optics, precise adjustment turrets, and a durable construction.
Q: What is the ideal magnification range for a long-range scope?
A: The ideal magnification range for a long-range scope depends on the intended use. For hunting, a magnification of 10x-20x is sufficient. For long-range shooting, a magnification of 20x-30x or higher is recommended.
Q: What is the difference between first focal plane and second focal plane scopes?
A: Click Here..
Q: What is the minimum effective range for a long-range scope?
A: The minimum effective range of a long-range scope depends on the caliber of the rifle and the size of the target. Generally, a long-range scope is effective at ranges of 500 yards or more.
Q: What is parallax adjustment, and why is it important?
A: Parallax adjustment helps to ensure that the reticle is in the same plane as the target, regardless of the shooter's head position. It is important for accurate long-range shooting.
Q: What is an MOA?
A: MOA stands for Minute of Angle. It is a unit of measurement for angles and is commonly used to measure the adjustments on a long-range scope's turrets.
Q: What is the eye relief on a long-range scope?
A: The eye relief is the distance between the scope's eyepiece and the shooter's eye. It is important to ensure that the shooter can maintain a comfortable and safe shooting position.
Final Words
The above choices are all appropriate contender for the money. They can cater to every customer's needs and demands. Still, if you are going to any specific one among them, make sure the model has all the particular specifications you required. Most importantly, even if it is a higher-end scope, always keep your budget in mind before you go for one.
Furthermore, the quality of glass and coatings in our suggested scopes just won't be matched by any others. Your new brought rifle or existing hunting rifle will get a better grip from these scopes. So, it's time for the shopping for the best long range scope for the money.