The 10 Best Marine Binoculars in 2023
Last Updated on March 29, 2023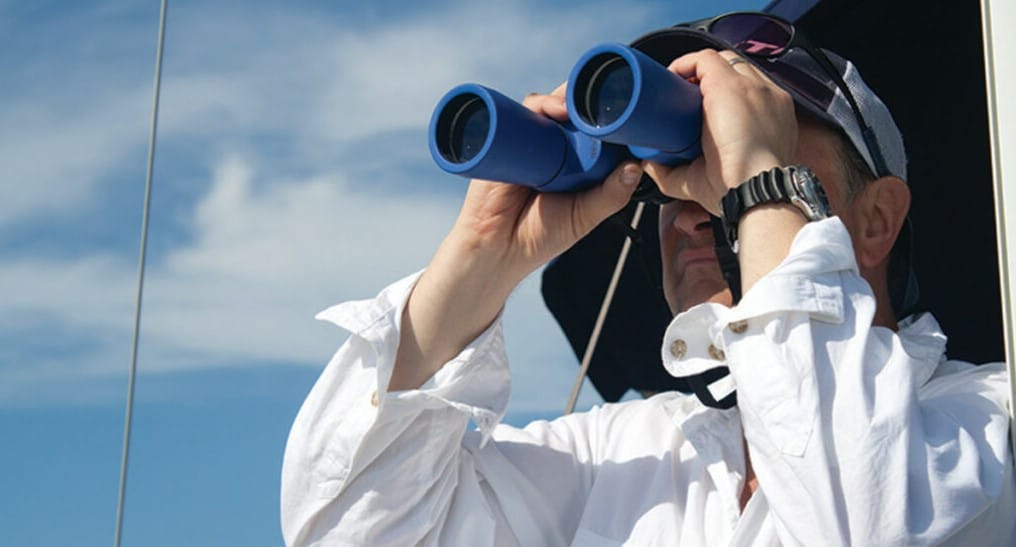 The Best Marine Binoculars: If you are planning for a marine trip in the next few days, then you should consider buying a pair of marine binocular.
Though binoculars are designed for specific applications like bird watching, hunting, astronomy, and much more. The binoculars for marine use provide the perfect magnification, exit pupil size, and objective size in the marine environment.
The best pair of marine binocular helps you in open water to see faraway distance. These binoculars offer steady and focused images to get rid of the regular difficulties. Besides, it can magnify any marine creature or a ship from a faraway range.
While buying a pair of the best marine binocular, there is a lot of things to consider. Like, whether they are resistant to fog and water or they can float or not. In addition to this, there are several brands and models available in the market, which let people drown people in confusion.
This is why most people found it overwhelming to find out the right one. In this guide, we will walk you through our recommendation of the best marine binoculars available today. Let's get started.
Reviews of the Best Marine Binoculars
You can indeed buy any random marine binocular, but it is difficult to find out the right pair for your needs. This is the reason we step in. To help you find the best, we have taken all those factors in mind and also looked at different reviews.
Also, we tested a few of the top marine binoculars to know details about them. After researching everything possible, we have made a list of the top ten Best Marine Binoculars. We assume that this review will be of much help in ensuring you get the waterproof marine binoculars, which suit your marine life. So, shall we start?
1. Bushnell H2O Waterproof Porro Prism Binocular
The Bushnell H2O Prism Binocular is an ultimate on-the-water viewing companion. By knowing about its features, you'll agree with us. The first thing we like about this binocular is its beautiful design.
The design features a soft grip that keeps them on board and in your hand, even in most challenging situations. It has nitrogen purged, and O-ring sealed for assuring fog-free reliable performance.
You can see a clear view, no matters how wet they get. It includes multi-coated optics and premium-quality BaK-4 prism glass to enhance light transmission and clarity.
Additionally, its non-slip rubber armor and soft texture grip absorb shocks. It also comes with a firm grip. The binocular lens can magnify 7- times, and its 50mm objective diameter offers a large field of view. This magnification is ideal for long-range viewing.
Also, it has a large center-focus knob for ensuring easy adjustments. Overall, the Bushnell H2O binocular delivers simply better looks of the world with more extended eye relief. So, you should have a look at them since the price is reasonable.
Pros
Durable and beautiful design
Waterproof
Reliable and fog-free lens
Multi-coated optics
Enhanced light transmission
Non-slip rubber armor
Better magnification
Soft textured grip
Cons
These are not floatable
Neck-straps material seems a bit flimsy
2. Steiner Model 575 Marine 7×50 Binoculars
Never compromise with the performance even though in a stylish binocular. The Steiner model 575 marine binocular is a perfect pair of quality. This water-going binocular is an excellent option for recreational boaters, sailors, and anglers.
Steiner is world-renowned for excellent design and ferocious toughness. This binocular also last in the worst conditions that you can face. Its 7-times magnifications, 50mm objective diameter, offers bright and high-contrast images.
Its sport-auto-focus keeps everything in focus from 20-yard to infinity. The binocular is made for one-handed operation, and you can get easy viewing of objects in motion.
Moreover, the design uses a flexible silicone lens, which can absorb severe shock, impact, and abuse without damage. This waterproof and rubber armored creates durable construction. It can stand up to wet conditions.
Its ergonomic ridges and pads offer a secure and comfortable grip. The binocular has Steiner's advanced lens coatings, which enhances light, so your eyes identify more contrast and bright details.
Also, this Porro prism design doesn't have moving parts for assuring extreme clarity and durability. It comes with a carry case, neck strap, protective lens cap, and objective lens covers. Overall, it's a great deal within a reasonable price.
Pros
Better magnifications with an enhanced field of view
Brilliant focus
Shock and impact-resistant lens
Waterproof and fog proof
Durable construction
Stylish design
Ergonomic ridge and pads for added security
Sturdy and sure grip
Better eye clearance
Cons
Littleneck straps
A bit heavy and seems broad as well
A bit pricey as well
3. Bushnell H2O Fogproof Porro Prism Binocular
The next Bushnell binocular is similar to the previous one with a different lens diameter. The Bushnell H2O also can be your faithful viewing companion on the water.
This binocular features eight times magnification with an objective lens of 42mm. It includes multi-coated optics and BaK-4 prism glass that maximizes light transmission and clarity.
It includes a soft texture grip that keeps your hand on board even in most challenging conditions. These binoculars are O-ring sealed and nitrogen purged to assure excellent view.
This design is 100% waterproof, so you can see far away things no matter how they get wet. Also, its shock-resistant non-slip rubber armor and the soft textured grip offer a firm grip.
Moreover, its 18-foot close focus distance lets you see things at a distance with ease. It also offers better eye relief, so be relaxed during your next marine trip. Most importantly, the price is extremely reasonable.
Pros
Great magnification
Waterproof and fog-proof lens
Improved light transmission
Offers firm grip
Most eye relief
Easy to adjust
Cons
A bit large and bulky compared to others
4. Hooway 7×50 Waterproof Floating Marine Binocular
The Hooway binocular is another dedicated marine binocular in our list. This design fulfills military standards. It can operate in all weather conditions and even under extreme rainstorms.
The design is equipped with a 50mm objective lens and  7 x magnification yet. Unlike others, it comes with a more extended eye relief of almost 22mm along with better exit pupil and field of view.
It is entirely waterproof, which can float in water easily. The marine binocular with compass is also nitrogen purged and for-proof for a stable performance. Also, its non-slip rubber armor can absorb shock to provide a firm grip. You can comfortably hold it well.
This binocular also features a Porro-prism system that delivers a wide field-of-view for clarity. Also, its premium BaK4 prism and multi-coated optics can produce a bright, crisp image.
Furthermore, it includes a built-in illuminated compass for direction location. The internal rangefinder helps you determine the distance and size of objects. Overall, it can provide you with all the tools needed for your next trip. The price is standard, as well.
Pros
Good magnification
Longer eye relief
Completely waterproof
Stable performance
Comfortable to hold
Multi-coated optics for a bright image
Built-in direction location
Non-slip rubber armor to absorb shock
Cons
Zoom is not adjustable
Plastic protectors are not made of good quality
5. Celestron 71332 Nature DX 8×42 Binocular
Celestron binocular is a mid-size and affordable choice among birders and outdoor enthusiasts around the world. You can get the right combination of magnification, a field of view, and close focus distance for birding.
This binocular is designed for the outdoor enthusiast. It delivers a well-managed high-level light transmission through its fully multi-coated lenses. Also, its phase-coated, premium BaK4 prism glass assures the true-to-life color of observed subjects.
It is filled with dry nitrogen gas and sealed, which can withstand rigorous outdoor use. However, its twist-up eyecups are way more comfortable to use. You can also use them with or without glass.
This binocular can focus up to 6.5 feet for viewing nearby subjects. Also, it gives you better eye relief with its 17.5mm of eye relief. You are getting objective lens caps, eyepiece rain guard, neck strap, carrying case, and a lens cloth along with binocular. The price is reasonable, as well.
Pros
Fully waterproof and rubber armored
Enhanced contrast and resolution
Multi-coated optics
Better light transmission
Close focus
More magnification
Cons
Eye relief turn quickly; need to adjust frequently
Some user claim that the eyecups don't stay in place
6. Bushnell PermaFocus Wide Angle Porro Prism Binocular
The Bushnell PremaFocus binocular can catch the action instantly with stunning clarity. It comes with superior magnification, which we must say is a true companion in any marine trip.
It has an exceptional focus-free feature for immediate viewing at a distance. The precision-crafted optics offers a crisp and bright image.
Unlike others, it includes a focus-free feature, which makes it an ideal option for sporting events. With the ten times magnifications and 50mm objective lenses, you can reach to the depth of objects.
Also, the binocular features ergonomic rubber housing, which ensures a secure grip. They are shock resistance, so sudden jerks will not be a problem anymore. Its fixed-focus operation can automatically dial in focus at any distance.
Overall, they are suitable for nature observation in winter days and sporting events. You are getting them at a reasonable price like other Bushnell's. So, give it a check before it runs over.
Pros
Excellent magnification
Automatic focusing
Enhanced clarity
Better light transmission
Ergonomic rubber grip
Shock resistance
Cons
This is not waterproof or fog-proof at all
Seems bulky as well
7. Steiner Military/Marine 8×30 Binocular
This Steiner Military binocular is a civilian version of their proven military binocular. It is adapted for rough situations. The reason chose it is that military and security forces around the world rely on this binocular.
This rugged binocular comes with eight times magnification and 30mm objective lens. It is comparatively light and quite easy to handle. So, you can hold it with ease for an extended period.
However, its unique autofocusing design can focus from 20 yards to infinity. You can now see everything clearly without constant focusing due to its easy low-light viewing.
It also includes robust rubber-armored housing along with almost 20mm eye relief. This durable and shock-absorbing rubber provides a non-slip grip. Moreover, its rainproof and fog-proof construction helps to endure the harshest conditions.
The binocular also doesn't have any moving parts, so they last for a more extended period. Indeed, it is designed for professionals. So, plan for a hunting or fishing trip in the deep sea. You are getting this at an affordable price as well.
Pros
Rugged construction
Better magnification
Extended focus
Longer eye relief
Rainproof and fog-resistant
Extended field of view
Durable
Excellent reliability
Cons
Some people claim about the rubber
Not good at low light
8. Bushnell Marine 7×50 Binocular
The Bushnell Marine binocular is a premier choice for spotting marinas, deadheads, and fisherman's best friends. It comes with a more objective lens, which lets more light enter the binocular.
It is made of the highest quality materials which can withstand the harshest conditions. This marine binocular with compass is nitrogen-purged, which provides reliable waterproof and fog-proof performance.
It includes BaK4 Porro prisms and multi-coated optics that produce a brighter and crisper image. Also, the lens is UV-coated, which makes the objects visible even in sunlight.
Moreover, the easy-grip rubber armoring in the binocular provides a secure hold. The design is so lightweight that it can easily float in the water. Also, its built-in internal compass for better direction. The price is also within range.
Pros
Made of highest-quality materials
Good magnification
Thick objective lens
Reliable and waterproof performance
Bright image
Easy-grip rubber armor
More field of view
Cons
Not floatable as mentioned
9. Bushnell Marine 7×50 Waterproof Binocular
Are you ready for the rigors of the sea? Well, you can get help from this Bushnell Marine waterproof binocular. It offers corrosion-resistant and waterproof performance in open water.
This marine binocular for the money will remain water and fog-free even after entirely submerged, thanks to its hermetic sealing. It has both non-skid and non-slip rubber armor to ensure comfort in your hands.
It comes with a beautiful design, and the build quality makes it lasts longer. The Porro prism system delivers a wide field of view in the open water.
Meanwhile, its BaK4 prism glass and fully multi-coated optics offer clarity and better light transmission. You can fold down the eyecups for enhanced comfort. It is highly saltwater resistant.
Overall, it can be an excellent choice if you consider them buying for the trip in open water. With the more extended eye relief, you can now see anything and everything. It comes within budget.
Pros
Durable and well-made
Quality construction
Corrosion-resistant
Good enough magnification
Wide field of view
Non-slip and non-skid rubber armor
Cons
A bit bulky like most of binocular in our list
10. Steiner 210 MM1050 Marine Tactical Binocular
The final binocular is another civilian version of military binoculars. The Steiner 210 MM1050 tactical binocular comes with excellent magnifications. It is adapted for rugged all-around use.
Its higher magnification and broader objectives are ideal for open terrain and low-light condition. The binocular features sports-auto-focus that keep everything in focus from 20 yards to infinity.
The binocular is built with a Makrolon housing, the light, and durable polycarbonate chassis can withstand 11 G's of impact. Its durable and shock-absorbing rubber provides a non-slip grip.
Also, it is rainproof, and fog-resistant which helps it to hold up in the most robust condition. The binocular has an advanced lens coating, which enhances light so you can perceive more contrast.
It doesn't have any moving parts, which means it is way more durable. The large depth-of-field focusing makes it ideal for spotting prey. Additionally, it includes a carry case, neck strap, lens protection cap, and objective lens cover. Though it comes with a compatible price, it is worth every penny.
Pros
Rubber-armor coating on the lens
Rugged construction
Higher magnification
Better focus
Shock-absorbing rubber grip
Rainproof and fog-resistant
Excellent durability
Cons
Expensive
Focusing needs minimal adjusting
Marine Binoculars Buying Guide
This section will cover some of the essential aspects of binoculars to consider before buying. Below, we provide the complete buying guide to ensure your satisfaction.
Fog and Waterproofing
Fog and waterproofness are the most significant features of top marine binoculars. Binoculars with non-waterproof interior lenses can fog up in damp marine environments due to changes in temperature and moisture.
Usually, the fog and waterproof binoculars are filled with nitrogen gas which doesn't expand during temperature changes. So, if you want to protect your investment, look for a wholly sealed marine binocular.
Magnification
The ability to see small details is essential for marine binoculars. The ideal marine binocular is compact, rugged, and easy to handle even when the boat is pitching.
Usually, most marine binoculars tend to have magnifications around 7x, which gives you enough power to zoom in and see things.
Again, stabilizing binoculars keep your view steady even as you move. Besides, they can compensate for magnifications up to 18x and avoid image shaking and blurring as you move.
Lens Size
The diameter in millimeters indicates the size of the primary lens in binoculars. For example, lens size 50 indicates that the lens has a diameter of 50 mm.
Usually, larger lenses gather more light so that they can provide better vision in dimmer environments. However, a 50 mm lens provides overall an excellent combination of l weight and light gathering.
Lens Coating
Around 5% of the light that enters or leaves a piece of glass reflects back. Besides, due to the number of air/glass surfaces on the binoculars, light may be reflected inside the lenses and can reduce the image brightness, sharpness, and contrast.
Therefore, mariner binocular lenses are coated with chemical layers that reduce reflection by 5% to 1%. If you are shopping for marine binoculars, make sure that both lenses have been completely multicoated.
Field of View
The width of the picture you see is defined by the field of view, which is measured in feet when viewed from 1000 yards away. Usually, the field of view of a pair of binoculars is measured in degrees.
Moreover, marine binoculars with a field of view of 385′ will display a 1000-yard-wide cone.
Frequently asked questions
Q: What are marine binoculars?
A: Marine binoculars are specifically designed to withstand the harsh marine environment and provide clear and accurate vision in and around water.
Q: What are the benefits of using marine binoculars?
A: Marine binoculars offer a range of benefits, including better visibility in low-light conditions, waterproof and fog-proof construction, and the ability to view objects from a distance.
Q: Can marine binoculars be used for activities other than boating?
A: Yes, marine binoculars can be used for a variety of outdoor activities, including hiking, camping, and bird watching.
Q: What is the difference between marine binoculars and regular binoculars?
A: Marine binoculars VS Regular binoculars, Here..
Q: What should I look for when choosing marine binoculars?
A: When choosing marine binoculars, it is important to look for factors such as waterproof and fog-proof construction, a wide field of view, and image stabilization technology.
Q: What is the magnification power of marine binoculars?
A: The magnification power of marine binoculars varies depending on the make and model, but they typically range from 7x to 12x.
Q: Can marine binoculars be used in extreme weather conditions?
A: Yes, most marine binoculars are designed to withstand extreme weather conditions and offer waterproof and fog-proof construction.
Q: How do I properly care for my marine binoculars?
A: Proper care for marine binoculars involves regular cleaning, storing in a dry and safe place, and avoiding exposure to extreme temperatures and humidity.
Q: Are there any affordable options for marine binoculars?
A: Yes, there are several affordable options for marine binoculars that still offer high-quality features such as waterproof and fog-proof construction and a wide field of view
Final Thoughts
To conclude, we repeat that there are a variety of binoculars manufactured every day.  This variety includes some low-quality marine binocular, as well. You may find them at a low price, but quality matters. So, you have to be very careful while choosing the best marine binoculars.
I hope, in this case, our review can help you to make an ethical decision. Since it's an essential companion in your next adventure, so you should not shy away from the cost. Hence, with your budget in mind, take your time to make the decision and get one that will serve you anyway.
That's all for the best marine binoculars. Please don't forget to let us know your queries and suggestions in the comment box below. We will be back soon.
You May Read: The 10 Best Night Vision Binoculars for Hunting