10 Best Spotting Scope for Target Shooting in 2023
Last Updated on July 18, 2023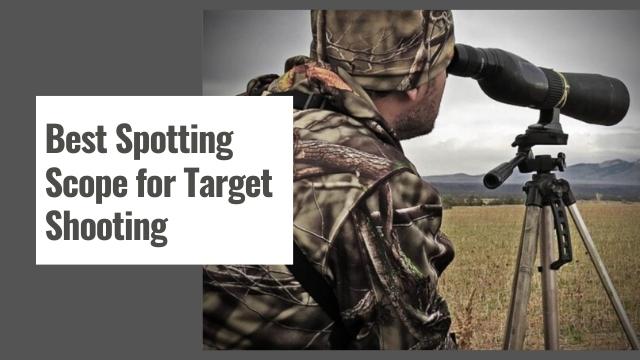 Discover the best spotting scope for target shooting, equipped with essential optics for improved observation and vertical imaging of distant objects. This versatile tool is ideal for activities such as bird watching, landscape viewing, backcountry hunting, and wildlife observation.
As the hunters or target shooters need more magnification than a pair of binoculars, so a spotting scope is a fantastic investment for them, which brings images closer to the eyes. So, you should prefer a spotting scope when you're going to do target shooting or big game hunting.
Finding the Best Spotting Scope for Target Shooting among a lot of models available on the market can be difficult for you. They look the same, and you will face difficulties in figuring out which one is suitable according to your needs.
You need to take a test in which one is perfect under a variety of conditions, such as heatwaves and mirage and adds more magnification to the distant targets, what you need is a way to view your target from remote positions.
Our Top Picks – The 10 Best Spotting Scope
Image
Product
Price

1. CELESTRON 52250 80MM ULTIMA ZOOM SPOTTING SCOPEKey Features

Features an 80mm lens with a 45° field of view
Anti-reflective multi-coated optics
Ideal for watching nature and seeing far away.
It comes with a warranty of 2-years

Price

2. GOSKY 20-60X 80 PORRO PRISMKey Features

Magnification ranges from 20x to 60x
Comes with waterproof construction
Can withstand even harsh conditions
Suitable for watching the bird, wildlife and scenery.

Price

3. VORTEX RAZOR HD SPOTTING SCOPEKey Features

Excellent performance through HD lense
Features XRPlus multiple anti-reflective coatings
Provide unmatched color sharpness
Deliver high-definition images 

Price

4. CELESTRON 52304 REGAL M2 65EDKey Features

Features XLT optical coatings
It includes a 16-48x zoom eyepiece
High-quality ED glass construction
Provide brighter image with enhanced resolution

Price

5. KONUS 7122 20X-60X100MM SPOTTING SCOPEKey Features

High-quality mechanical construction
Rainproof and fog proof body
It comes with an adaptor and carrying case
Built with metal body with antishock rubber armoring  

Price

6. REDFIELD RAMPAGE 20-60X80MM ANGLEDKey Features

Made of Professional-grade BAK4 prism
Solid polycarbonate construction
Magnification ranges from 20x to 60x
It comes with a wide 80mm objective lens

Price

7. BUSHNELL TROPHY XTREME SPOTTING SCOPEKey Features

Ideal for birding and hunting
Waterproof rubber armor body
Fully multi-coated premium optics
Zooming up to a 60x magnification

Price

8. REDFIELD RAMPAGE 20-60X60MM STRAIGHT SCOPEKey Features

Comes with 20x-60x magnification
Made of Professional-grade BAK4 prism
Solid polycarbonate construction
Features refractable lens shade

Price

9. NIKON PROSTAFF 5 PROSCOPE 82MM ANGLED BODYKey Features

It comes with a wide 80mm objective lens
Nitrogen-purged and O-ring sealed waterproof body
Magnification ranges from 20x to 60x
Minimizes reflective light loss

Price

10. BARSKA 15-40×50 COLORADO SCOPEKey Features

It comes with a large 50mm objective lens
The maximum range of clarity is 150 yards.
Table tripod and soft carry case included.
Porro prism system with fully coated optics

Price
Reviews of the Best Spotting Scope for Target Shooting
Every spotting scope is designed to be used with a tripod and is less portable than a pair of binoculars. It offers the best magnification range and clarity for spotting animals from long distances. It is instead a remarkable piece of technology.
There are several spotting scopes available for you if you are an outdoor enthusiast looking for target shooting, which is capable of delivering you a bright image, and clear, and crisp image view at the time of such activities.
Here we have picked the best target shooting spotting scope, which will meet your requirements. Remember, there are some essential features like navigation, clarity, ease, and price range, which you have to think about before picking the one for fulfilling your demands.
1. Celestron 52250 80mm Ultima Zoom Spotting Scope
The Celestron Ultima is an anti-reflective multi-coated optic. It is one of the best spotting scopes for target shooting available on the market. If you need high-quality optical views, you can try this scope of 80mm achromatic objective lens.
It also provides a 20-60x magnification range during long-range target shooting. This premium spotting scope delivers 77% brighter views than a typical 60mm scope. The eyepiece zoom works smoothly to sharp focus on your target with a high resolution of the clear image.
You can set the eyepiece of this rifle scope at an exactly 45-degree angle. So, you can adjust your eye and body position in a comfortable zone to shoot your target.
Besides, it comes with a sleek, fully waterproof design, including a padded soft carrying case with zippers on both ends. So, you can keep the scope protected even while mounted on a tripod without eliminating the casing.
Again, the 18-inch-long, 3.6-pound weight gear doesn't take too much space in your bag and easy to carry when you are out of the home. In any rainy situation or a drizzly atmospheric condition, this long range spotting scope is ready for continuous target shooting.
Pros
Waterproof, fog proof and rugged
Durable build quality
Multi-coated high quality optics
Well-matched with a variety of tripods
Smooth zooming function with flexible use
Cons
Image quality might be poor beyond the 25x magnification
2. Gosky 20-60x 80 Porro Prism Scope
The Porro Prism from Gosky is one of the high quality spotting scopes. It comes with plenty of attractive features such as a 20-60x magnification eyepiece, a fully multi-coated 80mm objective lens, a quality prism, and a dynamic focusing system.
These things allow the users to zoom in on a distant target easily. You can also have brighter views through this spotting scope. This gear also comes with an excellent digiscoping cell phone adapter.
A user can easily capture accurate images and videos of distant objects by merely placing the camera on the smartphone. When it comes to protection, a durable magnalium framework and shock-absorbing rubber armor make this scope protected from any harmful things.
Besides that, the scope receives excellent protection of 100% fog-proof and waterproof construction, which allows you to use the scope in any harsh weather.
It also includes a metal tablet tripod, which will provide stable support for the scope to get the best viewing experience. After all, you'll have a carrying case, cleaning cloth and handy straps, eyepiece, and lens protection cover with this.
Pros
100% waterproof and fog proof
Durable
Easy to use
Well-build structure
Reasonable price
Cons
It comes with a cheap and poor quality tripod
3. Vortex Razor HD Spotting Scope
The Vortex Razor HD spotting scope sets a new standard in high-end optical technology. It comes with a magnesium alloy frame so that you can feel it lightweight while carrying, making handling a little bit easier.
It also features a grey textured armored body with a dark green color around the entire prism. This consists of a triple-apochromatic 85-mm lens, which provides minimal color aberration with maximum clarity.
It also delivers the performance of an HD-glass scope with a 20-60x smoothly adjustable zoom eyepiece. Most importantly, the scope has an excellent camera adapter for fitting multiple cameras.
Besides that, this lightweight rifle scope has the lens of AmorTek coating that protects against dirt, scratches, and corrosion. You can also have durable lens caps and a built-in lens hood that minimize lens flare.
You'll find the primary sighting tube attached to the lens mount. Moreover, this best spotting scope for long range shooting has both straight and angled versions to fill the requirements of different users. The angled eyepiece is usually perfect for wide range shooting.
These scopes are wholly sealed with argon to prevent internal fogging and water intrusion. They also have removable shoulder straps with two carrying handles. You will be able to mount the tripod without removing the case.
Pros
Prevents damage
Simple to use
Scratch proof
Provides you crisp and vivid images
Multi-coating technology
Cons
The tripod can be quite heavy
4. Celestron 52304 Regal M2 65ED Scope
The Regal M2 65ED from Celestron is one of the best value spotting scopes for target shooting, which delivers higher-end offerings, promising reliable construction and superior optical capabilities.
The magnesium alloy body of this scope is built with fully multi-coated optics. It consists of several layers of materials that are known to reduce the amount of light distortion. It usually occurs when the light passes through the lens.
Its objective lens are made of ED glass (extra-low dispersion glass) that offers accurate color reproduction, resolution, and contrast. It also allows you to see long-distance views of up to several hundred yards.
For that, you needn't compromise the sharpness and clarity of the views. Besides that, it comes with an excellent eye relief of 20mm. It also features the 16-48x, 1.25-inch zoom eyepiece that you can adjust with a simple turn or two to accommodate the user's unique situation.
It can provide as accurate and comfortable magnification as possible. Again, this scope allows you to attach it to a tripod in a variety of positions. It also enables you to choose the way that perfectly matches your viewing experience.
You can have a padded view-through case, an eyepiece cover, an objective lens cover, a T-mount adapter, and a cleaning cloth with this shooting tool.
Pros
Flexible tripod mounting system
Interchangeable eyepiece option
Dual focus system
Digiscope adaptable
Essential optics included
Cons
There are some questions quality control issues from the users
5. KONUS 7122 20x-60x100mm Spotting Scope
The KONUS is a powerful spotting scope with 100mm larger objective lens provides high image quality. This scope is a layer of multi-coating, which comes with the facility of digiscoping when you are interested in target shooting.
It comes with an adapter for setting the camera or smartphone to see the target. Besides, a durable metal body structure with rubber armor and a bonnie constructionist is shock-absorbing for long-term use and ensures the durability of your shooting activities.
You will also have wide-ranging 20-60x magnification that offers various target settings. Shield optics waterproof and nitrogen purged housing fit for all-weather situations.
Again, the quick swivel screw offers the moving facility for field beach or window-mounted use. It is also an adjustable tripod optic that gives the opportunity for firm and steady positioning and viewing.
With this affordable spotting scope, you will have a carrying case, which will protect everything when not in use. It will even be helpful for easy transportation from one place to another.
Pros
Obvious glass
Minimal chromatic aberration
Perfect size
Affordable price
Oversized objective lens
6. Redfield Rampage 20-60x80mm Angled Spotting Scope
The Redfield Rampage Angled Spotting Scope is made of high-quality material with an 80mm objective lens with magnification range from 20x to 60x. When you look through the scope, you'll find a bright and clear image, even during low light conditions.
The retractable lens shade also keeps glare to a minimum state in bright sunlight. With being said, this spotting scope has an eye relief from 16.6mm to 19.3mm and a close focus distance of 14.3 feet.
It also comes with BaK–4 durable prism glass that offers fantastic clarity and image resolution. Keep in mind that this angled scope is a rugged, polycarbonate, and housing shock resistant
Plus, this is built with fully multi-coated optics with a nicely knurled focus knob. It allows you to get a firm grip on it even when you're hands are sweaty or you're wearing gloves. After all, if you're looking for one of the best target shooting spotting scopes, this one could be a suitable option for you.
Pros
Fantastic image quality
Waterproof and fog-proof structure
Captures bright image during the low light condition
Anti-glare device
Easy to use and control
Cons
Included tripod is made of plastic and a little bit shaky
7. Bushnell Trophy Xtreme Spotting Scope
Another fantastic option on this list is the Bushnell Trophy Xtreme, which is also one of the best target shooting spotting scopes. It comes with a higher magnification with a 65mm objective lens so that you can see brighter images in low light conditions.
It also features fully multi-coated lenses with BaK-d glass, which are sealed with an O-ring and a high quality optics chamber with nitrogen-purged. Also, this spotting scope is waterproof to protect the Porro prism design.
It also offers an adjustable magnitude of 20x to 60x so that you can have a wide variety of options to aim your targets. The actual field of view is another significant aspect of this scope, offering 110-feet at 1,000-yards when you're using 20x magnification.
You can also see 55-feet at 1,000-yards if you use it at 60x magnification. Alongside the magnification, It can benefit you by providing excellent resolution, contrast, and color reproduction.
The housing of this scope is also a very durable and robust rubber casing, only designed to be mounted onto a tripod. The included tripod might be flimsy, so we recommend you consider purchasing a separate tripod.
Pros
Superb clear image quality
Offers a crisp image and bright viewing
Fog proof and waterproof design
Excellent eye relief
Lifetime warranty by Bushnell
Cons
The included tripod might be flimsy
8. Redfield Rampage 20-60x60mm Straight Scope
Redfield has already earned recognition and popularity around the world in the field of high-quality shooting gear. The Redfield Rampage Straight Eyepiece Spotting Scope is one of them for target shooting with extreme magnification from 20x to 60x.
This rugged spotting scope comes with the same material as polycarbonate and bulletproof glass. For an extra layer of protection, the high-quality optic features fully multi-coated O-ring sealed lenses with BaK-4 prisms and a nitrogen-charged optics chamber.
Hence, the scope has excellent light-gathering capabilities. You can zoom the view easily with the front knob for having unique images with plenty of brightness and contrast.
In bright sunlight, the retractable lens of this scope makes glare away so that you can use it without feeling any hassle. The 60mm objective lens also allows you to focus on objects as close as 19.8 feet away.
This scope also has a wide field of view that provides you 114 feet of view from 1,000 yards at 20x magnification. You'll also have 51 feet of view from 1,000 yards at 60x magnification.
After all, you will have a soft storage case with a strap, eyepiece, and objective lens cover to keep your gear secure when it is not in use. If you pick this affordable spotting scope for your upcoming shooting adventures, this optic may be a suitable option for you.
Pros
Waterproof and fog proof body
Captures bright and crisp images
Excellent field of view
Delivers exclusive image resolution and clarity
Functions well in any weather condition
Cons
The included tripod might be a little bit shaky
9. Nikon Prostaff 5 Proscope 82mm Angled Body Scope
Nikon is a well-known brand for its high-quality camera lenses throughout the world. Nowadays, it's producing several spotting scopes for different types of users.
The Nikon Prostaff 5 is one of them, which has next-generation technology, delivering high magnification capabilities for the truly passionate person.
It comes with multi-coated lenses that improve chromatic aberration reduction to provide bright high contrast images in most lighting conditions. It delivers razor-sharp images with a magnification of 20-60x. It's also available in both 45-degree angled and straight body versions.
Besides that, this compact spotting scope is a construction of rubber armor around with excellent fog proof and waterproof durability. It can be used together with a digital camera bracket available as an optional accessory. The built-in sunshade eliminates glare when using it in bright daylight.
Pros
Greater magnification power
Multi-coated optics
Light material and compact size
Waterproof and fog proof
Provides extreme brightness
Cons
It might be fragile and sensitive to shocks
10. BARSKA 15-40×50 Colorado Spotting Scope
The BARSKA Colorado is a Porro prism spotting scope, which features a straight eyepiece for target shooting.
This spotting scope provides you with a 50mm objective lens and adjustable zoom from 15x to 40x magnification with excellent resolution, clarity, and crispness, although the image falls a bit fuzzy at maximum magnification.
With its fully coated lens, it does a decent job of gathering light. The focus ring of this scope works very well, with just enough stiffness to prevent accidentally bumping your image. Also, this scope is covered with rubberized armor, which does a lot of protection from bumps and scuffles.
After all, the scope is extremely durable, with shock-absorbing rubber coating and O-ring sealed lenses for waterproofing. It is also nitrogen-filled so that it won't fog up on you. It comes with a table tripod and a carrying case.
Pros
Fully coated optic
Shock-absorbing rubber armor
Excellent field of view
Wider zooming system
Easy to use
Cons
Might not be suitable for long-range use
Doesn't include lens covers
What to Consider When Choosing a Spotting Scope for Target Shooting?
When choosing the target shooting spotting scope, it becomes necessary to know the cause and effect of a performance. Let's take a closer look at the features you'll want to keep in mind while selecting your next spotting scope.
Design
Spotting scopes are available in 2 different forms. One is straight, and another one is angled.
With the straight scope, you can stare straight through the lens at the target. This eyepiece will make it easier to see objects in front of you and enable faster Target acquisition. Hence, these straight scopes are mostly suitable for downward angles.
On the other hand, angle spotting scopes are the optimum choice for seeing stuff above your eye line. Since it has mirrors in it, the light from the object is coming into your eye at a 45-degree angle. Because of the eyepiece's natural angle, these angled scopes are more comfortable and better to use for uphill aiming.
Yardage
Many atmospheric conditions affect the quality of images captured by a shooting spotting scope. These atmospheric conditions change throughout the day, and there is no way out of this situation.
Heatwaves and mirage can render useless even the best target shooting spotting scopes. Increasing the magnification or distance from the target cannot solve these problems. As a result, different scopes will be required for different yardages.
On the other hand, many scopes are wrongly blamed on their surroundings because of their poor performance. Therefore, it's crucial to consider various yardages before deciding on a scope.
| | | |
| --- | --- | --- |
| Yards | Magnification | Objective lens Diameter |
| 100 | 16-48x, 14-45x, 18-36x, and 10-30x | 50mm |
| 200 | 16-48x, 14-45x, 18-36x, and 10-30x | 60mm |
| 300 | 20-60x or 20-80x | 65mm |
| 500 | 20-60x or 20-80x | 85mm |
| 1000 | 20-60x or 20-80x | Over 85mm |
Glass Quality
It is the most significant aspect than the magnification. A spotting scope will provide better results and color rendition if it features high-quality glass. The larger the power range, the more superior the performance of high-end glass over low-end glass.
Besides, it is also the most crucial factor to consider in terms of long-range optical performance. A spotting scope with high-quality glass will allow you to see the bullet holes from a long way away. Therefore, we recommend using completely multi-coated ED glass to get the best performance.
Eye Relief
When it comes to optical quality devices, eye comfort is a must-have. Eye relief can significantly impact any scope's usability. Distance between your eye and the last lens of the scope is known as eye relief.
The greater the numerical value, the further away you can stand from the scope while still being able to see the crystal clear image. Gun-mounted scopes have a more crucial eye relief than tripod-mounted ones. However, a target shooter's minimum eye-relief requirement is 18mm.
Waterproof
No one can predict the weather, but we'll be shooting targets through a spotting scope anytime. Ensure that your scope is either waterproof or not. If you go for shooting in a wet area with a lot of rain and moisture, waterproofing will be a good option.
FAQs
What Is the Ideal Magnification for 1000 Yards?
The higher the magnification, the better the view. For 1000-yard targets, a magnification of 20x to 60x is ideal.
What Is the Highest Distance You Can See Through a 20 60×60 Spotting Scope?
You can look up to 100 yards through a 20 60X60 spotting scope.
What Is the Ideal Range for a Spotting Scope?
Spotting scopes with big objective lenses, high magnification, and expensive optics aren't needed beyond 100 yards. Bullet holes can be seen at 100 yards with magnifications ranging from 18-36x, and even a 50mm objective lens with superb clarity can show 22 bullet holes.
Are Spotting Scopes Worth It?
Yes, they are worthy for long-distance shooting while hunting huge wildlife in the West or open places.
Can Binoculars Be Used as a Spotting Scope?
You cannot use binoculars as a spotting scope. These offer a wider magnification range, while binoculars are gentle for eye fatigue. If you need to see every small detail, a spotting scope will be best for you.
What Is the Highest Distance You Can See With a 20×50 Spotting Scope?
The 20x50mm scope supports a 45-foot close focusing distance. Any distance less than 45 feet will seem blurred.
What Is the Ideal Magnification for 300 Yards?
For 300 yards, you will need 20-60x or 20-80x magnification with a 65mm objective lens.
Is It Possible to Utilize a Spotting Scope Without a Tripod?
Not at all. As spotting scopes have high magnifications, you must stabilize them to avoid image shakiness. Although you can use some smaller versions without a tripod, we still recommend using one.
Final Thoughts
Getting a new spotting scope can become a rather daunting job. Following our guide, determine what you need the most from a scope. We have made a sensitive selection of the best spotting scopes for target shooting. We also believe that those spotters will be the best for you.
However, we find that the first thing you have to look into is the budget spotting scopes, and it makes sense. Hopefully, you will be able to choose the best one, which will be suitable for you.