The 10 Best Compound Bow Sights for Hunting in 2023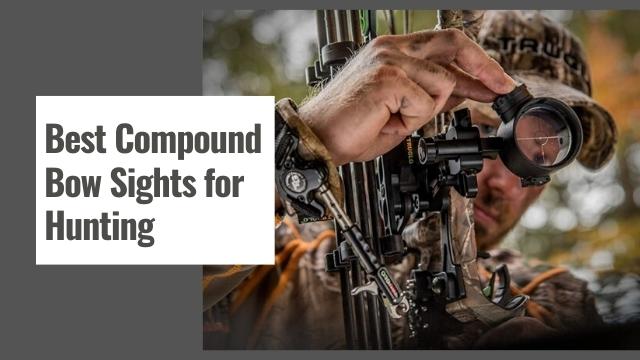 The Best Compound Bow Sights for Hunting: If you belong to the hunting world, you must know that the bow sight is the most crucial thing for bow hunting. To shoot your prey precisely with a bow, you need to have a quality bow sight that can ensure a brighter and sharper image of your target.
You should select the best compound bow sights for hunting to improve your shooting accuracy. But the problem is the market is loaded with options. You will get confused about finding the perfect one for you among the vast collection.
Bow-hunting is not an effortless and risk-free task. With the wrong device, your total activities can go in vain, or you may fall in danger.
Reviews of The Best Compound Bow Sights for Hunting
Your shooting and hunting skill in different situations is much more dependent on the bow sight you use. This article aims to help you with choosing the best compound bow sights for hunting.
We have come up with information about the ten sights for compound bow, including their pros and cons. All the listed products can meet your demands brilliantly. Let's have a look at the review without wasting your time.
1. TRUGLO Range-Rover PRO LED Bow Sight
Truglo is a well-known authority in the hunting industry for its brightest aiming point. The range rover pro by Truglo is an adjustable slider sight that gives you an ultra-smooth fast and sharp field of view.
The brightness of the illuminated LED is fully adaptable at your desired level in any lighting condition. It has an advanced scope housing that encloses a circle with a highlighted center dot for excellent accuracy.
It comes with a zero-in elevation adjustment dial, and there is no pin to block up your vision on long-distance shots. The opening diameter is 1.8 inches, and it ensures two times magnification.
Another feature of the quiver mounting bracket has made the sight dependable for both the left-handed and right-handed shooters. You can improve your shooting accuracy and become a successful hunter effortlessly using this upgrade bow sight.
The dimension of this product is 10*10.2*4 inches, and the weight is 1 pound only. This excellent click tool-less version provides you a wide field of view and crisp, precise yardage. No doubt, the quality is well worth the price.
Pros
Truglo's innovative power-dot technology
Micro-adjustable standard wind-age
Highlighted green LED focus point
CNC machined aluminum material
Tool-less design, fast and sharp yard-age
Cons
Not long-lasting
Quiver mount is faulty
2. Trophy Ridge Pursuit Vertical Pin Bow Sight
The next is the Trophy ridge pursuit bow sight that provides an ultra-bright superior vision of your target. The main feature is the .019″ medium vertical pin that ensures a natural focus on your prey.
The brightness is adjustable in any visual situation you need. It is equipped with a revolutionary glow indication ring to maintain the sharpness even through low or changing light. Ridge pursuit mounts easily in two positions and provides silent, smooth movement.
The weight is 7.2 ounces only. Trophy offers two style bow sight individually for righties and lefties. You can perform unlimited shooting tasks in any lighting situation and get an extremely bright, crisp field of view without any obstacles.
Besides, the rheostat light will also help you get sharp yardage. Now, no more miss shot while hunting if you own this upgrade bow sight from the trophy.
In short, it is a well-made, long-lasting, rich functionality, and high-quality bow sight for bow hunting. The price is also fair. So, it will be well worth checking out.
Pros
100% engineered sturdy aluminum material body
Ultra-fine wind-age and preferment adjustment
Heavy-duty fiber optic vertical pin
Glow-in-the-dark outer ring for superior accuracy
Delrin bushings ensure smooth movement
Cons
A lot of activity in the adjustments
Not a simple setup or easy usage
3. Trophy Ridge React Pro Sight
If you're here for the most comfortable sighting for your outdoor adventure, Trophy ridge reacts pro sight will be the ideal option for you. The manufacturer is brilliant, made out of durable stainless steel along with sturdy aluminum housing.
The third axis adjustment feature provides the stronger perfection of your field of view at various angles over a longer distance. All five pins are also adjustable to your desired optimum location.
The fiber optic indicators provide more consistency, more sharpness, and more reliability at any environmental conditions. The weight is 13.3 ounces, and the dimension is 5x8x0.8 inches. The richness of adjustability has made the equipment more useful and dependable.
No matter the distance, bow-hunting will be so easy at any time and in any lighting situation with this pro sight. The quality is beyond description. Another thing you should know about the sight is it comes only for the right-hand shooters. Don't hesitate to try it once because the trophy won't disappoint you.
Pros
Auto-adjust ultra-bright fiber optic pins
The mathematical precision of exclusive React technology
Micro-click wind-age and set up an adjustment
Tool-less unique design
Ensures pinpoint accuracy at any distance
Cons
Not for rugged use
Lefties can't use it
4. Apex Gear Covert Pro Green PWR-Dot Sight
Before buying a bow sight, firstly, you have to check its accuracy. The covert pro sight by Apex gear provides the extreme accuracy in your vision at any distance and circumstances.
It is the most advanced single pin bow sight of the manufacturer. The high power dot ensures the brighter and sharper field of view of your target regardless of the distance. The adjustments are excellent and easy.
You can adjust the brightness of the LED among eleven different levels. Not only this but also the opening housing allows you to adjust the angle to your preference with its exceptional turning option.
Apex gear covert can meet all the requirements and features you want in your professional bow sight. Weighing only 12 ounces, it is lighter and easy to carry with you.
Rear-facing sight tape has strengthened the product, and it also comes with an adjustable indicator pin. So, bow-hunting performance will be more proficient and successful than ever with this topmost quality super bright bow sight.
Pros
Illuminated center dot technology
Powerful green LED with 11 brightness settings
Simple one hand set up and adjustments
Extreme accuracy in low light and long-distance
Micro-click wind-age adjusting with indicator pin
Cons
Smaller sensitive set screw
Yardage dial is not that smooth
5. Trophy Ridge Fix Series Sight
The Trophy Ridge is proud to introduce you with the extreme bright precise sight named ridge fix series sight. The accuracy is too good to explain. The sight is of ballistic co-polymer material, and the rest is of aluminum.
It is finely adjustable all around. Finding your prey from long distant places will be comfortable with this upgrade sight because the micro-adjustable pins deliver accurate and ultra-bright vision over long distances.
Fix series features standard mounting holes to fit any bow. The weight of this sight is 5 ounces only. The trophy has designed the sight efficiently that it works great equally in any lighting situation.
During low or changing light, it will ensure you the perfect visibility, and you can adjust the brightness according to your needs. Sooner you will be a skilled hunter with this quality sight.
It has every little feature that a pro hunter requires in a bow sight. The price range is relatively affordable, which won't break your budget. So, don't forget to take this in your bag-pack while going for bow-hunting.
Pros
0.019″ brighter horizontal fiber optic pin
Second axis leveling for maintaining the accuracy
Brightness leveling with rheostat light
Wind-age and elevation locking nuts
Easy tune to all kind of bow
Cons
A bit sensitive set screw
6. Compound Bow Archery Combo Sight
The Best Compound Bow Sights for Hunting offer a range of functions and adjustability. The versatility of this 3-pin bow sight is evident from the headline, and it's also one of the most affordable options in the hunting industry.
It is a decent sight that is adjustable all around. You can level the vision point of your target with the dual vertical bars. Both the right-handed shooters and left-hand shooters can use it for bow-hunting tasks.
Compound bow sight for hunting offers you two colors of fiber optic diameter, red and green. Distance doesn't matter when you have a quality bow sight with brighter focus and sharp yardage like this.
This is such a sight that ensures optimum accuracy of your field of view with extra brightness. Shooters of all skill levels can use it, and it will be wise to check it out once in your shooting adventure. So go for it now before the stock turns out.
Pros
0.029″ fiber optic pins and two adjustable vertical bars
Provides universal mounting system
Made out of solid cast aluminum
Useful for both right and left side use
Better quality at an inexpensive price range
Cons
Set up instruction is not included in the package
Vertical pins are bit sensitive
7. Aketek Upgrade Combo 5 Pin Bow Sight
Another excellent choice for bow hunting comes from Aketek. This advanced technology bow sight combo is enriched with 5- optical fiber pins. Professional hunters will agree that the 5-pin sight is better than the 3-pin sight.
Also, the combo includes light, arrow rest, stabilizer peep, etc. for added convenience. It is lighter than the other sight of this category. The installation and the using pattern are simple and easy. It features an outer ring that glows in the dark, so you can shoot in twilight and at night also.
If you are a beginner, this bow sight will be a great starter kit for improving your shooting accuracy. It mounts evenly and is adjustable for both right and left side use. This is not the best quality but more than enough to perform the job of shooting.
If you can set it up correctly, it will deliver an excellent range of view to do consistent shots. You won't be disappointed by purchasing this best compound bow sights for hunting because the value is excellent for the price.
Pros
5 pins to make a bright image of your target
Fits any bow perfectly
Enhances your shooting skill
Sharp view and great adjustability
Exceptionally inexpensive
Cons
Not best for professional use
No direction manual included
8. Trophy Ridge Joker Bow Sight
Trophy ridge joker bow sight is an upgrade 4-pin version that provides super smooth and bright visibility. All four pins are adjustable to your desired level of vision. Another thing you will like about the sight is several mounting holes for maximum customization.
You can use it either for right or left-side shooting. In addition to it, the rheostat light offers extra lighting benefits in any situation. It also features wonderful wind-age and elevation adjustments.
Joker makes every shoot successful and can increase your skills. It will help you identify your prey, regardless of the distance or lighting conditions. The dimension of this product is 1*1*1 inches, and the weight is 5.6 ounces only.
It will not weigh you down while focusing on your target. You can hardly get any better than this because it is equipped with an advanced bubble level for precision control, unlike others.
When you have to shoot the bow over a longer distance, this will help you maintain the exactness. The quality it provides is worth every penny.
Pros
4 horizontal fiber optic pins for more accuracy
Green accent ring for getting a quick vision
Flexible mount design
Installed advanced bubble leveling
Rheostat light for maintaining brightness
Cons
Construction material is not that strong
Not silent
9. TRUGLO Carbon Hybrid Bow Sight
Truglo presents a carbon hybrid bow sight that features a lot of functionality and advantages. As the name hints, Truglo has made this sight with a heavy-duty Tru-touch coated carbon mixture with aluminum material.
This multi-pin sight offers 1.9 inches diameter circular field of view. And it also allows you to get a crisp and sharp vision of your target area. The dimension is 9 inches in length, 9 inches in width, and 3 inches in height. It is also great for beginners or casual bow-hunters.
Forget about miss shooting because the bow sight comes with an outer ring that glows in the dark. So, you can maintain your accuracy even in low or changing light. It is an upgrade tool-less version that features micro-adjustment all around.
Pins are powerfully bright, and the LED works like a charm while looking over long distances. One thing you should know is that it is the first and only bow sight made with an excellent combination of carbon and aluminum fusion.
This kind of construction has made this sight strong, lightweight, durable, and dependable. You are getting this versatile device at a super reasonable price. So, give it a try.
Pros
Advanced Tru-fusion hybrid technology
Micro-push button LED light
All-round mounting system
Easy setup and well-built
Standard adjustments of windage and elevation
10. Trophy Ridge Peak 5 Pin Bow Sight
The last one on the list is Trophy ridge peak 5-pin compound bow sight for hunting. When the name is Trophy ridge, it's needless to be said anything else. Trophy Ridge has set the benchmark in the hunting industry making quality hunting gadgets.
The peak bow sight is another innovative creation of vertical in-line pin technology. Pins are solid and provide quick sharp visibility and long-range accuracy of your target. The peak bow sight is 25% lighter in weight than the other sights.
You can fit this to your preference level only on the right side shooting. The glow ring feature enhances the accuracy in night and twilight. You can adjust the brightness of the rheostat light to match any visibility position.
The mounting option is consistent enough. Nothing can obscure your view when you have the ultimate bright peak bow sight. The price is compatible with the features. If you consider trying it once, you will surely fall for this.
Pros
5 fiber optic vertical pins for supreme visibility
Made of ballistic co-polymer system
Tool-free micro-click standard adjustments
Well bow fitting and soft to touch
Smooth knobs of mounting and bright rheostat light
Cons
Only for right-hand shooters
Frequently Asked Questions
Q: What are the different types of bow sights?
A: There are three types of bow sights: fixed pin, movable pin, and pendulum.
Q: What is a peep sight on a compound bow?
A: A peep sight is a small circular aperture located on the bowstring, which helps to align the bow with the target.
Q: How many pins should a bow sight have?
A: The number of pins depends on the user's preference and intended use, but most sights have between 3 and 7 pins.
Q: What is the best material for a bow sight?
A: Aluminum is the most popular material for bow sights due to its lightweight, durability, and affordability.
Q: Can I adjust the pins on a bow sight?
A: Yes, most bow sights come with adjustable pins to help you fine-tune your shot.
Can read also: Best Red Dot Sights
Q: What is the difference between a fixed and movable pin sight?
A: Fixed pin sights have pins that are set at a specific distance, while movable pin sights allow you to adjust the pins for different distances.
Q: How do I choose the right bow sight for me?
A: Consider factors such as your skill level, intended use, and budget when selecting a bow sight.
Q: Can I use a bow sight for target shooting and hunting?
A: Yes, many bow sights are versatile enough to be used for both hunting and target shooting.
Q: How do I install a bow sight on my compound bow?
A: Follow the manufacturer's instructions for installation, which typically involves attaching the sight to the bow and adjusting the pins.
Final Thoughts
You have done reading this article, and our motive is to help you choose the most appropriate product within your budget. Since hunting is the call of the wild, things are quite unpredictable here. So, you should be entirely prepared whatever the situation, the time, or the place is.
A high-quality bright bow sight can create a difference between the success and failure of the bow-hunting job. We believe all of the above-mentioned best compound bow sights for hunting will help you to make your adventure confident and successful.
Here comes your turn to pick one from the list according to your purpose, requirements, and budget. Check which one suits your needs the most. Don't delay much because the stock of these highly popular products may turn out.