Last Updated on November 1, 2021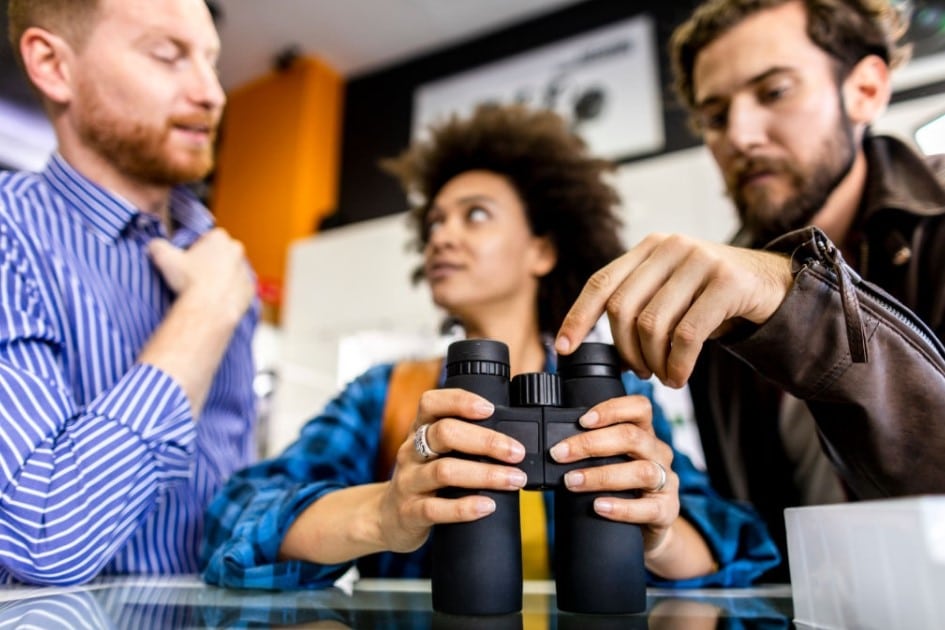 4 Features to Consider & Look for When Buying Binoculars: Binocular is an essential tool for hunters, nature-lovers, animal-lovers, and astrologers. It is mandatory to pick the right binocular for satisfying your motives. Don't forget to consider the following four features while purchasing a binocular.
Read Also: Spotting Scopes vs Binoculars
External Properties
The durability of any instrument mainly depends on its external features. First of all, fix the desired size of the binocular. There are a wide variety of sizes available in the market. They usually lie in three different categories- compact or small scale, medium-size, and full-size.
When the size decreases, the diameter of the objective lens also decreases. The compact devices are lightweight and portable. They can easily fit into anything. They are best for small-range observation. The larger binoculars weigh a lot and may not be portable. But they offer more magnification power, clarity, and clearer pictures.
Try to determine the materials of the shell underneath the rubber coating. If it has Polycarbonate components, the binocular is not very strong and not durable. The Aluminum shells will withstand more pressure and last for a longer time.
Magnification Power
The magnification power refers to how many times it can amplify an image. Therefore, you can see the long-distance objects. Binoculars with less magnification ability usually require less power supply. They offer more viewing range. They work fine for medium to long-distance bird watching, hunting, or safari.
But if you like hunting or astrological activities, they will need more zooming capability. It is also essential to get a clear vision with precise details in these cases.
So look for a high-end binocular with more zooming or magnification power. Such devices can amplify an image up to 20 times. But the quality of the pictures can reduce with higher magnification. So, determine which one you need.
Field of View
It indicates the area covered by a binocular. A large field of view means more coverage field. It will enable you to see the animal, objects, or targets from a wide range. Meanwhile, the shorter field of view is only suitable for short-distance applications.
There is a trade-off between the zooming power and the coverage area. Devices with more magnification support make the field of view narrower and vice versa. Note that, even if two binoculars have the same specs, their viewing range can be different.
Read Also: How to Clean Binoculars
Protection Features
Some binocular features rubber coating while others don't. This coating protects the internal surface from scratches, bumps, as well as bruises. If a binocular includes all or most of these features, it will be excellent for rugged applications.
If you use a binocular while hunting, hiking, or kayaking, go for a waterproof one. Check whether it is actually waterproof or just water-resistant. The waterproof instruments can survive after being covered by a splash of water. So you don't need to worry if it accidentally falls into the river.
The water-resistant tools can prevent water penetration to some degree. They can withstand light rain but don't give complete protection. There are also weatherproof and weather-resistant models.
These models ensure safety from water, fog, harmful radiation, etc. Besides, it is not less important to think about your protection. Try to avoid heavy binoculars as they may cause you severe eyestrain.
You May Also Like to Read