Last Updated on February 7, 2022
How to Build a Shooting Range: Spring is fast approaching, and it is a great time to start recreational shooting. However, does every situation in which we want to devote ourselves to this hobby require a visit to a professional shooting range?
Fortunately not, because, according to the law in force, airguns in which the energy of the shot fired does not exceed are not classified as a pneumatic weapon or simply a weapon in a broader sense.
This means that an air rifle shooting range can be created in our garden without any obstacles.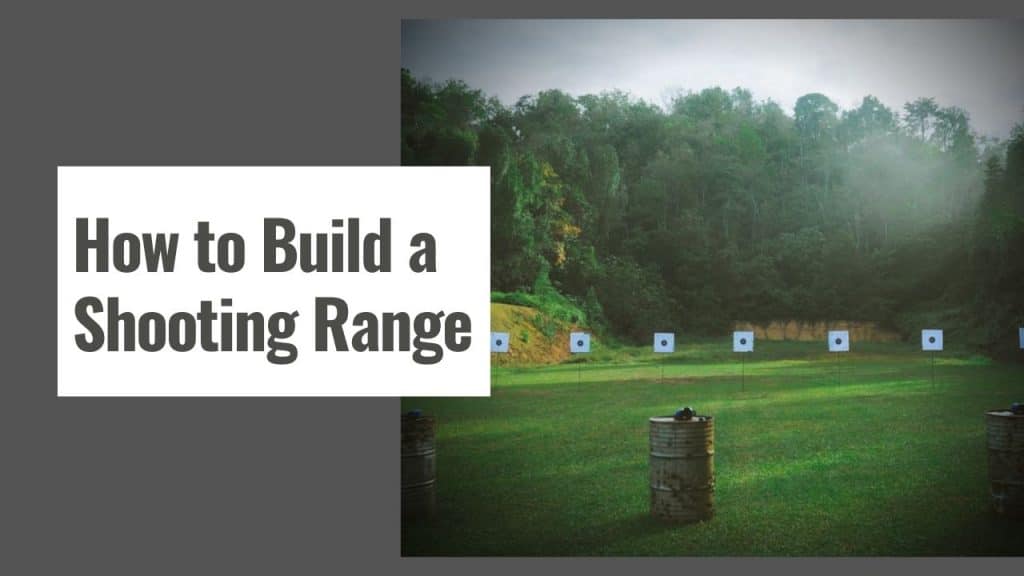 How to Build a Shooting Range
However, even with such mundane activities as playing football or releasing ducks, we must find a space where there is no risk of hitting people, animals, or damaging property.
So it will be no different with the organization of a home shooting range. Proper arrangement of the surroundings will allow us to have fun while avoiding dangerous situations or the dissatisfaction of our neighbors.
How to Start Preparing a Home Shooting Range? Choosing a Place
When choosing a place for your shooting range, you should pay attention to several aspects. First of all, an area that is sufficient for this purpose – here, the type of airgun from which we will shoot at the house is of great importance.
For short air rifles, pistols, and revolvers, an area of 5 x 10 m is enough. In the case of the strongest long air rifles, carabiners, we should have several dozen to even 100 meters of open ground in front of us.
The second important point is, it is behind the objects that we are going to shoot at. There is no doubt that people and animals cannot be there, so avoid sidewalks, paths, squares, or your neighbor's property.
Choose a site with a small number of objects from which the shot can ricochet in unpredictable ways, such as metal posts or trees. The third aspect is minimizing the risk of property damage; attention should be paid to lamps, windows, and other similar items.
Often, we will not be able to establish an ideal location. After all, hardly anyone has an earth embankment on the property known for professional shooting ranges.
Its construction would be laborious and permanently change the appearance of our garden, which might not be welcomed by all household members. It is time to move on to the next stage, in which we will adjust our surroundings ourselves, increasing safety without high costs and workload.
Read Next – The 10 Best Shooting Glasses for Sporting Clays
How to Build a Shooting Range Step by Step? Arrangement of Space
After determining the location, it is time to build the shooting range properly. First, let's focus on how to protect ourselves in the event of a missed target.
The basic method is the use of dedicated backstops made of sheet metal. The functionality of this equipment depends on the model. Some of them allow you to place 14 × 14 cm square targets in a dedicated guide.
Other types of bullet traps are equipped with reactive targets, both spinners, and magnetic targets. The latter remain folded after being hit, thanks to the magnet. Their resetting does not require approaching the bullet trap; it is enough to hit the additional reset target.
In the second option, items that each of us has at home – a blanket and a sheet – will be used to secure the surroundings. Hang the blanket as if you want to dry it after washing.
For this purpose, we can use a washing string stretched between the posts or unfasten a paracord rope between the trees if they are in the right place in our yard.
In other cases, as well as when we want to assemble, disassemble and move the shooting range quickly, you can use, e.g., photographic tripods for the background or, in the version withstanding higher loads, a simple lighting ramp. Of course, we can also make the frame ourselves from wood; you will not need any very advanced tools.
A blanket hung like this, additionally covered with a sheet or other thinner material from the side from which we shoot, will stop the pellet even from a strong windbreaker. The undoubted advantage of this option is the large size of the protective barrier created in this way.
In the third variant, it is worth searching in the garage or going to a DIY store. You will need polystyrene boards 10-15 cm thick and OSB, MDF, or plywood at least 15 mm thick. The total size of the cover to be built is entirely up to us.
Combining 3 or more polystyrene boards, which most often have dimensions of 50-60 by 100-120 cm, will allow us to hang several shields later and set various types of targets in front of the cover.
Read Next – The 7 Best Red Dot Sights
Now it is enough to attach the polystyrene to the previously cut to size OSB plate with screws, slightly shorter than the thickness of the polystyrene so that their heads sink into it.
After tightening the support made of a board or a wood-based board, such a structure can be attached to a table or bench, using, for example, carpentry clamps or a belt with a tensioner, and also put on the ground.
If we make a sufficiently large barrier to minimize the risk of a ricochet or damage to the facade when missing, you can hang it on the garage wall or other outbuilding.
Polystyrene will also be used to attach even large silhouette shields easily. In the case of stronger carabiners, it will be advisable to install a sheet between the plate and the polystyrene, which will make the structure much more resistant.
It is a good idea to use our backstops in the garden shooting range, along with the dedicated ones. This will increase our room for maneuver when selecting targets, and in the case of strong long airguns, it will extend the life of the DIY cover.
All these solutions, in addition to increasing safety, will also help us avoid the tedious collection of pellets or littering the garden, gathering pellets in one place.
What to Shoot at in the Garden? Choosing Targets for the Backyard Shooting Range
When the environment is adjusted to our needs, it remains to choose the targets at which we will shoot. Their scope is very extensive and the most important thing is to choose what gives us the greatest fun. It's a great idea to have several different target types as this helps to spice up your entertainment.
The most famous targets are, of course, the shields. Their choice is very wide. Classic 14 × 14 cm sports shields or their more avant-garde, colorful counterparts with printed zombies can be mounted in dedicated airgun bullet traps. Targets related to those used by uniformed services facilitate shooting training with their design.
The silhouette shields, in turn, provide a lot of excitement by imitating zombies, terrorists, or enemy soldiers. Self-adhesive targets are very easy to install, and they can be covered with special, eye-catching paint, which shows the place of impact in this way.
When ordering shields, it is also worth getting stickers that allow you to patch the pellet holes, and thus a longer use of one shield and label to help you track the competition.
Another solution is spinners, i.e., metal targets signaling a hit by rotation. Their unquestionable advantage is their design – thanks to proper balancing, they return to their starting position after a few turns without the need for action on the part of the shooter.
The shape of the lamellae is varied and includes both geometric shapes and figures. Most often, targets of this type are equipped with a stand for driving into the ground. The set may include a base for placing the spinner, e.g., on a table.
The repertoire does not end there. There are, among others, silhouette cells, made of thick sheet metal, from a few to several centimeters, that can be placed on the table in front of the protective barrier we have built.
On the other hand, active targets, throwing out cans or bottles after a hit, are a very good diversion when shooting at two people, as well as for more ambitious ones.
Read Next – The 10 Best Long Range Scope for the Money
When using them, however, special care is required to avoid firing in a direction unprotected by the constructed barrier. Another type is FT-type figures; after it has been correctly positioned, it is enough to pull the string to the shooting position so that it is ready for action again.
The last category worth mentioning is non-standard purposes used in the so-called plinking. These can be various items in our home, the original function of which was completely different.
Aluminum soda cans can be an interesting idea. The name of this type of shooting comes from the sound of hitting such a can, which sounds like a plink.
Another effective object is pet bottles filled with water; it is worth remembering not to use glass bottles as their replacement, which will pose a threat after breaking.
When we miss the optimal period of consumption of the fruit harvested in the garden, they will also become an extraordinary alternative for other purposes.
How Much Does It Cost to Set Up a Home Shooting Range?
Time to calculate the funds required to set up a home shooting range. A dedicated sheet metal bullet trap costs from $10 to about $70 for extensive magnetic models.
The price of the DIY protective barrier will range from 0 to 50 dollars. The set will be free, assuming that we use old blankets and sheets and we have the option of extending the assembly line, e.g., between trees. In the case of a set with tripods, it is necessary to add about 50 dollars.
The structure, based on polystyrene and wood-based board, with dimensions of 1 x 1.5 m, requires an investment of 20 to 60 dollars, depending on the materials used.
The cost of targets also varies. For a basic set of shields, which will consist of standard sports and silhouette shields and stickers, it is enough about $10.
A richer set, sufficient for a longer period, including various types of discs and a simple spinner, is about $30. Supplementing this set with a more effective spinner, HT figure, and body targets will result in a price of 100 dollars.
Read Next – Learning How To Use A Scope For Long Range Shooting
Summing Up
It turns out that a budget of 15 to 200 dollars is required for the shooting range device, based on the solutions presented.
As you can see, it does not have to be an excessive amount, and taking into account how much joy, satisfaction with the progress made, or emotions from sports rivalry can bring us, the expense is worth considering.
Of course, the garden shooting range can be easily expanded, equipping it with more and more advanced devices.
Also Read