Taurus G2C Review: A Reliable and Affordable Compact Pistol
Last Updated on June 23, 2023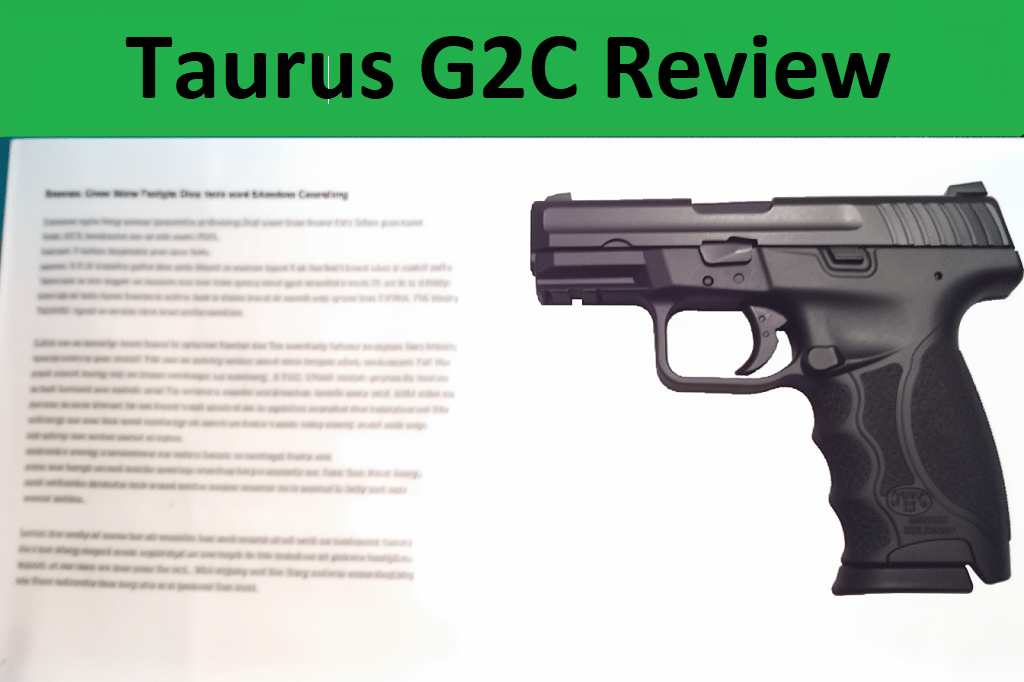 The Taurus G2C is a popular compact semi-automatic pistol that offers reliability, ease of use, and affordability. Designed for concealed carry and personal defense, the G2C has gained a reputation for its reliability and value. In this review, we will explore the features, performance, ergonomics, and overall suitability of the Taurus G2C for everyday carry. Let's delve into the details and discover what this budget-friendly pistol has to offer.
Table of Contents
1. Overview of the Taurus G2C : A Review
The Taurus G2C is a compact 9mm pistol with a striker-fired mechanism. It is an upgraded version of the popular PT111 Millennium G2, offering improved features. The G2C is both affordable and reliable, making it ideal for concealed carry and self-defense.
2. Key Features and Specifications
Caliber: 9mm
Capacity: 12+1 rounds
Barrel Length: 3.2 inches
Overall Length: 6.2 inches
Height: 5.1 inches
Width: 1.2 inches
Weight: 22 ounces (unloaded)
Frame Material: Polymer
Slide Material: Steel
Sights: Fixed front and rear
Trigger: Striker-fired with a short, crisp break
Safety: Manual thumb safety, trigger safety
3. Build Quality and Design
The Taurus G2C features a polymer frame and a steel slide, offering a good balance of weight, durability, and corrosion resistance. The overall design is compact and ergonomic, with a textured grip providing a secure hold. The pistol has a matte black finish that contributes to its sleek appearance.
4. Performance and Reliability
The G2C has gained a reputation for its reliability, with many users reporting thousands of rounds fired without significant issues. The striker-fired system provides a consistent trigger pull, and the pistol cycles reliably with various types of ammunition. However, it is important to note that individual experiences may vary, and it is recommended to test the pistol with your preferred ammunition for optimal performance.
5. Ergonomics and Comfort
The Taurus G2C is thoughtfully designed with ergonomics in mind, offering a shooting experience that is both comfortable and controllable. Moreover, the grip of the pistol features textured panels and finger grooves, which contribute to a secure and confident hold. Additionally, the compact size and rounded edges of the firearm enhance its concealability, making it easier to carry while ensuring utmost comfort.
6. Concealed Carry Considerations
The G2C is designed for concealed carry, making it suitable for those seeking a compact and lightweight pistol. With its dimensions and weight, it can be easily concealed in a variety of holsters and carry positions. The addition of a manual thumb safety provides an extra layer of security during carry.
7. Sight System and Accuracy
The Taurus G2C has fixed front and rear sights. Although these sights cannot be adjusted, they offer a clear view and enable accurate shooting at common self-defense distances. It's important to mention that some users may opt to upgrade the sights based on their personal preferences.
8. Magazine Capacity and Reloads
The G2C pistol boasts a 12-round magazine, offering a substantial capacity for a compact handgun. Moreover, it strikes a fine balance between magazine size and grip, ensuring optimal handling. When it comes to reloading, the process is straightforward, and the magazine release button is conveniently accessible, enabling swift and efficient reloads.
9. Safety Features
The Taurus G2C incorporates several safety features, including a manual thumb safety and a trigger safety. In this review we can know that The manual safety for The Taurus G2C allows the user to engage or disengage the safety as needed. The trigger safety prevents the trigger from engaging unless fully depressed. These safety features contribute to safe handling and help prevent unintentional discharges.
10. Maintenance and Durability
The G2C is relatively easy to maintain, requiring standard cleaning and lubrication. The disassembly process is simple and user-friendly, allowing for easy access to the internals for maintenance and cleaning. The polymer frame and steel slide contribute to the pistol's durability, ensuring longevity with proper care.
11. Price and Value for Money
One notable aspect of the Taurus G2C is its affordability. Moreover, it offers excellent value for the price, making it an appealing choice for budget-conscious buyers. Additionally, the G2C delivers reliable performance and incorporates suitable features for concealed carry, all while remaining cost-effective.
FAQs
Is the Taurus G2C suitable for beginners?

Yes, the Taurus G2C is beginner-friendly with its user-friendly design, manageable recoil, and affordable price. However, all shooters, regardless of experience, should receive proper training and practice firearms safety principles.

Which holsters are compatible with the G2C?

The G2C works with various holsters designed for compact pistols, including inside-the-waistband (IWB), appendix carry, and outside-the-waistband (OWB) holsters. Choose a holster that offers retention, trigger coverage, and comfort based on your carry style.

Can the G2C be used for both IWB and OWB carry?

Yes, the G2C is versatile and can be carried either inside or outside the waistband (IWB or OWB) depending on your holster preference. Its compact size and lightweight make it suitable for different carry options.

Are there aftermarket accessories available for the G2C?

Yes, there is a growing aftermarket for the G2C with various accessories available. Popular upgrades include sights, grips, extended magazines, and holsters. Make sure to choose reputable brands that offer compatible options.

What warranty does Taurus provide for the G2C?

Taurus offers a lifetime warranty for the original buyer of the G2C. This warranty covers defects in materials and craftsmanship, providing peace of mind to buyers.
Conclusion
The Taurus G2C is a dependable and affordable compact pistol designed for concealed carry and self-defense. It offers reliability, user-friendliness, and great value, making it a popular choice for everyday carry. While lacking high-end features, it performs well for its intended purposes.