Rage Crossbow X 2-Blade Archery Arrow Broadheads
Last Updated on August 2, 2023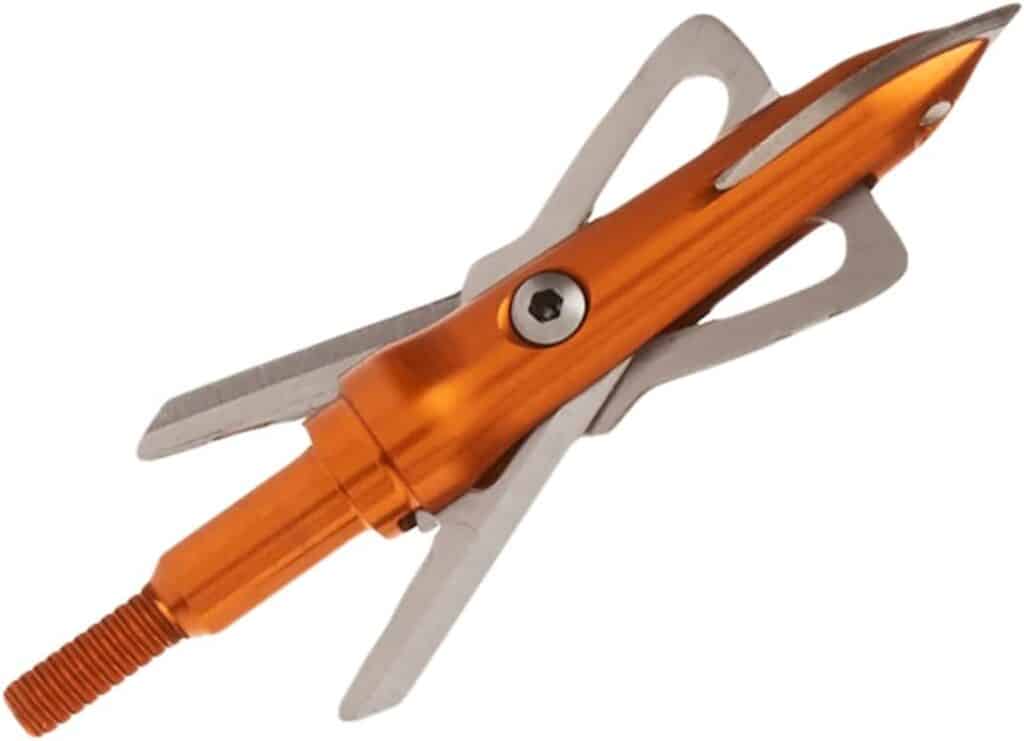 Rage Crossbow X 2-Blade Archery Arrow Broadhead: Rage broadheads are a premium broadheads brand subordinate by FeraDyne Outdoors. It is a leading company that plays a significant role in developing mechanical broadheads.
Especially, their 2-Blade Archery Arrowbroadheads are renowned for their pinpoint accuracy and epic winding channels.
So, if you are looking for an arrow broadhead with more aerodynamic bolt flight, you can go for RAGE 2-Blade Archery Arrow Broadhead. Therefore, to help you out,today we will review RAGE Crossbow X, 2-Blade Archery Arrow Broadhead.
Table of contents
Review of Rage Crossbow X 2-Blade Archery Arrow Broadhead
Look no further than the Rage if you are looking for a new broad head with incredible field point accuracy and devastating power. Check here for more details.
Design
The new Rage two-blade broadheads feature a massive leading-edge blade and razor-sharp .035″ stainless steel expandable blades. These 125 Grain broadheads have a 2″ cutting diameter. Its 2″ + ultrasharp large cutting diameter with 0.035 "thick stainless steel blades, making them durable enough for the most challenging big game.
Technology
Professional archers believe Rage Broadheads to be the best accurate broadheads. The blade retention systems developed by Rage, including the Shock Collar and NC (No Collar) technologies, are fail-safe by design and firmly retain the blades in place whether not in use or during flight.
Moreover, its Ferrule Alignment Technology ensures that the ferrules fly straight. Again, it also features a Blade retention system with Shock Collar for consistent slip-cam blade deployment.
Performance
The Rage Crossbow X 2-Blade Archery Arrow Broadheads have a higher penetration rate and create enormous blood trails. Moreover, these broadheads are built exclusively for crossbows. It flies like a field tip, giving hunters an advantage over their prey.
The enormous leading edge increases the arrow's momentum, resulting in a greater entry. It allows you to hunt larger games or use lower-poundage bows to conserve kinetic energy. Overall, these broadheads assure more aerodynamic bolt flight as well.
Can I use these with a compound set at 58lbs and a 400gr arrow?
No, the blades are for use with crossbows. The blades are not designed to be deployed while shooting with a compound set.
Do these broadheads come with extra shock collars? 
No. The heads in this package do not include extra collars.
Are these 2.3 100 grain broadheads?
These broadheads are not 2.3″ across the cutting edge. They are 2+ inches.
Final Verdict
However, hunting is combat between you and the wild. But it all builds to one moment when you're ready to draw your bow and shoot an arrow that will land true. Afterward, your preparation helps boost your chances of taking down your target.
In this situation, the Rage Broadheads can prove helpful to you. Their broad head in two-blade designs and 2+ inches cutting diameter provide gaping wound channels, huge entry holes, better blood trails, and exceptional penetration for X crossbows.