Last Updated on June 13, 2022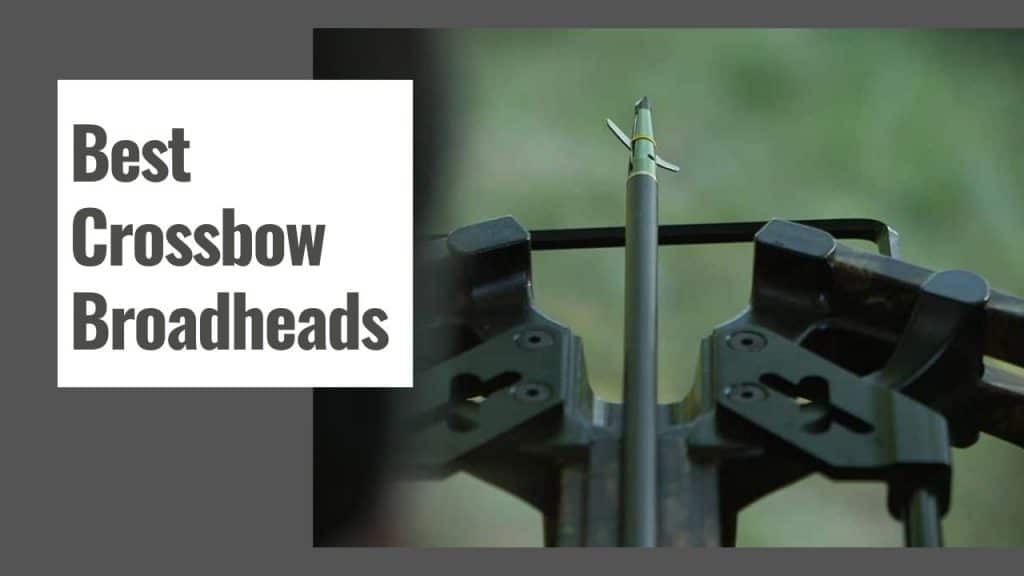 The Best Crossbow Broadheads for Deer and Turkey Hunting: Hunting is an old habit of humans. They used to hunt for their livelihood. Nowadays, methods of hunting are changing.
Crossbow hunting is a popular method of hunting, but you cannot make a successful game if you only have a simple crossbow. Broadhead is an essential part of this.
You will find thousands of crossbow broadheads in the market. However, all of them are not durable, stable, or able to provide the best performance. Finding out the broadheads for hunting is not so easy. We have researched well on it and found out.
These will not only be worth your money, but you will also enjoy successful hunting. We are going to review the top crossbow broadheads for deer and turkey hunting below in this article and hope these will help you enough to make an informed decision.
Our Top Picks – The 10 Best Crossbow Broadheads for Deer and Turkey Hunting
1. Editor's Pick: G5 Outdoors Montec Broadhead 3/pk.
2. Premium: Rage Crossbow X 2-blade Archery Arrow Broadhead
3. Swhacker Set of Three-100 Grain Cut Broadheads
4. Grim Reaper X-bow Mech Broadhead
5. New Archery Products Nap Spitfire Crossbow Broadhead
6. Excalibur Boltcutter 150 Grain 3-blade Broadhead
7. Rage Bowhunting Hypodermic Crossbow Mechanical Broadhead
8. Muzzy Trocar Crossbow Archery Arrow Broadhead
9. Grim Reaper X-bow Mechanical Broadhead
10. Slick Trick 1-1/16″ Viper Trick 4pk
1. G5 Outdoors Montec Broadhead 3/pk.
A good quality Brodhead always helps a hunter much, and the G5 Outdoors Montec is such a kind of broadhead. It is on this list because of its quality, durability, and features. The broadhead is made using 100% steel and a cut-on-contact design.
You will get a diamond cut sharpness from the broadhead, and it comes in three different grains: 85, 100, and 125. Therefore, you will get the chance to choose your desired one. This high-speed broadhead contains one-piece MIM construction that has made this great.
Every G5 Outdoors Montec comes with an utterly spin test. It's cutting diameter is 1 inch to 1 1/8 inches. You will get three broadheads in a single packet. Each broadhead passed a guillotine strength test before coming into the market.
These are ready to simulate enough kinetic energy. As a result, you can easily penetrate the flesh, hide, or bone of your target. Its blades are diamond cut. Therefore, you can kill the desired animal much more relaxed. Overall, this is an excellent and the best fixed blade broadhead for crossbow for deer, turkey, and boar hunting.
Pros
Completely, spin tested
Various grain options
Manufactured in the USA
Simulates enough kinetic energy
Low tolerance broadhead
Cons
Not so destructive
Need to hit on seeking part of the target
2. Rage Crossbow X 2-Blade Archery Arrow Broadhead
If you are looking for a good quality broadhead for your crossbow, then you can select Rage CrossbowX archery arrow. It is on the shortlist of the best crossbow broadheads for deer hunting due to its accuracy and traditional wood channels. The Rage broadhead also contains excellent durability and other features.
It has a large cutting surface. Some of its great features are rear deploying and SlipCam design. Its blade comes with a vast leading edge. The broadhead is made using stainless steel. The thickness of the blade is 0.35 inches, which is razor-sharp.
This best rage broadhead for crossbow comes with shock collar technology. It ensures the blade retention properly. As a result, it stores nicely. Also, while in flight, it allows opening correctly on impact.
You will get three broadheads in a pack. It is available in two grains: 100 or 125, and the overall dimension of this broadhead is 2 x 2.5 x 2 inches. It is very much lightweight and weighs only 0.8 ounces. This broadhead is made in the USA and leading the evolution.
Pros
Most accuracy
Massive cutting surface
Razor-sharp blade
Proper blade retention
Very much lightweight
Cons
Can't hold blade tightly
Retention may come off
3. Swhacker Set of three-100 Grain Cut Broadheads
A good broadhead can improve the success rate of hunting. That is why you need such a broadhead, which is durable, stable, and able to hit the target with enough kinetic energy. The Swagger is an excellent quality turkey hunting broadhead, which can fulfill all you need.
It is on this list due to its strength, sharpness, durability, and performance. You will get three broadheads in a set. The Swhacker broadhead for turkey hunting is of two blades and contains 100 grains. The thickness of a blade is 0.032 inches. It is made of stainless steel.
The honed razor-sharp blade contains enough power to hit the target. Its Ferrule is made using anodized aircraft aluminum. Blades are used to opening the broadhead. These are a bit smaller than the main blades. Its steel point is made using hardened high carbon.
Due to these superb features, the crossbow broadhead is perfect to go through the flesh; dirt even penetrates bones. Its dimension is 9.5 x 7.5 x 1 inches. Also, the weight is 3.2 ounces only.
Pros
3 broadheads in a set
0.032 inches thick blades
Can penetrate bones
Honed razor-sharp blade
Expandable 100 grain
Cons
Cheaply made
The blade may found a bit wide
4. Grim Reaper X-Bow Mech Broadhead
You should go on an excellent quality broadhead for hitting your target well. It can even penetrate the bones of a targeted deer. Therefore, every hunter wants a good quality stable and high-performing broadhead.
Due to the features and stability, this Grim Reaper crossbow broadhead takes place in our shortlist of the ten best crossbow broadheads for deer and turkey hunting. Every single packet comes with three broadheads, and each of them contains three blades. Its cutting diameter is 1.5 inches.
The X-Bow Mech can produce high energy to hit the target. It is a perfect broadhead to use with a crossbow and beginner compound bows. Before launching in the market, this best broadhead for crossbow over 400 fps was tested.
It contains razor tip blades to cut the target easily. Each broadhead comes with 100 grains. The overall dimension of this great broadhead is 7.5 x 1 x 5 inches. It is very, much lightweight. Its weight is 1.6 ounces only.
Pros
Three blades in a broadhead
Tested over 400 FPS
Perfect for crossbow
Enough lightweight
High energetic
Cons
May not penetrate bone
All blades may not open at a time
5. New Archery Products NAP Spitfire Crossbow Broadhead
You need good quality and durable broadheads to hit your target easily while hunting with a budget crossbow. It enhances accuracy. As a result, you can get the best result and penetrate the bone of a deer. The NAP Spitfire is such a kind of the best broadhead for crossbow hunting.
It has taken place on this list due to its power, durability, and features, and the broadhead comes with 100 grains. You will get three broadheads in a packet, and the blade is made using stainless steel. The cutting diameter of this is 1.5 inches.
Diamize sharpened blades of this broadhead allow you to hit the target easily. It contains a snap locking system. As a result, the edges remain closed during flight. The Ferrule of this broadhead is of micro-grooved slimline.
It increases flight and penetration. The dimension of this superb crossbow broadhead is 10 x 6 x 2.8 inches. It is super lightweight. The broadhead weighs only 0.8 ounces.
Pros
Comes with 100 grain
1.5 inches cutting diameter
Diamize edge sharpen blades
Improved flight and penetration
Very much lightweight
Cons
Bolts might break
The difference may found on blades
6. Excalibur Boltcutter 150 Grain 3-Blade Broadhead
Excalibur broadhead is made for providing you with the best hunting experience and correctly doing its job. The broadhead is made of premium quality material like good quality stainless steel.
Most of the broadhead has three or four blades. However, it has two blades. Despite having only two blades, it can provide you with excellent efficiency. The stainless steel sharp blade made it so powerful, and the penetration power of the bowhead is also quite impressive.
The Excalibur Boltcutter 150 Grain is not like others. It is featuring you with full metal construction. That is why it is so powerful. Therefore, you can shoot with confidence. It is not possible to break them easily.
They are so durable. When it comes to accuracy, it is so accurate. You can hit your target so quickly and precisely. They are specially designed for high speedy crossbows. They are an excellent choice as a hunting material.
Pros
High accuracy
Good penetration power
High speedy
High strength
Designed for high-speed crossbow
Cons
Not suitable for beyond 50 yards
7. Rage Bowhunting Hypodermic Crossbow Mechanical Broadhead
Rage Bowhunting Hypodermic mechanical broadhead can be the perfect choice for you due to its accuracy and strength. You will get superb accuracy using these. The design of the broadhead is also quite superior. It was designed so professionally. The ferrule alignment technology of this broadhead made this unique.
The aerodynamics of the broadhead improved due to technology. Due to this technology, the broadhead can go further. The accuracy you will get on this is also enhanced than others. It is one of the best mechanical broadheads for crossbow ever made.
It is also featuring shock collar technology. With the help of this, the broadhead will attach to the bolt so tightly. It consists of three superior stainless steel blades, which are quite intense as well. The stainless steel design made it so much more emotional and durable.
Due to a sharp edge, the penetration is quite impressive. The blades ensure maximum efficiency for you. The wound that it makes is quite massive. The diameter of the cut is more than 2 inches. For all those features, this is so accurate on its target. Use those features and make the best use of them.
Pros
Very accurate
Excellent strength
Very durable
Holding is quite good
Unique efficiency
Cons
Not good for long-range
Shock ring is hard
8. Muzzy Trocar Crossbow Archery Arrow Broadhead
The muzzy crossbow broadhead is full of advantages. It has a helix design and three sharp blades that make the design perfect. The blades of the bowhead are very intense and powerful. The penetration power is also quite impressive. It can penetrate deerskin easily.
Therefore, that makes it perfect for hunting. This broadhead can quickly go through it. It was created with one solid piece of steel. That is capable of providing high-level accuracy. Therefore, you will get an exact shot using these.
For better accuracy, it comes with 100 and 125 grains. By using them, you can achieve deadly accuracy. It causes quite a deep infiltration. You will get a big wound channel on the hit spot.
All of this is due to the large cutting surface. It will not make the animal suffer; it will kill it on the stop. They are tested time after time before launching. So it is perfect at work – an excellent product for hunting.
Pros
Great accuracy
Stable flight
Large cutting diameter
Great aerodynamic
Well built
Cons
The screw is not tight enough
Doesn't fly accurately
9. Grim Reaper X-Bow Mechanical Broadhead
Grim Reaper is an excellent choice for speedy crossbows. It can fly at a very high speed, and the speed is up to 400 feet per second. They are manufactured in the USA and are more reliable than any other broadheads. It has the best blade retention system than ever.
The mechanical broadhead is capable of creating a 2-inch cutting diameter. Grim Reaper the best crossbow broadhead for turkey hunting uses a spring to keep the blade close. When these blades come to the touch of an animal, it opens. They will not open accidentally and are safe to carry.
Due to the big cutting diameter, it manages to create a decent hole. Through that, holes blood trail, you can easily find the animal. The tip of the bowhead is very sharp and durable and can penetrate through any animal.
The blades are razor-sharp. The sharp edges ensure good penetration power. This is one of the most accurate mechanical broadheads for crossbow you can find on the market. The product features are quite impressive. You need a good shot on your target.
Pros
Great accuracy
Strong and tough
Designed for speedy crossbow
1.5-inch-cutting diameter
Ideal for hunting
Cons
Machines are stiff
Aluminum ferrule
10. Slick Trick 1-1/16″ Viper Trick 4pk
Professional hunters suggest the slick Trick brand. The broadhead performs so well. It will not make you disgrace your choice, and you can keep your faith in this. For hunting deer and beer, this can be an excellent choice. The crossbow broadhead contains a very well-made interior.
It is made of standard materials. Therefore, it is very durable and robust. It is featuring a new blade lock system. The system will help to hold the blade. Consequently, you will get an accurate hit even at a very high speed.
It is designed for on-point precision. Every time you will get an accurate shot, and the broadhead has four blades. The blades of the bowhead are quite sharp and durable. So be careful with the blade.
The best feature of this is it stays on the field point and provides a very stable fly. After a hit, it will leave a trail So that you can follow the wounded. Even at a far distance, penetration power is incredible. It makes it ideal for hunting deer.
Pros
Excellent durability
Four blades design
Blades are replaceable
Super penetration power
Provide stronghold
Cons
No instruction included
Blades are not very sharp
What to Consider When Choosing a Crossbow Broadhead for Deer and Turkey Hunting?
There are some facts that you should know before buying the most accurate crossbow broadhead for deer and turkey hunting. Here we are discussing them in short.
Legality
At first, you should about the legitimacy of your desired broadhead. That means the broadhead you want to use is legal in your state.
If you use any crossbow broadhead for deer and turkey hunting that does not meet the legal permission, it can put you behind prison bars. So, make sure that your desired broadhead is legally approved in your state before buying it.
Penetration
The main target of using a broadhead is to kill an animal. So, choose that broadhead that can go through thick skin and penetrate well organs.
Distance between hunter and object, bows strength, and broadheads performance increase the possibility of successful hunting. That is why; you should be sure about the penetration power of your desired broadhead.
Durability
If you throw a bolt to your desired animal, it needs to hit on the right way. Your arrow needs to maintain a proper balance. For this reason, you need to be sure about the durability of the broadhead.
Weight
You should carry the broadhead wherever you move. For this, you should choose such a broadhead, which is easy to carry. If it is not suitable for your body, you cannot move to carry this.
Even, a heavy broadhead may not so far to hit the animal. Use smaller blades broadhead to get improved performance.
Diameter
Diameter is an essential part of choosing a broadhead. Smaller cutting diameter broadheads match very well with most crossbows. Usually, 1.5 inches or fewer diameters are perfect for a great experience in hunting.
Accuracy
It is an essential part of a broadhead. If your broadhead fails to provide the best accuracy, you cannot make it successful for hunting. Therefore, you should select that broadhead, which can give the best efficiency.
FAQs
What Kind of Broadheads Should I Use for a Crossbow?
It is a common question among crossbow hunters. But it isn't possible to give a fixed answer to this question since it depends on different factors and game types. Therefore, to get the correct answer to this question, you need to consider several factors first.
Such as differences among various arrow shapes, how these variances affect its airflow and aerodynamics, the maximum arrow speed that your crossbow can shoot, and the type of game in which you will use the crossbow broadhead.
Afterward, both have their advantages and disadvantages. But, mechanical broadheads are usually more accurate than fixed blade broadheads, even long distances.
On the other hand, fixed-blade broadheads are more rugged and penetrate more deeply. However, proper shot placement and sharp razor broadheads are prerequisites to get the best output from both types of broadheads.
Is There a Difference Between Crossbow Broadheads and Regular Broadheads?
There are no notable differences between crossbow broadheads and regular ones. However, some manufacturers make broadheads that are a better fit for crossbows.
Are Heavier Broadheads Better?
The kinetic energy (KE) of a heavier arrow with a high front of the center (FOC) is lower, but it has more significant momentum and penetrates deeper.
A heavier broadhead with a greater FOC has the advantage of being more successful at converting high KE into high momentum.
What Grain of Broadhead Should I Use?
According to experts, 100 grain crossbow broadheads for lightweight aluminum and carbon shafts and 125 grain crossbow broadheads for heavy aluminum shafts are recommended.
Are Broadheads More Accurate Than Field Points?
No. It isn't easy to get accuracy from broadhead than field points. Because of the design of the broadheads, hunters face accuracy issues with broadheads. Broadheads have a much larger surface area than field tips, which magnifies flight flaws and diminish accuracy.
How Do I Store My Broadheads?
To properly preserve and transport your broadheads, you can purchase a broadhead case. Using a Carbon Fiber broadhead case, you may store up to 6 broadheads at a time.
It is compatible with broadheads with 3-4 blades. Foam inserts in the broadhead case keep the broadheads safe and secure.
How to Sharpen a Broadhead?
You can sharpen a broadhead in several ways. Using a sharpening stone or a broadhead sharpener is best to sharpen broadheads.
Are Today's Mechanical Broadheads More Reliable Than Older Ones?
Mechanical broadheads were completely unreliable a decade or so ago. The blades of these broadheads were held in position by o-rings or rubber bands during flight. These, of course, can go wrong from time to time.
Nowadays, mechanical broadheads have a considerably more great design. Thanks to spring clip retention devices, blade deployment on contact is now more reliable.
Therefore, modern mechanical blades are far less likely to fail to deploy due to advances in design, machining, and materials. Despite this, many people still favor fixed blades because of their simple reliability and zero percent failure rate.
Can I Practice Shooting My Broadheads?
You can, after all. There are also some practice broadheads on the market. These usually mimic the broadhead's size, shape, and weight, so they have the same flight qualities as the real one.
Can I Reuse My Broadhead After It Has Been Used on the Game?
You can destroy a target with a broadhead immediately. Therefore, after a single shot, most hunters consider broadhead blades "dull." It indicates that once you've used a blade, you'll need to replace them.
Therefore, Broadheads with interchangeable blades are available on the market. You can replace their blade after each use.
Final Thoughts
For successful hunting with a crossbow, a good broadhead is a must. Your hunt will fail if you don't have a good broadhead.
We have researched very well on the broadheads that are available in the market. After long research, we found out the ideal broadhead for your perfect hunting game.
In this article, we have reviewed them. This review is perfect for reducing your stress of getting out the best crossbow broadheads for deer, turkey, boar, and coyote hunting. As a result, you can easily buy the broadhead and thrive in the upcoming crossbow hunting season.