How to Train Hunting Dogs: Mastering the Art
Last Updated on September 1, 2023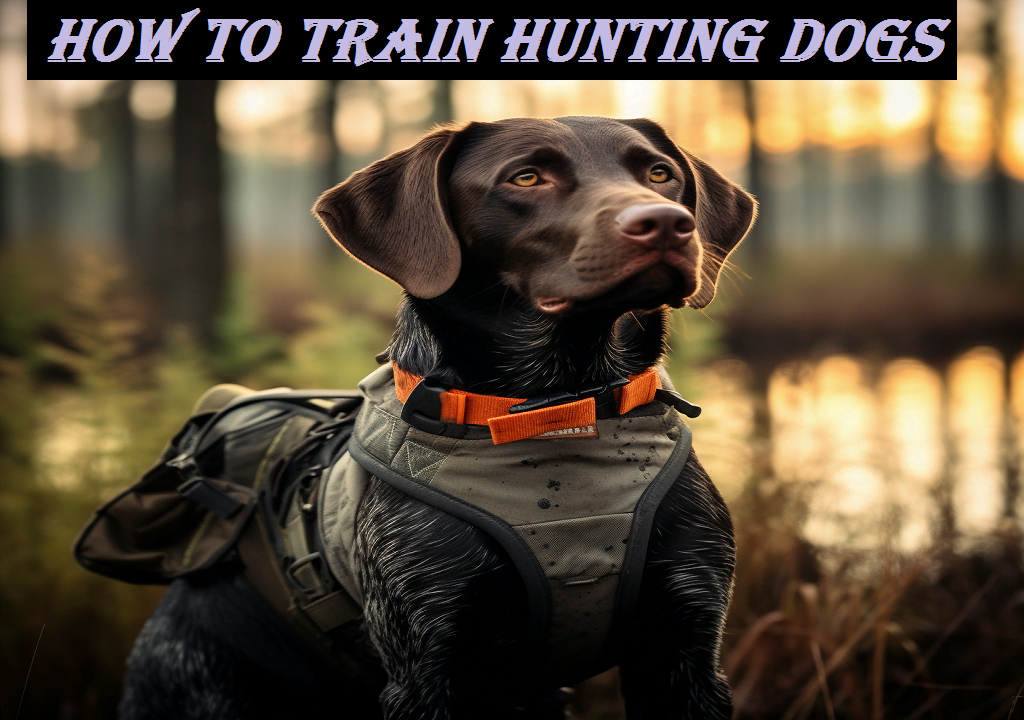 Table of contents
Introduction
From ancient civilizations to modern times, hunting dogs have played a pivotal role in assisting hunters in capturing their prey. But what goes into molding an enthusiastic pup into a focused, obedient hunting partner? This guide will delve into the nuances of training hunting dogs, examining the tools, techniques, and dedication required.
1. Understand the Basics
1.1. Choosing the Right Breed

Different breeds possess unique skill sets. From the precise pointing of the English Setter to the relentless retrieving of a Labrador, selecting the right breed determines your hunting success.
Research is pivotal. For waterfowl, retrievers like Labradors or Golden Retrievers are preferred. For upland game, pointers or setters might be more apt.

1.2. Age Matters

Begin with socialization as soon as you bring the puppy home. Familiarize them with various sights, sounds, and environments.
Formal training should start at about 6 months, but basic obedience can start as early as 8 weeks.
2. Essential Equipment for Training
2.1. Training Collars and Leads

E-collars can correct behavior from a distance. While they can be effective, they should be used judiciously and never as a form of punishment.
Leads guide dogs during initial training sessions, teaching them boundaries and obedience.

2.2. Training Dummies and Birds

Dummies help simulate real-life hunting scenarios. They come in various shapes, sizes, and even scents.
Transitioning to real birds (like pigeons) can help hone the dog's tracking and retrieving skills.
3. The Training Process
3.1. Obedience is the Key

Start with commands such as 'sit,' 'stay,' and 'come.' Reinforce them daily.
Consistency in commands and your reaction to the dog's responses is crucial.

3.2. Field Training

Start in a controlled environment. Gradually introduce distractions to train focus.
Recall training ensures that the dog returns to the hunter after making a find.
4. Advanced Training Techniques
4.1. The Art of Retrieving

A 'soft mouth' ensures the game is returned without damage. This can be trained using dummies, rewarding gentle behavior.
Returning to the handler is as important as fetching. Train with positive reinforcements.

4.2. Scent Work and Tracking

Begin with familiarizing the dog with basic scents.
Introduce layers of complexity, like tracking in diverse terrains.
5. Addressing Common Challenges
5.1. Overexcitement and Impulsiveness

Overenthusiastic dogs can scare away the game. Train patience using 'stay' and 'wait' commands.
Establish yourself as the pack leader. This helps control impulsive behaviors.

5.2. Fear and Anxiety

Counter-conditioning can be effective. Associate the fearful stimulus with something positive.
Repeated exposure (desensitization) to mild versions of the fear source can also help.
6. Continuous Learning and Adapting
6.1. Adapting to Different Prey

A versatile hunting dog can switch between game types. This requires separate training sessions focusing on the behavior of different animals.
Observe the dog's reaction and adapt the training methods accordingly.

6.2. Off-Season Training

Mental and physical stimulation is vital. Engage them in fetch games or scent tracking.
Reinforce old commands and introduce new ones.
7. The Hunter's Ethics
7.1. Safe Hunting Practices

Train the dog to stay behind firearms and be cautious around water bodies.
Ensure they have protective gear, especially in dense terrains.

7.2. Respect for Wildlife

Encourage non-lethal retrievals during training.
Familiarize yourself with local wildlife protection regulations and adapt training accordingly.
8. Bonding: More Than Just Training
8.1. Building Trust and Understanding

Spend time outside of training sessions. Play, walk, or simply relax together.
Understand the dog's cues, as they often communicate through body language.

8.2. The Role of Play

Games stimulate the dog's natural instincts and can be educational.
'Hide and seek' can hone their tracking skills, while fetch games improve retrieval.
9. Nutrition and Care for Hunting Dogs
9.1. Special Dietary Needs

High-protein diets support their energy needs. Consult a vet for dietary advice.
Ensure they are hydrated, especially during long hunts or training sessions.

9.2. Regular Vet Check-ups

Routine checks can preemptively address health issues.
Vaccinations and parasite controls are essential for dogs that spend time outdoors.
10. Celebrating Successes and Milestones
10.1. Recognizing Achievements

Rewards, be it treats or praises, reinforce positive behavior.
Document milestones. They serve as motivation and a reminder of the journey.

10.2. Continuous Improvement

Training is an ongoing process. Regularly evaluate the dog's performance and address any gaps.
Stay updated with new training techniques or equipment.
Conclusion
The journey of training a hunting dog is filled with challenges, milestones, and memorable moments. While it requires patience, the end result—a loyal, skilled, and responsive hunting companion—is worth every effort.
FAQs
What age should I start training my hunting dog?

Ideally, training starts as early as a few weeks old with basic obedience and socialization. Formal hunting training typically begins around six months.

Do all breeds have the instinct for hunting?

While some breeds are naturally predisposed to hunting, every dog has a basic prey drive. It's about harnessing and refining that instinct.

How do I address aggressive behavior in my hunting dog?

Aggression needs to be addressed immediately. Consult with a professional trainer, and focus on positive reinforcement techniques.

Can a hunting dog also be a family pet?

Absolutely! With the right training, a hunting dog can be a loving and obedient family member.

How long does it take to fully train a hunting dog?

It varies depending on the dog and the specific hunting skills. Generally, expect anywhere from a few months to a couple of years for comprehensive training.
Training a hunting dog is a journey. It's filled with challenges, but the bond and partnership you form with your dog make it all worthwhile. Happy hunting!