Last Updated on February 7, 2022
How to Choose Binoculars for Hunting: Binoculars are an irreplaceable companion of any hunter; it is with the help of this optical device that you can find in time an animal lurking in the bushes or a bird hiding in the branches of trees.
Very often, it is optics that plays a decisive role and makes the hunt effective. Hunting lovers can be safely identified into a special category of people who are ready to do their favorite thing in any weather.
Accordingly, equipment and auxiliary equipment must be ready for the harsh tests that the American climate can present.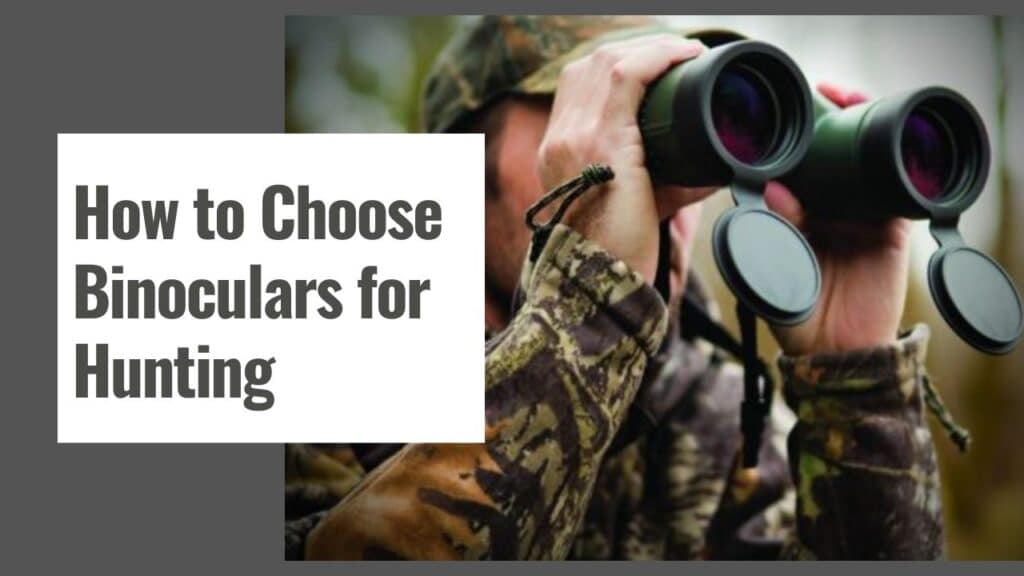 How to Choose Binoculars for Hunting
Within this article, we will try to understand all the subtleties and technical nuances of optical devices and answer one of the main questions of novice hunters – how to choose binoculars for hunting.
The Main Criteria for Choosing Hunting Binoculars
Ease and comfort of use;
Optical characteristics and capabilities of optics;
Advanced capabilities of modern binoculars;
Protection of the device from moisture and fogging;
Reliability of the optical assistant;
Optical system based on Roof-prism or Porro-prism;
Professional advice when choosing binoculars for hunting.
Let's take a closer appearance at each point and take a closer look at the main subtleties that you may encounter in the process of using optics.
Read Also – The 10 Best Night Vision Binoculars for Hunting
Ease and Usability
When tracking down an animal, binoculars begin to play one of the key roles because this optical device will allow you to detect cautious representatives of the fauna in time.
Accordingly, to use, namely to carry out long-term observations, should be as comfortable as possible. The optical device should lie easily in hand and not strain it too much. In addition, binoculars should allow you to refocus as quickly as possible on targets that are at different distances from the shooter.
Most modern binoculars are equipped with a center focusing mechanism with diopter adjustment of the right eyepiece.
When choosing binoculars for hunting, pay attention to the convenience of using the focusing mechanism. Sometimes you will have to manipulate the fine settings of the optics in winter gloves, and the success of the whole event will often depend on how quickly you can do this.
Optical Characteristics and Capabilities of Optics
Optical performance directly affects the functionality of your device. In other words, magnification is not a decisive factor determining the ability of optics to solve the assigned tasks. No less important qualities for observations are luminosity and resolution.
The ability of binoculars to see at low light levels is affected by the diameter of the lens, the quality of the optical glasses, and the presence of antireflection coatings. The larger the lens diameter, the more light it can pass through.
Binoculars with optical magnification up to 10x, these are models 8×30, 10×40, and so on, will be optimal for hunting in tight forest conditions, where the requirements for magnification are not so great.
As a rule, these are wide-angle optical devices with which the hunter can see a large space area. For hunting in open areas, in the steppe or mountains, you will need a more powerful tool with good resolution and a magnification of more than 10 times. These can be 12×45, 20×50, and so on.
Read Also – The 10 Best Compact Binoculars for Birding
Advanced Capabilities of Modern Binoculars
You won't surprise anyone with a rangefinder reticle in binoculars. Old grandfather's methods with complex calculations on the knee, confusion with the translation of meridians into meters and vice versa are gradually becoming a thing of the past.
Now modern optics with sophisticated electronic stuffing appear on the arena, which makes it possible to accurately calculate the distance to a distant object and give the hunter ready-made results of ballistic calculations for a specific group of ammunition. All you have to do before making an effective shot is to make adjustments to the range and wind strength.
For example, using the Fusion 1 MILE ARC 12X50 rangefinder binoculars, you can accurately determine the distance to a target that is at a distance of up to 1 kilometer. Fully coated optics with prisms made of high-quality Bak-4 glass will provide a high-contrast and high-quality image even of a very distant object. And the aperture diameter of 50 mm makes it possible for comfortable observation at dusk.
Protection of the Device From Moisture and Fogging
Hunting takes place in conditions close to the extreme: during rain, snow, fog, and so on. Accordingly, an optical device must be a reliable assistant in all situations.
When choosing optics for hunting, pay attention to the degree of moisture resistance. Ideally, this should be a completely sealed enclosure that can withstand short-term immersion in water to depths of 1 or more meters. Such an incident can occur, for example, when falling into a puddle, sleet, or stream.
It is also desirable that the optical channels are filled with nitrogen; this gas effectively prevents condensation in the lens system during sharp temperature fluctuations.
For example, when you leave a warm, heated room or car on the street, where the temperature is below zero, the optics can simply fog up, depriving you of the opportunity to begin to survey the area quickly. Gas-filled binoculars are completely devoid of these drawbacks and are ready to work in any temperature conditions.
Read Also: Spotting Scopes vs Binoculars
Reliability of Binoculars
Hunting is a very active activity associated with a long stay in the open air, intensive movement in the forest, and open areas. In this case, the reliability of the optical assistant comes to the fore.
The case is one of the essential components, which is the first to experience all the delights of exploitation. Its main task is to protect and ensure the operability of optics in any abnormal situations, for example, when falling, hitting a tree branch, immersed in water, and so on.
Nowadays, a large number of cases are made of polymeric materials such as engineering plastics. It is a very durable and reliable material capable of withstanding high mechanical and shock loads; it perfectly tolerates both overheating and cooling. Housings made of modern aluminum alloys are also capable of reliably protecting optics in harsh operating conditions.
In addition, they are significantly less weight and, if this parameter is critical for you, we recommend choosing the device from this material.
The covering of the case of hunting binoculars should be, first of all, non-slip and capable of absorbing impact energy, for example, in the event of a fall. Modern rubberized models are easy to grip in completely wet hands and do an excellent job in case of falls and bumps.
Read Also – The 10 Best Vortex Binoculars for Hunting
Rufus Prism or Porro
When choosing binoculars for hunting, one should consider its design features, namely the optical scheme according to which it is built. Ruf prism devices are more compact than those based on the Porro prism design.
But the latter, due to the expanded stereo base, provides a more voluminous and clear image. Optics with a variable magnification level, due to the presence of a larger number of components, is considered less reliable than classical constants.
Summarizing all of the above, we can conclude that if you need a reliable and compact optical assistant, you should opt for a model based on a prism design (Roof-prism).
As for the body, ideally, it should be a lightweight and durable material with a rubberized coating and a convenient center focus mechanism.
For connoisseurs of high-quality images, who are ready to reckon with large dimensions and additional weight, we recommend taking a closer look at devices based on Porro prisms (Porro-prism).
Professional Advice
Having carefully studied the opinion of professional hunters who are familiar with the specifics of the operation of optical devices in the USA open spaces, we concluded that there is simply no universal binocular for any situation.
So, optics for mountain types of hunting, where powerful magnification and good resolution are needed, will differ from devices with optimal characteristics for use in wooded areas.
Indeed, to see the beast lurking behind the villages, at a distance of up to 100 meters, you hardly need all the power of binoculars, with which you can examine in detail the craters on the Moon or the Cassini slit in the system of Saturn's rings.
As professionals advise, it is necessary to approach the choice of binoculars for hunting with all responsibility, first of all, starting from the operating conditions and the intended tasks that you are going to solve with the help of this optical device.
Read Also