Last Updated on January 11, 2023
The Best Red Dot Sights: The use of red dot sight has started from the mid-70s. After then, the use of red dot sight has significantly increased globally, especially in tactical training.
Now red dot sights have become a must-have tool for professional shooters and law enforcement professionals. It matters a lot on the accuracy of their shooting. Thereby, today's red dot sight's clarity, efficiency, and size have become so much better than early years.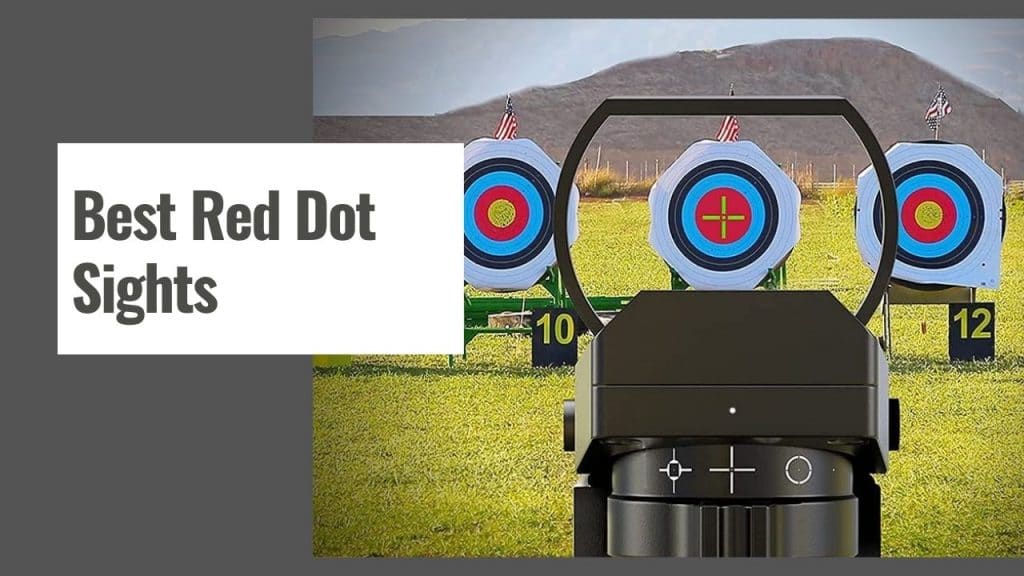 Review of the Best Red Dot Sights
As the market is full of various kinds of red dot sights, therefore, here we have made a list of 7-best red dot sights for your assistance. Now, we are going to share our review of each of these models.
We will cover every necessary detail, including key features that you can easily determine which one will go with your weapon best. So, without wasting any more time, let's jump to the review.
Quick Answer – Top 7 Best Red Dot Sights
1. Aimpoint PRO Red Dot Reflex Sight
2. Sightmark Ultra Shot Reflex Sight
3. CREATIVE XP HD Red Dot Sight 3 MOA
4. CVLIFE 1X22X33 Dot Gun Sight Scope Reflex Sight
5. DD DAGGER DEFENSE The DDHB Red Dot Reflex Sight
6. Sightmark Ultra Shot R-Spec Reflex Sight
1. Aimpoint PRO Red Dot Reflex Sight
This one is the most exceptional pro red dot sight from our 7-best red dot sights list. It is a complete and ready to mount sight that offers optical height adjustability without damaging your rail. It comes with a rugged QPR2 spacer to adjust the optic at a standard mounting height for offering perfect and zero mounts every time.
Moreover, it is equipped with a 2 MOA red dot sight, allowing you to speed up the target acquisition and increase the probability of the first shot hit.
It is comprised of solid and black protective front flip-flop caps along with a transparent rear. This pro sight can work into the bright sunlight with both open eyes even when the front cover remains closed.
Furthermore, this is an operationally parallax-free red dot sight, submersible up to 150 feet of water. It comes with a 6- daylight brightness setting, including 1- extra bright sunlight settings and 4- night vision compatible settings. Its anti-reflection device (ARD) with optional screws also allows the opening of a threaded front lens. Again, it is suitable for all generation NVD as well.
Afterward, this red dot sight also includes one DL 1/3 N battery to get powered. This battery offers 30,000 hours of continuous support for the operation. Its high-strength aluminum construction with hard anodized non-glare finished is rugged enough to deliver optimal performance even under harsh conditions. And, you can also install this black shotgun sight through Picatinny mount.
Key Features
2 MOA red dot sight
Anti-reflection device (ARD)
6- daylight brightness setting
Night vision compatible settings
QPR2 spacer to adjust the optic
2. Sightmark Ultra Shot Reflex Sight
Sightmark ultra shot reflex sight is another lightweight reflex sight built with cast aluminum alloy and a protective shield. This quick detach and adjustable weaver mount offer multiple reticles, including red and green illumination. Thereby, this reflex sight is one of the idle options for climbing, hunting, tactical, and airsoft need.
Moreover, this lightweight reflex sight contains parallax compensation yet. It offers snappy target acquisition along with an unlimited field of view to its different reticle variants.
It also allows the user to adjust the center dot's size and change the color or brightness of illumination. Thereby, whether you are shooting indoor or outdoor, you don't need to sacrifice your accuracy for sure.
Besides, this site doesn't feature any elevation or windage maintenance dials. It comes with an integral mounting base with Picatinny rails or weaver. And so, whether you shift this sight from one firearm to another or installing it directly from the box, you don't need to put a lot of effort yet.
Overall, this lightweight aluminum constructed sight is an ideal option for any handguns and rifles. It resists fog and water as well. Thereby, it can be your ultimate companion for target practicing or tactical shooting.
Key Features
Offer multiple reticles
Unlimited field of view
Parallax compensation
Snappy target acquisition
Cast aluminum alloy construction
Read Also: Learning How To Use A Scope For Long Range Shooting
3. CREATIVE XP HD Red Dot Sight 3 MOA
This sight is an excellent addition to our best red dot sights list. This black tactical reflex sight from the CREATIVE XP brand is exceptional for hunters and tactical professionals. This red dot sight from the USA is compatible with any rifle, shotgun, and handgun. Besides, it is also suitable for both day and night shooting.
This GlassEagle red dot sight with a unique design features 3 MOA crisp and clear dot. It aids in boosting your accuracy level and fasten your target acquisition as much as possible.
Besides, compared to other regular red dot sights, this reflex sight doesn't have any significant issue to zero while controlling recoil stable to strong. Its design makes recoil controlling easier and fast yet. Besides, like other red dot sights, it does not cause inaccurate blurry dot installation hassle yet. Even after solid recoil, it holds up the zero as well.
Overall, this is a high-end optics that come at affordable pricing. And, the most remarkable thing about this red dot sight is it is USA optic expert tested. It has been tested on every sort of gun for 1000 rounds without zero losings. Afterward, this uniquely designed tactical reflex sight is shockproof, scratchproof, and waterproof indeed.
Moreover, this Creative Xp red dot sight comes with unbeatable clarity that offers better grouping shots and helps target acquisition dominate the competitions. Besides, it also features an adjustable RDS for hunting and self-defense. Again, this is an ideal red dot sight offering 100% visibility with the most accurate shots. It features 10- brightness settings, including 2- nighttime, to have an easy and most accurate shot.
Furthermore, this tactical reflex sight also includes essential accessories along it. It comes with an essential Picatinny rail mount or weaver, wrenches, screws, and lifetime battery replacement. Thereby, this lightweight and compact reflex sight with these mounting accessories becomes a perfect gift for the shooters.
Overall, this is premium shooting optics that offers long-lasting performance. You can easily adjust the windage, dot, and elevation of this tactical sight. Besides, its battery changing as well as the whole installation process is very easy indeed. Afterward, this tactical sight also comes with a money refund guaranty to make sure user satisfaction. And, the manufacturer provides USA-based customer service as well.
Key Features
10- brightness Levels
Multi-coated red dot
Crisp & clear 3 MOA dot
Long-lasting performance
Shockproof and waterproof
4. CVLIFE 1X22X33 Dot Gun Sight Scope Reflex Sight
If you are looking for a well-built and powerful red dot sight, the first option you can consider is the CVLIFE 1X22X33 Red Green Dot Gun Sight. This solid build and compact red dot sight feature high-end aluminum alloy construction with an anodized black matte finish. Along with the robust build quality, this red/green dot sight offers a premium look.
Moreover, this tubeless red dot sight offers a wide field of view. It features a 33 mm reflex lens to make your rapid-firing or moving target shooting easier.
Besides, this durable red sight is also light in weight. Thereby, whether you are an experienced shooter or beginner practicer, you will find this sight ideal for an Ar15 rifle. However, you can use this versatile red sight on various firearms.
Furthermore, this CVLIFE red and green sight comprises shockproof, fog proof, and waterproof features. Its 4- reticle patterns provide corrected parallax and unlimited eye-relief. Again, both red and green dots are clear enough and compatible with AR-15 type firearms and shotguns. Thereby, in comparison with other sights, this red/green sight is good at quick aiming.
Afterward, it also allows you to adjust the red or green dot through its laser on/off button and also provides complete control to switch between green and red dots while aiming.
However, this red and green sight also features 3 and 10 MOA. It offers an 8-feet broad view along with 3-position rheostat illumination. Again, it provides high-adjustability over elevation and windage as well. Overall, it is an optimal option for quick aiming indeed.
Key Features
3 & 10 MOA
33 mm reflex lens
4 Reticle patterns
It offers an 8-feet wide view
3-Position rheostat illumination
Read Also: The 10 Best Spotting Scope for Target Shooting
5. DD DAGGER DEFENSE The DDHB Red Dot Reflex Sight
This one is one of the affordable red dot sights that come with optimal quality and high-end features. It comprises high-end aluminum construction that can withstand extreme environments.
Furthermore, this is a reflex sight with 2-reticles and high-level precision. It offers 4- different patterns along with visible green and red dots. You can easily switch between green and red dot while aiming to adjust any condition.
Besides, its precision level is far distinct from other regular red dot sights of the market. Again, this red dot sight is compatible with any rifle and shotgun. But primarily, it is best suited for AR-15. It comes with a set of locking screws to fix your sight adjustment.
Moreover, this is a versatile red dot sight. No matter what is your shooting condition, it can make a perfect pair with your AR-15. Afterward, this DDHB red dot offers the flexibility to make quick adjustments in every possible way. Due to this flexibility, this sight gets aside from other regular reflex sights available in the market.
However, this reflex red dot sight is ideal for taking a more accurate and quick shot. Though it comes with an aircraft-grade aluminum body, it is very light in weight as well. Therefore, it is also optimal for hunting and target practice. Again, it comes with a user-friendly design that offers hassle-free installation on a rifle or shotgun.
Key Features
4- Different pattern
Hassle-free installation
Includes a set of locking screw
Aircraft-grade aluminum body
2-reticles and high-level precision
6. Sightmark Ultra Shot R-Spec Reflex Sight
This ultra shot R-spec Sightmark reflex sight is an advanced AR coated sight that comes with robust 6061-T6 aluminum construction with a secured shield. This shockproof construction is IP55 weather-resistant and up to 3.38 recoil rated yet.
Besides, it is also equipped with 10- brightness settings and 4-green/red reticle options. Its 1 MOA windage and elevation adjustment offer comfortable and repeatable shooting from any range at 1x magnifications.
Besides, this ultra shot R-spec sight comes with an exceptionally long battery life. Its single CR123A battery can provide support from 200 hours up to 2000 hours as well. Again, it includes a low battery indicator and auto 1-hour shut-off functionality as well.
Moreover, this is an anti-reflective and scratch-resistant reflex sight, offering ultra-fast acquisition of target through its premium wide-angle lens. It provides a robust and crisp field of view beyond 25 yards with unlimited eye relief and parallax correction. Again, this reflex sight provides an internal locking adjustment for precise shooting as well.
However, this red dot sight is also equipped with a quick-detach Picatinny mount and digital switch controls. It includes a neoprene cover, user manual, and adjustment tool along it. Besides, it comes with a Sightmark lifetime warranty as well. After that, it is an excellent option for taking the staggering precision shot with unbeatable reliability.
Key Features
1 MOA Windage
Picatinny mount
4-green/red reticle
Digital switch controls
Single CR123A battery
Read Also – The 10 Best Night Sights
7. Predator V2 Reflex Sight
This one is an excellent piece of gunsight from Tactical in our best red dot sight for Ar-15 list. If you are looking for a gun sight that comes with optimal accuracy, you can give it a try to this Predator V2 Reflex Sight.
Moreover, this reflex sight comes with a 4- adjustable reticle setting, including green and red reticles. These different reticle variations allow the user to go for shooting, whether it is day or night.
Again, this gun sight is engineered with a 45-degree offset mount to perfectly co-witness with your iron sight. This green and red dot optic is better compatible with Tactical iron sight.
Furthermore, this Predator V2 Reflex Sight is equipped with O-rings, resist dust and moisture from entering inside. Besides, this gun sight is fog proof as well. Its nitrogen purge also resists fog from getting inside the sight. Again, its reflex lens also features a coating to allow shooting even in the sun.
However, the key feature that makes this reflex sight exceptional than other gun sight is its combat veteran development. It helps the user to get the exact thing that a shooter needs in combat. Again, it also comes with a lifetime guarantee and a 6 LR44 battery, including 3-extra. Afterward, this gun sight is also easy to install and preserves 100% user satisfaction indeed.
Key Features
45-degree offset
Fog and waterproof
6 LR44 battery included
4- adjustable reticle setting
Combat veteran development
Read Also – The 10 Best Compound Bow Sights
Buying Guide of the Best Red Dot Sights
Several factors work behind the red dot sight operation as well as performance. For getting the best red dot sight for Ar15, it is wiser to consider these factors before. Now, we will discuss some crucial areas that you should consider before making any purchase on the best red dot sights.
Ideal Size
The first thing that needs to consider for purchasing red dot sight is its size. Though all the sight's primary operation is pretty the same, the size of the red dot sight greatly matters on the weapon to which you will attach it.
Thereby, it is better to choose small sight for handguns and large sight for rifles. In this article, we have discussed 7-best red dot sight for Ar15. All of our selected sights are compatible with Ar15.
Finally, we can say that your performance with your sight relies on your sight's size to a great extent.
Battery
It is another crucial factor that also determines the performance of your sight. Both the accessibility and the life of the battery significantly impact your red dot sight functionality.
If your site runs with a special kind of battery, which is not available in the market, then there is a possibility of facing difficulty in the long run. So, it is wiser to choose such a sight, which usually runs by a typical battery.
Besides, battery life and backup is another crucial factor to consider. You need to make sure that your sight's battery must meet your need for real action.
Usually, most of the manufacturers mentioned the battery life and type on their manual. So, you should make sure of this factor before going for a purchase.
Read Also – The 10 Best Holographic Sight Under $200
Open or Tube
It is also necessary to consider whether you will go for a tube option or an open one. Open style, also known as a window style, is a window shape square design. The tube style is enclosed, featuring all the optic's interior working housed inside the tube.
However, the choice between open and tube style relies on your priority and perspective that matter most to your shooting.
Reticle Size
The size of your reticle matters a lot in your shooting. For taking precise shots, it is recommended to select small reticles yet. Small reticles capture less area, so it is beneficial to take a precise shot.
Keep one thing in your mind that small reticles are harder to see, especially in the bright daylight. Thereby, if you are a beginner shooter, it will be better to go for a large reticle. Larger reticles are much easier to see, and they can cover target views at a long distance.
However, the general rule of selecting a reticle is to consider the inches versus yards. For Example, 1inch red dot is suitable for 100 yards, 2 inches for 200 yards, and so on. Besides, you should also consider the distance and type of your shot for choosing reticle size.
Final Verdict
To enhance the shooting accuracy, shooters usually use 3- types of weapon sights, such as- red dot sight, reflex sight, and holographic sight.
Compared to the reflex and holographic sight, the red dot sights are the most reasonable and less-pricey yet. So, those having tight budget problems can undoubtedly pick any of our recommended best red dot sights for sure.
These red dot sights are capable enough to increase your shooting accuracy and help you take shots from an ideal distance.
Read Also