Diamond Infinite Edge Pro Review
Last Updated on April 11, 2023
Diamond Infinite Edge Pro Review: The Diamond Infinite Edge Pro will fit almost any archer and bowhunter's needs. Although many hunters know it as the best beginner compound bow, it is also best-suited for professional hunters.
With a decent draw weight, it can accommodate hunters of all heights. Alongside accommodating the shooters of various heights, this bow can adapt to any surroundings as its axle to axle length is convenient to handle, and the bow is pretty lightweight.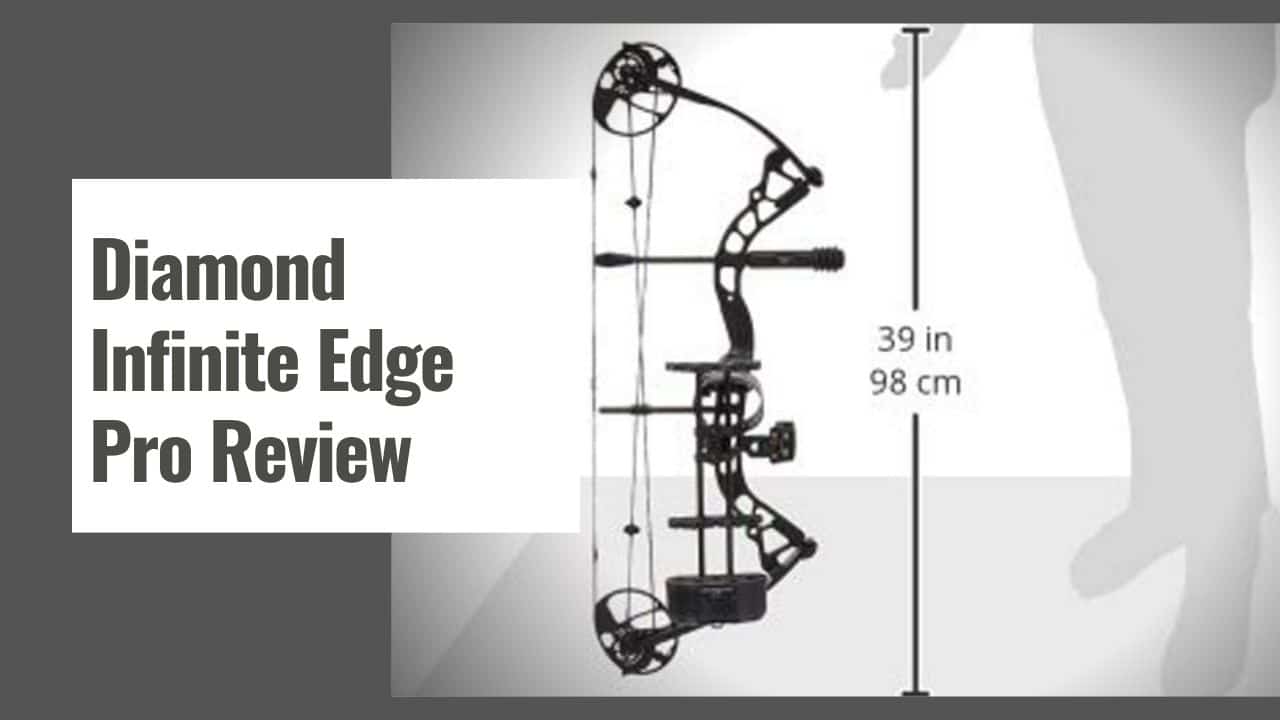 The compound bow suits beginners most, thanks to its adjustable settings. Novices can easily adjust the bow according to their skill level. Apart from all these features, the Infinite Edge has something more to examine. Thus, let's begin checking what more it has to offer.
Diamond Infinite Edge Pro Review
Draw Weight
The Diamond Infinite Edge Pro comes with a beginner-friendly draw weight ranging from five pounds up to seventy pounds. It is appropriate for novice and immediate hunters. Their draws will certainly fall somewhere between five to seventy pounds.
Draw Length
The Diamond Edge Pro contains an adjustable draw length. Archers can set it at thirteen inches on the low end and thirty-one inches on the long end. As you can see, it is an excellent range and is ideal for hunters of all heights from four foot up to six foot five inches.
FPS
The Diamond youth compound bow for hunting features a decent FPS of up to 310. Such an FPS is unavailable in other expensive compound bows. The 310 FPS is quite fast for target shooting and bowhunting. Thus, it can provide you a memorable hunting experience if you prefer fast shooting, though.
Cam System
The Infinite Edge houses the most accurate cam system available on the market. Its cam system is synchronized, allowing for flawless nock travel. Once shooters tune it and forget, the bow will always ensure maximizing accuracy and consistency.
Axle's Length
The Compound bow's axle to axle length is 31.5 inches. Although the axle's length is pretty short compared to other bows for target shooting, it is appropriate for hunting. The edge pro's axle's length is adequate to maintain the shot stability.
Adjustability
As you know, successful hunting requires excellent equipment with adjustable features. That stated, the Diamond Infinite Edge is highly adjustable to meet your needs. The durable construction and adjustable functions make the compound bow ideal for target shooting and bowhunting.
Versatility
Shooters use various types of bows. Some prefer the takedown recurve bow, and some go with the compound bows. But most hunters like to use the compound bow for its versatility. They can use this type of bow for target shooting, archery practice, and bowhunting. That said, the Diamond Infinite Edge Pro is also a versatile compound bow. It can be your ideal companion while practicing different types of shooting for the hunt.
Bottom Line
The Diamond Edge is a robust bow and appropriate for newbie and advanced target archers and bowhunters. Its generous draw weight makes it a newbie-friendly bow, but professionals can also use it for years to come. With the bow's help, anyone can master the hunting skill and can accomplish successful hunting every time. Thus, it can be ideal weaponry, and you may use the compound bow to make your hunting journey more enjoyable and memorable.