Last Updated on October 13, 2022
If you're looking for a spotting scope that is suitable for capturing distant views and good at micro-level observation, you can consider the Gosky 20-60 X 80 Porro Prism Spotting Scope for sure.
One of the best spotting scopes available in the market best serves your bird watching, watching the scenery, and wildlife purposes. Please read the following review thoroughly to explore the more exciting feature of this spotting scope.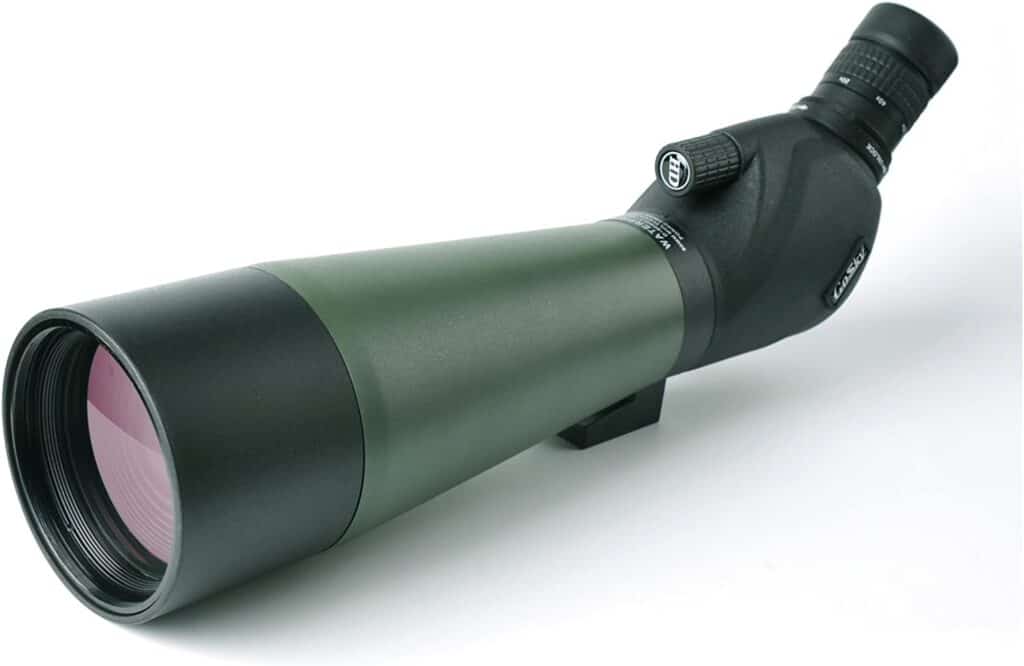 Package Details
This spotting scope comes with the following attachments-
Lens Cap

Digiscoping adapter

Handy Straps

Carrying Bag

Cleaning Cloth

Tripod

Manual
Gosky 20-60 X 80 Porro Prism Spotting Scope
Design and Construction
This spotting scope comes with tight-fitting waterproof construction. Thus, it can provide maximum protection in the worst weather conditions. Also, its shock-absorbing body of Magnalium framework and rubber armor features stretch able eyepiece shield to protect the eyepiece.
Optics
This excellent piece of scope comes with an 80 mm multi-coated green objective lens with 20x to 60x magnification. Besides, it also features a high-end prism and eyepiece, which can deliver crisp, clear images with a brighter view. This easy to zoom spotting scope is best for watching the scenery, wildlife and birds.
BAK-4 Glass
The spotting scope's prism assembly is constructed of BAK-4 glass. Its refractive index is somewhat greater than BK-7's. Consequently, BAK-4 glass is more costly than BK-7 for spotters.
Sunshade and Tripod
Its retractable sun shade helps to reduce glare. By simply moving the adjustment collar on the body's center, you can change the 45-degree eyepiece design to any viewing position.
Digiscope Adapter
The ocular of this spotting scope comes with a digiscoping adapter to hold and mount a smartphone. To take photos, record movies, and observe with even greater magnification on your phone, you can line your cell phone's camera with the exit pupil.
Pros
Deliver clear, bright and crisp image

Can withstand worst weather conditions

It features a stretchable eyepiece shield to protect the eyepiece

Tough Magnalium Framework with water-resistant feature

20x to 60x magnification and easy to zoom
Cons
Its full zoom may disappoint you a bit
Usage
The scope's ability to hit the target with pinpoint accuracy will astound you. In the field, you can easily observe the archery target spotters and scoring discs of the scope.
You can watch birds with this spotting scope on roofs, balconies, parks and forests, or anywhere you can find a bird. With high-quality vision, it is feasible to observe the moon's crater and have fun.
Final Verdict
Overall, the Gosky 20-60X80 Spotting Scope is an excellent value for money. You're getting a lot of extra items that would generally cost you more than $100 more. With this spotting scope, you're OK to go for spotting out several hundred yards.
Besides, you can rotate the eyepiece of this spotting scope in various directions to meet the user's needs. Staying within the100 yards needs no use of maximum magnification for accuracy.